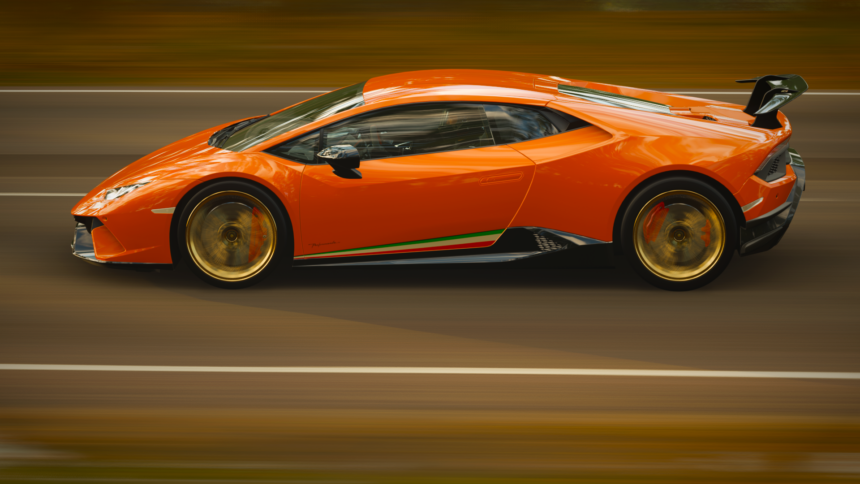 The golden colors of Autumn have swept across the UK once again as another season change begins in Forza Horizon 4. The latest season drops another helping of new and returning content in the latest events.
There's a fresh update for the Festival Playlist to check out, with new prizes available for 50% and 80% completion. This week, Turn 10's most requested car finally makes its appearance.
Check out what Autumn is offering down below.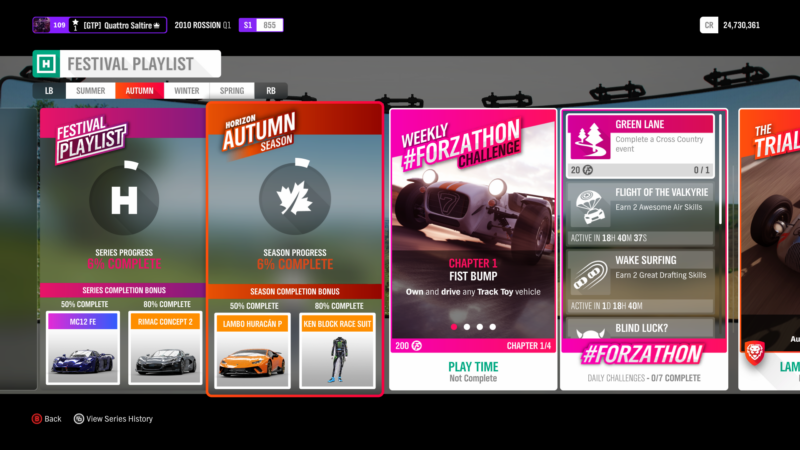 Performante's Encore Performance
Topping the bill for prizes this week is the most requested car from the Forza community: the 2018 Lamborghini Huracan Performante.
The baby bull has been given an extensive reworking to make it more track focused. Lamborghini has cut the weight by 88lb to just over 3,000lb, and power from the 5.2-liter V10 is up to 631hp.
This particular Huracan also features a noticeable fixed rear wing that hides its clever active aerodynamics under the skin. The trick aero system allows the Performante to produce 750% more downforce (not a typo) than a standard Huracan, perfect for throwing along twisty UK roads.
If you want to spice up your avatar, there's Ken Block's Race Suit available to win. Prizes for seasonal championships also have a focus on Lamborghini, with the Aventador SV and Veneno up for grabs.
Standing out from the Bulls is a real piece of racing history: the 1939 Auto Union Type D. This machine was a dominant force in early Grand Prix racing alongside Mercedes. The Type D uses a 3.0-liter twin supercharged V12, putting nearly 500hp through 1930s tires. You will need lots of bravery to take this beast to the limit.
You can acquire the Type D by winning this week's Trial, "Lamb Chop Chop".
The full list of prizes is down below.
Modern Age
Series: Road Racing Series
Cars: Modern Sports Cars
Restrictions: C Class, 600 PI
Prizes: 15,000 CR, 25,000 CR, Modern Race Helmet White
Silence of the Lamborghinis
Series: Street Scene
Cars: Lamborghini
Restrictions: S1 Class, 900 PI
Prizes: 15,000 CR, 25,000 CR, Lamborghini Aventador SV
Get Hyper
Series: Road Racing Series
Cars: Hypercars
Restrictions: S2 Class, 998 PI
Prizes: 15,000 CR, 25,000 CR, Lamborghini Veneno
The Trial: Lamb Chop Chop (Co-Op Championship)
Series: Road Racing Series
Cars: Lamborghini
Restrictions: A Class, 800 PI
Prizes: Auto Union Type D
Autumn Games – Series 18
Series: Playground Games
Cars: Rally Monsters
Restrictions: A Class, 800 PI
Prizes: Mercedes 280 SL
Oakwood Crest Speed Trap
Season Objective: 205 mph
Arthur's Seat Danger Sign
Season Objective: 721.8 ft
Glen Rannoch Speed Zone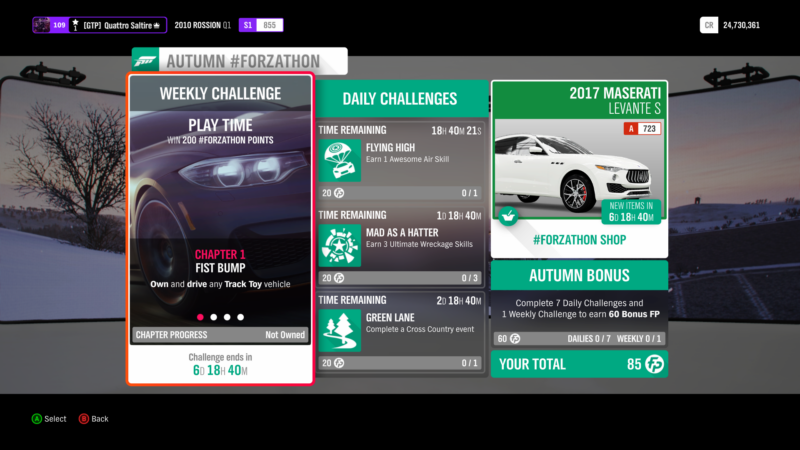 Forzathon Events
Forzathon goes hardcore this week, with Track Toys taking center stage. Grab one of the track machines available to get things started.
Next up, showcase the speed of your chosen track toy by earning a total of 12 stars from Speed Zones. Afterwards, get your creative driving on display as you'll need to rack up big skill score combos. Your target is a total of 1 million Skill Score in order to progress.
Finally, head off to the races and take your Track Toy to Victory in 3 Road Circuit events to finish up this week.
Forzathon Shop
A mixed bag is in store for the Forzathon Shop this week. A very familiar face is up first, with the 2017 Maserati Levante S.
The first SUV from Maserati is based on the Ghibli sports sedan, and uses a 3.0-liter twin turbocharged V6 making 424hp. Among plenty of sports SUV offerings, the Maserati also offers Italian style alongside its all-weather ability.
While the Levante will cost you 600 Forzathon Points, we'd suggest spending your points elsewhere unless you're in desperate need to buy it.
Those after something rarer will love the 1962 Ferrari 250 GT Berlinetta Lusso. One of the most beautiful cars ever made, it's also one of Maranello's greatest models. With a 3.0-liter V12 and 254hp, the 250 is the perfect classic grand tourer to take around Britain.
At 400FP, the 250 GT is a reasonably affordable way to get this beauty in to your garage.
Cosmetic items available for purchase are the Shark Wellies and the Golden Mustache.
Feature image courtesy of Andy Voong
More Posts On...