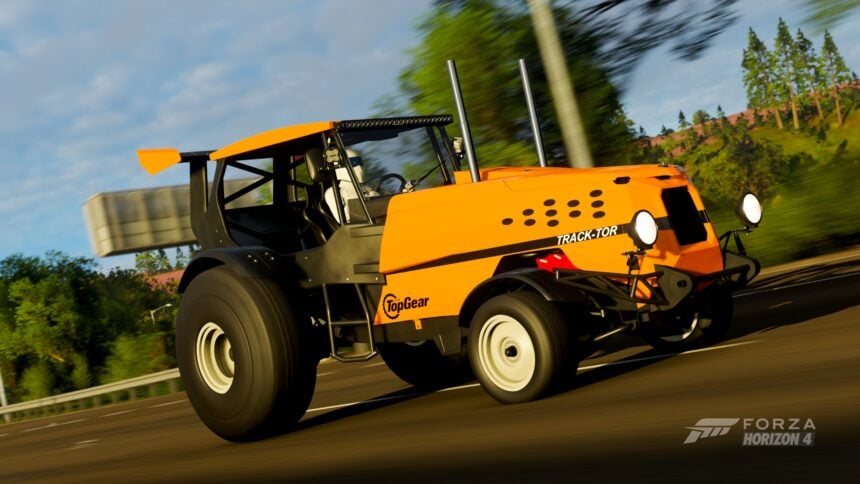 A new month has begun, which also means a new season change in Forza Horizon 4. Summer has returned to the UK, bringing new events and content with it.
Following the Series 11 preview, this season should be an exciting one. Let's find out what's in store.
Top Gear Rolls into Horizon
A new season means a fresh reset for the Festival Playlist. This week is a busy one for players, as it's a Top Gear theme for this month.
This is a mixed bag, with two cars and avatar cosmetic items available for completing the Playlist and season to 50% and 80%.
New Events & Cars
Prizes this week are largely returning cars, but there are also some avatar clothing items available as well.
First up is the Bugatti Type 35 C. This classic grand prix racer is one of the most valuable cars in the world, and it has the pedigree to back it up. The Type 35 is one of the most successful racing cars of all time, dominating grand prix races in the 1920s.
The Type 35 C is powered by a supercharged 2.0 liter straight-eight engine, making just 95 horsepower. It may not be as clinically fast as a modern Chiron, but 1920's technology will make the Type 35 quite a handful through the corners.
Next up is the Maserati MC12 Forza Edition. This special MC12 has featured in Forzathon's shop lineup before, and now returns to the prize roster. It features an upgraded V12 engine as well as a Speed Skills bonus.
Joining those cars is the Ferrari 360 Challenge Stradale. Built as a more track-focused variant of the 360 Modena, the CS features a 110lbs weight reduction and a small power increase. Fans can get the 360 by winning the "Forza Italia" seasonal championship.
There is also a fiery muscle car up for grabs with the Pontiac Firebird Trans-Am SD-455. This beast can be won from this week's Summer Playground Games.
Cosmetic items that can be won include an Alien Morph Suit and the "I Beat The Stig" T-shirt.
Keeping fans busy this month is a new Horizon Story. Here, players will be taking part in various Top Gear-themed challenges. There's also voiceover provided by none other than Chris Harris.
This month's Rivals event also follows the Top Gear theme. Players will be behind the wheel of TG's custom-built Mercedes E-Class Estate, codenamed "Project E-AT".
The rest of the events are detailed below:
FF Spotlight
Series: Road Racing Series
Cars: Front Wheel Drive cars
Restrictions: B Class, 700 PI
Prizes: 15,000 CR, 25,000 CR, DS 3 Racing
Full Throttle
Series: Road Racing Series
Cars: Super GT
Restrictions: S1 Class, 900 PI
Prizes: 15,000 CR, 25,000 CR, Modern Race Suit Grey
Summer Games – Series 11
Series: Playground Games
Cars: Retro Muscle
Restrictions: A Class, 800 PI
Prizes: Pontiac Firebird Trans-Am SD-455
Forza Italia
Series: Street Scene
Cars: Italian cars
Restrictions: S1 Class, 900 PI
Prizes: 15,000 CR, 25,000 CR, Ferrari 360 CS
The Trial: History Class (Co-Op Championship)
Series: Dirt Racing Series
Cars: Classic Rally
Restrictions: C Class, 600 PI
Prizes: Classic Race Helmet
Croft Speed Zone
Season Objective: 110 mph
Outcrop Crest Danger Sign
Season Objective: 623.4ft
Wesloch Speed Trap
Season Objective: 140 mph
Forzathon Events
This week, Forzathon looks back at the glory days of Retro Supercars. With some of the greatest cars ever made to choose from, the first objective is to simply own and drive any retro supercar.
Next up, prove your supercar's capabilities by winning 3 Road Racing Series events. For the third objective, you'll need to put your foot down as you'll need to earn 3 stars from blasting through the speed trap at The Roman Mile.
Finally, a simple drive around the map is needed to finish off this week's challenges. The distance needed? 15 miles. With some of the supercars on offer, covering that distance shouldn't be a problem.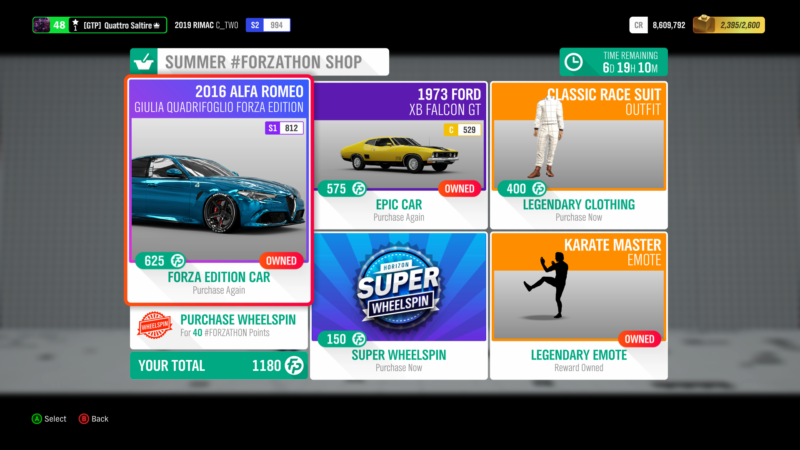 Forzathon Shop
Cars in the shop lineup this week are a pair of returnees. Leading the charge is the Alfa Romeo Giulia Quadrifoglio Forza Edition.
The Giulia marks Alfa's return to the sports sedan market, with the Quadrifoglio as the crown jewel. Under the hood is a 2.9 liter twin turbocharged V6 making 503 horsepower. The Forza Edition comes with an Event Influence boost for those needing a hand with leveling up.
Costing a hefty 625 Forzathon Points, it'll put a big dent in your wallet if you haven't already picked one up elsewhere.
Joining it is the Ford XB Falcon GT. This Australian muscle car is a brash alternative to the American offerings. With a 5.8 liter V8 and 300 horsepower, it also makes a case for itself in the performance stakes. At 575 FP, we suggest checking the Auction House for a better deal.
Novelty items for this week include the Classic Race Suit outfit and the "Karate Master" emote.
More Posts On...