In the European market, the B-segment hatchback is king. Despite the ever-growing popularity of the crossover, and the unflinching continental dominance of the Volkswagen Golf, manufacturers sell more B-segment hatchbacks than anything type of car.
As well they ought. Hatchbacks suit European family life and our tightly packed roads like nothing else. And thanks to the characteristics that make them great to drive around town, they can be brilliant on the open road too, if only they had a bit of power to go with it.
Thus the hot hatch was born. A car that takes all of the good parts of a regular grocery-getter but adds in the power of a motorway cruiser, three classes up.
There's almost no better name you'd want attached to a hot hatch than Peugeot, so this week we've been taking some time to enjoy the spiciest 208 of them all: the GTI by Peugeot Sport.
That looks quite a bit like the old 205 GTI…
Yes, and that's no accident. The 205 GTI was pretty much Peugeot's crowning achievement (even if we prefer the 309 GTI of the same era), and it has been difficult for the brand to match.
The 206 GTI that followed it was as different as it could be. The 206 was a bit of a fashion statement car – a "chic" city car if you will – and the GTI was just over-powered and over-tired. It certainly wasn't a dynamic match for the 205.
The same went for the 207, built in that awkward phase where manufacturers were pursuing safety at all costs, making cars heavy and numb. The first version was underpowered, and a second brought it nearer the 206, but at 2,800lb it wasn't anywhere near quick enough. Also it sat on the road with all the presence of a blobfish.
Peugeot's taken the time to make the 208 GTI as much like the 205 as it can manage. It's gained power and lost weight, and is shaped as near to the old car as modern design philosophy will allow. You'll also notice little 205-esque design flourishes – particularly that little model designation flash behind the rear window.
And what exactly is "Peugeot Sport"?
That's Peugeot's racing arm. It's been a little dormant on the racing front recently, scaling back from F1, world rally and Le Mans, but it does hold the outright Pikes Peak record.
Peugeot Sport also works its magic on sporty Peugeot road cars. Perhaps its most notable success was the 270hp, front-wheel drive Peugeot RCZ R. The suspension work Peugeot Sport carried out on that car was absolutely magnificent and, if you don't mind swapping tires every few yards and the slightly rubbish interior fit and finish, it turned a pretty good car into a belter.
Peugeot Sport has done a similar job on the 208 GTI. This model gets specific brakes, shocks, springs and wheel alignment. It sits 10mm lower (about 0.4 inches) and the front and rear track are 6mm wider (about a quarter inch). The racing team also fits a Torsen limited slip differential, straight from the RCZ R.
And then there's a whole bunch of Peugeot Sport badges and branding on every flat surface.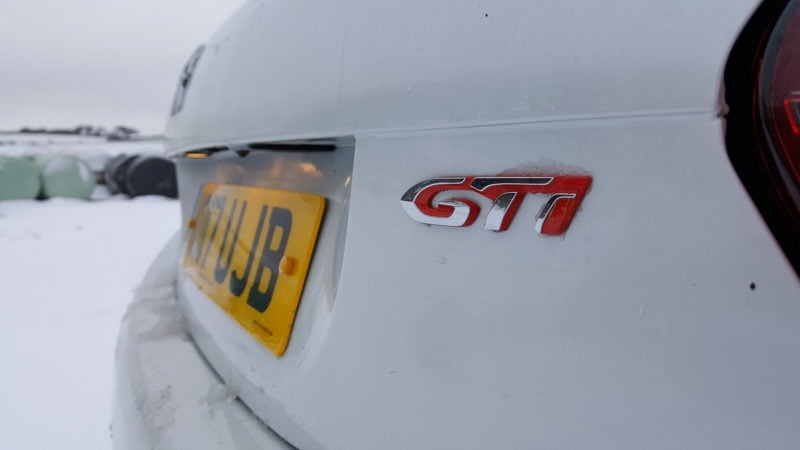 There's some expectations here then?
Just a bit. The 205 GTI is a car remembered very fondly, to the point that you probably can't buy one for the same price as this 208 GTI. And the RCZ R was wonderful.
First, the bad parts. This is quite a stiff car. There's no surprise that it's not that far removed from the DS3 Performance when it comes to ride quality – they are largely the same car underneath – but having driven the two barely a week apart from each other we're giving the nod to the Peugeot in terms of ride quality.
There's still a sensation that, if you're going quick enough, the car skims from bump to bump, and we'd plan our journey to avoid speed pillows, but it's marginally more cossetting. It's like falling up the stairs, rather than falling down them – although we'd take either over the old Fiesta ST…
Low speed manuevers result in a small degree of crabbing too. It's unusual to find this outside of supercars, and you'll notice it more readily at low temperatures. There's no particular harm in it though and it won't cause you any major problems unless parking in tight spots in snowy conditions.
And that's it. That's all the bad parts. In every other department, the 208 GTI by Peugeot Sport is an absolute hoot to drive.
There's no shortage of grip from launch, so getting the 208 whipped up to speed is a breeze. Officially it's the joint-quickest car in the sector from 0-60mph, inheriting the crown to itself when the Fiesta ST200 retired earlier in the year. With a quarter mile to play with, we don't think any of the other options will come close.
But it's not about the straight lines. The 208 is a hot hatch, and its home is tight bends. The brakes are excellent, and get the car hauled down to cornering speed with ease. The tiny steering wheel – more on that a little later – requires so little effort to get the nose tucked into the corner that it borders on telepathy and even if you have a lead right foot, there's no drama getting out of the bend afterwards. Provoke the 208 with over-eager power or an optimistic steering angle and you'll feel the differential have its say to keep your line.
The engine is as responsive a 1.6-liter turbo as we've ever tried (RCZ R aside, and that uses a similar unit), with only a mild sensation of bogging down at exceptionally low engine speeds. Otherwise it will happily buzz up to redline, and sounds good through the model-specific exhaust.
It's not even particularly thirsty. Although the official 52.3mpg rating is a bit unlikely, we ran it to mid-40s without being excessively kind.
Ah, but French interiors…
True, but not in this case.
The 208 GTI's interior is largely a very smart place to be. There's quite the theme of red-on-black going on, from the red stitching in the black leather fascia, the red dial surrounds, the red stripe up the black door handles and even the red striped seatbelts. The leather steering wheel has a twelve'o'clock stripe on it – red, of course – and even the special Peugeot Sport floor mats are bright red. It's all to draw as much attention to the 205-ness of the car as possible.
Generally it's quite smart. Poke around a bit and you'll find that the fascia is the thinnest leather known to man, the materials lower in the cabin are a little scratchy and brittle and you could probably sink your arm to the elbow in some gaps but the stuff you see and touch regularly is just right. Although the weird scoops below the front quarterlights are distractingly incongruous.
There's not an equipment overload here. You don't get things like heated seats (which, as you'll note from our images, we could have done with), but they're model-specific part-Alcantara and really rather comfy – if lacking in a little thigh support. There's a good quality infotainment system with navigation, DAB, and Bluetooth and USB connectivity too. This also includes a color reversing camera, and Peugeot fits parking sensors just in case. You'll also find auto headlights and wipers, cruise control and steering wheel controls for the infotainment system.
One area where it falls down a bit is storage space. This will be significantly different in left-hand drive markets, but in the UK the glove box overlaps the cabin fusebox, so there's barely any room even for the car's manual. The door pockets are okay, but everything in them will slide about. Cupholders are at a premium too, with a baffling cubby in the center console that couldn't fit anything larger than a small takeaway coffee cup and even then requires a great deal of tipping to get it in place.
However, the interior hides the one thing that will do the most to put people off the 208. We mentioned earlier that the 208 has a tiny steering wheel. It's great for tight turns and give a bit of a go-kart feeling to the car. However, the instrument binnacle is also small and set quite low, so you can't actually read it through the steering wheel. That wouldn't be a problem, except that you can't adjust the steering wheel low enough, unless you set the seat low too. But the seat itself doesn't go very low either…
It's very difficult to get a comfortable seating position in the 208 that also allows you to read the instruments. It's like a Rubik's Cube, in that you can just about get most of one face completed, but try to get another one right and it messes the first up again. We did eventually manage it, but we can imagine the frustration of trying to get it right.
Who's Peugeot's likely buyers?
Well, me.
The 208 GTI by Peugeot Sport is one of those cars that's a lot of fun on the right road, but which can turn any road into the right road. It's also every bit as sensible and practical as any other three-door hatch so perhaps those who regularly need to access the rear seats – those with very young children, for example – might look elsewhere. And the rear seats aren't exactly spacious, so it's not a car for a full family of four.
But for just about anyone else, it would make a great only car and probably an even better second car. That's part of why B-segment hatchbacks are Europe's number one, and why some brands report that half of all orders for new cars of this size are sporty models like this.
What else could they buy?
There's a whole fleet of hot hatches out there, but the 208 forms part of a core group of four. Its countryman, the Renaultsport Clio, is its main rival, while Brits prefer the Ford Fiesta ST and Vauxhall Corsa – also sold as an Opel in other European markets. However Ford recently replaced the Fiesta altogether, and there's no ST just yet.
The 208 sits on the same platform as the DS3 Performance and although there's a few differences in the markets they aim for, there's a decent overlap between the two. Volkswagen does a pretty stellar rivals, with its own Polo GTI. SEAT's recently replaced Ibiza, does not yet have a Cupra model to match the 208 although the previous Cupra did go toe-to-toe with the Peugeot.
Elsewhere you could look at the smaller MINI Cooper S, which used a very similar engine to the 208 in previous models, but now uses one from BMW's own stable.
What's the conclusion?
Looking back across all of 2017, the 208 GTI by Peugeot Sport has been one of our very favorite cars to drive. Not only has it captured pretty much the essence of the modern performance supermini, it's managed to do it with enough of an homage to its own classic hot hatchbacks of old.
It has all the amenities to make it a completely usable everyday car, without going overboard on toys you might think that you want but which really you can do without. It's no stripped-back, less-is-more buzzbox, but neither is it draped with too much modern frippery. It's classic, old-school, red-and-black fun.
Certainly the ride can be fussy at times and the driving position, despite adjustable everything, is an absolute pest to get right. It's also on the expensive side compared to similar vehicles, although not in the grand scheme of things, and the running costs are pretty small.
For a day-to-day car that makes every journey a giggle, we'd pick the Peugeot's keys up every time.
Verdict:
Peugeot 208 GTI by Peugeot Sport
Quick Facts
Engine
1.6-liter petrol turbo
Power
205hp (208PS, 153kW), 207lbft (300Nm)
Layout
Front-engine, front-wheel drive
Top Speed
143mph (230km/h)
See more articles on Peugeot and Road Test Review.