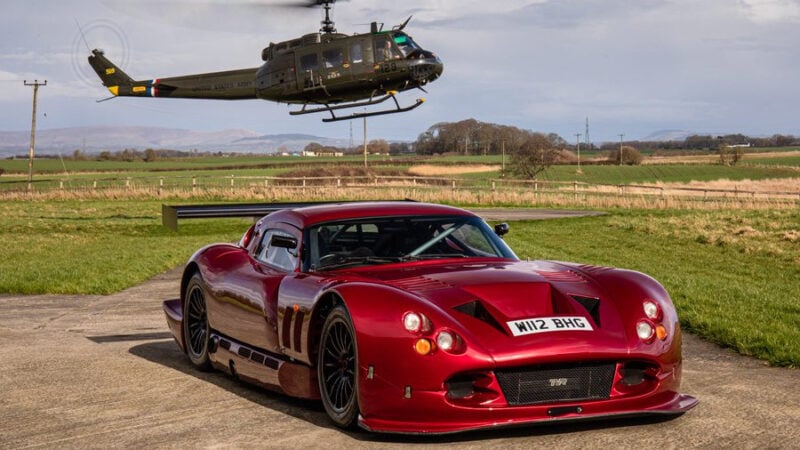 One of the most spectacular and certainly rarest vehicles ever made is heading to auction in May, with the only original TVR Cerbera Speed 12 getting ready to find a new home through Silverstone Auctions.
The story of the Speed 12 is an incredible slice of automotive history. TVR, a tiny British marque from north-west England and named for founder Trevor Wilkinson, had designs on conquering the new GT1 category of endurance racing.
It was no stranger to the race track, founded on lightweight, track-ready cars and having managed not only a one-make series for the Tuscan but a GT2 class Cerbera entry. That latter car would form the basis of what TVR unveiled at the British International Motor Show in Birmingham in 1996: Project 7/12.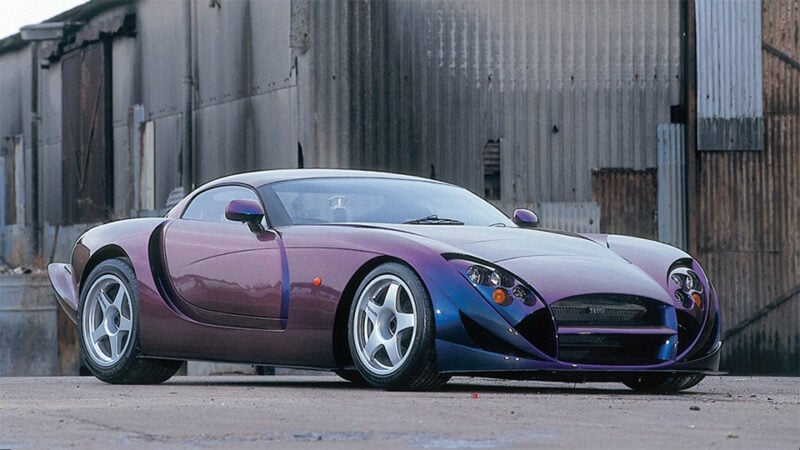 Very loosely based on the Cerbera, Project 7/12 was named for its engine. Custom-made from a pair of TVR's own AJP6 "Speed Six" engines, it was a monster 7.7-liter V12 and reputedly capable of close to 1000hp — more than anything else on the road at the time. We were there: TVR displayed the enormous engine separately in front of the car.
By the time TVR got the car ready in racing form, now called "Speed 12", the regulations had changed somewhat and almost made the car obsolete overnight as the GT1 class became a category for custom race cars like the 911 GT1 and Mercedes CLK-GTR. TVR raced it in the British GT Championship in 1998, but it didn't start in more races than it finished, with a best result of fourth at Snetterton (a race we were also at).
With a little more success in the GT2 class the following season, TVR set about creating a roadgoing vehicle — now known as the "Cerbera Speed 12". After completing one prototype model, company owner Peter Wheeler opted to take it home one night and cancelled the entire project immediately.
Wheeler has been variously quoted as calling the car "unusable" and "ridiculous", but whatever his conclusion about the 900hp+, 2400lb, rear-wheel drive Cerbera Speed 12, TVR simply didn't want to be responsible for unleashing it on the roads in the hands of wealthy, untrained drivers — despite having already taken deposits for the £245,000 car.
TVR's efforts returned to the race cars, which enjoyed more success in British GT in 2000-2002 — even claiming wins at Brands Hatch, Rockingham, and Silverstone — before that program was shuttered too.
That left the company with three chassis in different states of repair, which it consolidated into two functional road cars known by their UK license plate numbers: W112BHG and W312BFV, marking them out as vehicles first registered in 2000. Both now had the race car body work rather than the smooth lines of before, but only BHG had that 7.7-liter V12.
Wheeler sold BHG privately to an unknown individual he personally vetted — although the car did briefly pop up on ebay a few years later — and these days it is rarely driven and spends its time in the custody of Blackpool-based specialist engineering firm Lawfield and Abbott or on display at the Lakeland Motor Museum near its original home in the north-west UK.
Of course it's a vehicle well-known to racing game fans too. The car appears in Gran Turismo 2, both in its original purple Speed 12 guise and as the race-modified white and blue colors of the 1998 British GT car, and in Gran Turismo 3 through Gran Turismo 6 as the later Cerbera Speed 12 with original road car bodywork. You can also find the same car in Forza Motorsport 1–4 and 7, and Forza Horizon 4/5.
It's not clear why the car, shown above with its Aston Martin-engined sibling BFV, is for sale, but you'll be able to bid on it at Silverstone Auctions' event at Supercar Fest on May 20, at Sywell Aerodrome near Northampton.
The car is listed with no reserve, but as an utterly unique vehicle and one of the craziest and most spectacular cars ever to come out of any manufacturer anywhere, don't expect to drive it away for anything less than seven figures.
See more articles on TVR.