Shortly after the Gran Turismo movie has its premiere in August, you'll be able to buy one of the film's main "hero" cars which has the very unusual provenance of being driven by both Jann Mardenborough and Jann Mardenborough…
The Nissan GT-R GT3 will serve in the film as one of the cars driven by main character Mardenborough, as played by Archie Madekwe, during his ascension from bedroom gamer to respected endurance racer.
In real life, Mardenborough won his first high-level race in a very similar GT-R in the British GT Championship in 2012 — one year after winning GT Academy in 2011 — en route to a career that covered LMP2, LMP1-H, and Super GT cars.
Not only does Madekwe drive the car in the film, somehow squeezing his 6'5″ frame into the cabin of the GT3 race car, Mardenborough himself also takes to the wheel for some of the stunt driving. That creates the very unusual situation where a real person and a fictional version of themselves have driven the same car in the same film.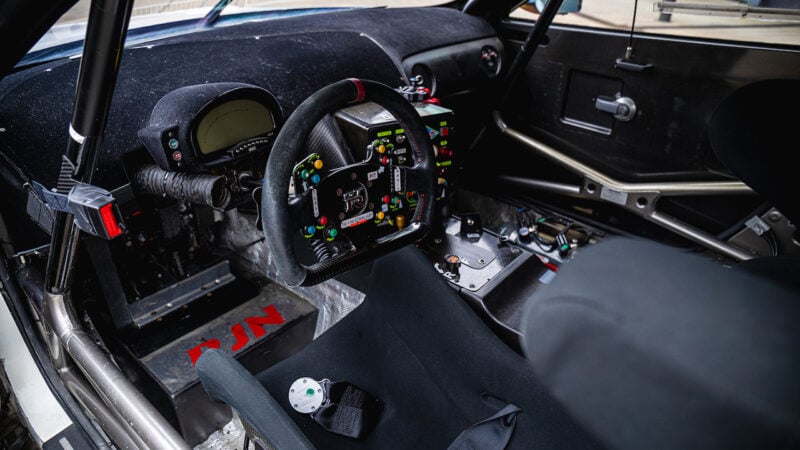 However Mardenborough — the real one — has also driven this car in the real world too, jumping into the car a couple of times. The RJN Motorsport-prepared GT3 was a Nissan works car across 2015 and 2016 so several works drivers, including other GT Academy winners, have raced the car.
In fact the first champion, Lucas Ordonez, was part of the four-driver team when this exact car secured Nissan's best ever finish in the Nurburgring 24 Hours, placing ninth overall in 2015. The same squad, including Alex Buncombe, Kazuki Hoshino, and Michael Krumm, drove the same car to 11th overall in the 2016 race.
Sold on to a third party, the GT3 raced in the GT Cup competition up to the end of 2020. After that, the car was purchased by the man most responsible for GT Academy in the first place, Nissan's Darren Cox, who is portrayed in the film — as "Danny Moore" — by Orlando Bloom.
The car has been returned to its original white livery — having being raced in black in the 2015 N24 event — and was returned to RJN Motorsport for checks and preparation ahead of its appearance in the film.
Ultimately that means a new owner can take the GT-R GT3 right back out onto the race track, as it's eligible for series like GT Cup and GT Masters, but it's also possibly the most spectacular piece of Gran Turismo movie memorabilia you're likely to find.
It may not be all that expensive either, with a guide price of £225,000-£275,000 ($290k-$350k). The GT-R will head across the block as part of the Competition Car Sale during The Classic Sale at Silverstone Festival 2023 on August 25.
See more articles on Gran Turismo Movie, Nissan, and Nurburgring 24 Hours.