Back in March, Volkswagen teased us with some images of its newest racer. Now it's revealed all, with some juicy numbers too.
For a start, the racer uses a pair of engines, rather like Volkswagen's last attempt at Pikes Peak. Unlike that petrol-powered Golf though, these are electric motors. Combined, these make 500kW — that's 670hp in proper money — and provide 479lbft of torque.
That might not sound like that much, but the I.D. R Pikes Peak only tips the scales at around 2,500lb. Volkswagen's figures say it'll hit 62mph in 2.25 seconds which, according to VW, is faster than either an F1 or Formula E car. We're not so sure about that one.
Nevertheless, all this electric power will come in handy when the car makes its racing debut at the 2018 Pikes Peak Hill Climb.
Located about 30 miles west of Colorado Springs, the Pikes Peak International Hill Climb is one of the toughest races in the world. Stretching 12.72 miles the course twists and turns up to the famous 14,110ft summit. During the ascent, racers will make their way up an average 7.2% grade with 4,720ft of elevation change.
Electric cars are still fairly new among competitors at the Race to the Clouds. However, they do make a lot of sense. Typically, internal combustion engines — which combine fuel and air — struggle at high altitudes due to the lower air pressure; less air means less combustion, means less power. The usual PPIHC competitor uses giant turbochargers to help solve it, but electric motors don't need any air at all to work.
Given the recent inclusion of EVs to the competition, there are not many times to benchmark the I.D. R with. It does have one record square in its sights though: the e0 PP100.
At the 2016 event, Rhys Millen drove the e0 PP100 up the track to a record-setting 8:57.118.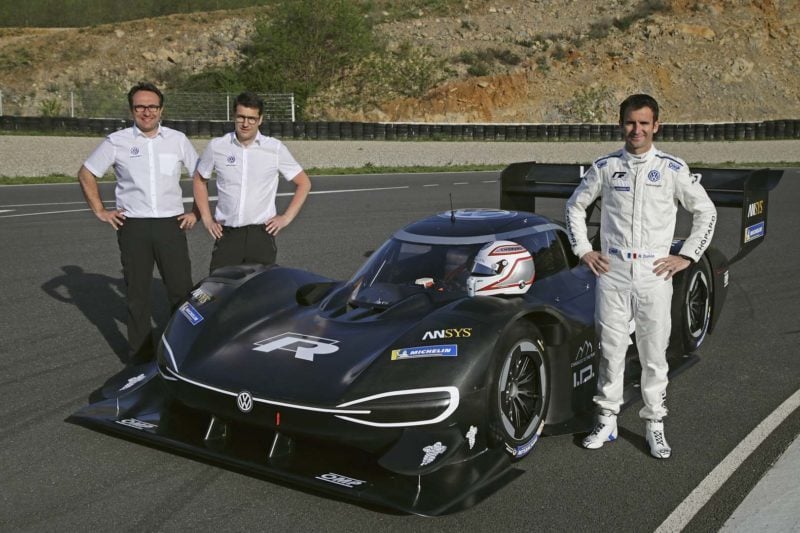 The I.D. will have its hands full though if it wants to beat that time. During that run, the e0 PP100 more than twice the power and didn't weigh that much more — just 200lb. Downforce and environmental conditions will play a huge part on whether or not the I.D. R can break the record. It certainly sports an impressive rear wing.
To get warmed up for the event, VW gave the I.D. a shakedown around a racetrack in Alès, France. At the wheel was French racing driver Romain Dumas, who will also pilot the car up Pikes Peak in June.
Although VW kept the times the I.D. set around the track under wraps, Dumas seemed impressed according to the VW press release:
It was absolutely fantastic to see the completed I.D. R for the first time, and to take it out for its first spin," said Romain Dumas, who is a three-time winner of the hill climb on Pikes Peak. "What Volkswagen has managed to put together from scratch over the past few months has my greatest respect. I had obviously seen initial pictures of the car – but it is even more spectacular in the flesh. We now have a packed schedule of testing ahead of us, and I am looking forward to every metre!
Prior to heading Stateside in June, the I.D. R will complete an intense testing program in Europe.
Look for the VW I.D. R Pikes Peak during the Race to the Clouds on June 24.
See more articles on Pikes Peak, Pikes Peak International Hill Climb 2018, and Volkswagen.