Today is day two of the first GT Sport World Final. We've seen the Nations Cup already, where 30 initial drivers has become 16 ahead of Sunday's finals. But before that, it's time for something a little different: the Manufacturer Series.
How's It Work?
The Manufacturer Series isn't about single-driver glory. Instead, three-man teams will fight it out on the behalf of the top 16 marques. The in-game FIA Championship seasons determined these brand, with the top drivers for each marque, from each region, pairing up.
Race Structure
There's just one race tonight. It's a long one, with seven laps at the daunting N24 layout of the Nurburgring. There are a few requirements, however: each team must use all three drivers over the course of the race, as well as all three tire compounds.
Before the main event, the teams will have to qualify. There's no rules on who gets to, leaving it up to the drivers themselves to decide which on the team does the honors. No matter what, with only 20 minutes to set a hot lap at the gargantuan circuit, the pressure will be on.
A second qualifying session will be a part of the live stream tonight, with the top six teams from the first vying for the top section of the grid.
During the race, all three drivers will have to take part in at least two (of the seven) laps. In addition, they'll need to use all three tire compounds.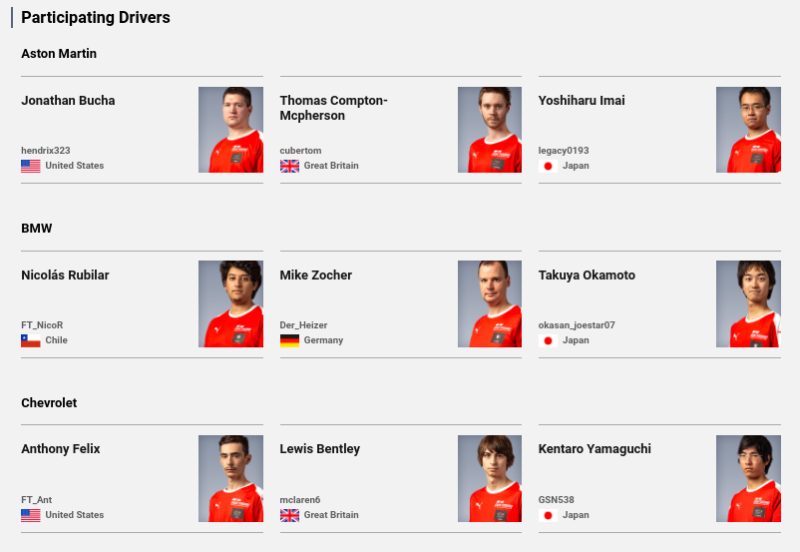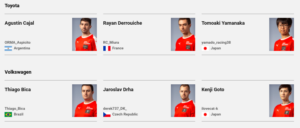 Who to Watch
If you thought the Nations Cup provided close racing yesterday, well, you ain't seen nothing yet.
Not only is this race going to introduce more variables by dint of having three-man teams, but a quicker rate of fuel usage has also shuffled the strategies for a lot of the teams.
Naturally, many eyes will be on the Nissan squad. It's a quick car — conveniently, it's a purpose-built race car that Kazunori Yamauchi himself has driven on this very track — but it also has all three regional champions as its drivers. Ryota Kokubun, Mikail Hizal, and Igor Fraga are all incredibly strong drivers, so it will be their race to lose tonight.
According to this team though, it's hardly a clear-cut event. Hizal tells GTPlanet that two other Japanese teams will be tough to beat: Toyota and Lexus. The Toyota has excellent downforce, helping it maintain high speeds around many of the Green Hell's faster corners. The German regional champ has nothing but positive words about the other two squads, especially their Japanese pilots, Tomoaki Yamanaka (Toyota) and Kanata Kawakami (Lexus).
We had a chat with Team Nissan of @thegranturismo #FIAGTC Manufacturers Series, including @HizalMikail, @1gorFraga, and Kokubun! They talk about their biggest competitors and dealing with the pressure of being the favorite team to win it all… pic.twitter.com/YcRVw29DkB

— GTPlanet (@GTPlanetNews) November 17, 2018
He nominates Mercedes, Subaru, Dodge and Porsche as ones to watch in the Manufacturer Series, something his teammates all agree on. Fraga even adds BMW to the pile!
That's half the field, and it doesn't even count what may be the ultimate dark horse: the Chevrolet team. The Corvette's major advantage is its fuel-sipping ability. With that strong V8, the team can short-shift with impunity, and the move to accelerated fuel usage only helps its chances.
BMW: Nicolás Rubilar (FT_NicoR, CH), Mike Zocher (Der_Heizer, DE), Takuya Okamoto (okasan_joestar07, JP)
Chevrolet: Anthony Felix (FT_Ant, USA), Lewis Bentley (mclaren6, GB), Kentaro Yamaguchi (GSN538, JP)
Dodge: Mark Pinnell (Turismo-lester, CA), Alessio Pusceddu (OvrD_Thunder98, IT), Takato Kobayashi (luca3331, JP)
Lexus: Tyrell Meadows (GT_Academy2013, USA), Vincent Rigaud (Oscaro_SkyPikmin, FR), Kanata Kawakami (Kawakana222, JP)
Mercedes-Benz: Nick McMillen (GumballCGT, USA), Edward Williams (force_ewerby, GB), Yusuke Nakao (CLS63AMG-sc, JP)
Nissan: Igor Fraga (IOF_RACING17, BR), Mikail Hizal (TRL_LIGHTNING, DE), Ryota Kokubun (Akagi_1942mi, JP)
Porsche: Thiago Gonzaga (FT_Solid, BR), Sergio Fonseca (serfonseca, PO), Tatsuya Sugawara (blackbeauty-79, JP)
Subaru: JT Lauro (BLKJ_Evolution, USA), Ilkka Koikkalainen (TgTenka, FI), Takuma Miyazono (Kerokkuma_ej20, JP)
Toyota: Augustin Cajal (ORMA_Aspcito, AR), Rayan Derrouiche (RC_Miura, FR), Tomoaki Yamanaka (yamado_racing38, JP)
The action kicks off in an hour, so be sure to catch the action on the live stream!
See more articles on 2018 FIA GT Championship World Final and FIA Online Championship.