Microsoft is planning a refresh of its Xbox Series consoles for 2024, with an updated Series S and a redesigned, discless Series X due for launch next year, according to a leaked court document.
The information comes to light as part of the Federal Trade Commission v. Microsoft Corp. and Activision Blizzard, Inc. suit, brought by the US consumer affairs agency to block Microsoft's acquisition of Activision which concluded in July after the FTC withdrew its challenge.
It's already been a veritable trove for general gaming information and an insight into Microsoft's plans and ambitions, but today's leak is among the most significant so far as it contains a presentation — officially Exhibit PX1517 — from Microsoft covering its mid-life updates for the current consoles.
Xbox Series X Refresh "Brooklin"
Probably the most important item in the presentation is the updated Xbox Series X, code-named "Brooklin", and there is a lot to unpack here.
Firstly, there's a whole new design for the console, which appears to be cylindrical. That's made possible by the removal of the disc drive, with the new Series X going fully (or "adorably", according to Microsoft) digital like its Series S sibling.
The now-central front interface will feature a USB-C port, while the internal SSD storage will be hiked from 1TB to 2TB. There's a new southbridge to better manage input/output devices (USB, Ethernet, the M.2 drives), and the console will now support the WiFi 6E standard – 802.11ax with a 6GHz band – and Bluetooth 5.2.
As part of Microsoft's sustainability aims, the Brooklin console will use a new 6nm die — reduced from 7nm — which will assist in lower energy use. A new, low-power standby mode will consume just 20% of the power of the current Series S's standby too.
According to a timeline in the document, it's planned to be officially announced in July 2024, ready for a late-October 2024 launch. It will also remain at the $499 price point; this document was created before the 2023 price hikes outside of the US, so we're expecting it to simply replace the current Series X on the price list.
Xbox Series S Refresh "Ellewood"
The Series S will also be updated, although it's physically less dramatic. It will retain the same shape and layout as the existing console, although — like Brooklin — include a larger proportion of post-consumer recycled plastics in the housing.
Notably the new Series S, codenamed "Ellewood", will also see the same upgrades to the southbridge, and Wifi and Bluetooth standards, as Microsoft seeks to retain as much parity between the two devices as possible.
Like the new X, the new S will see a doubling of on-board storage, jumping to 1TB as standard — the same as the recently released "Carbon Black" version of the console. That will be pretty useful given the size of some popular games: Forza Motorsport alone will require 130GB.
It will also retain the existing price point, at $299 in the USA, and is planned for a July 2024 reveal alongside the new Series X but launching in late August.
Microsoft's launch roadmap also notes that the existing Series S, "Edith", will be offered at $199 for Black Friday as an end-of-life promotion for the console. A second console, "Starkville" — which we assume to be the current Series X — will also move to EOL just before the Brooklin device launches.
Xbox Controller Update "Sebile"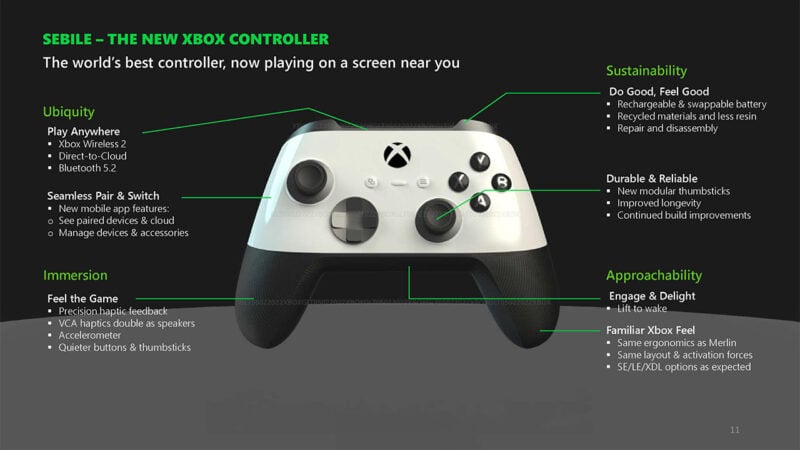 There's also a new update to the Xbox Controller coming along in 2024, codenamed "Sebile".
It will retain the same layout and ergonomics of the current controller, "Merlin", but bring in some new haptic features. That will include VCA (voice-coil actuator) drivers like Sony's DualSense controller and an accelerometer which may allow for motion-sensing control.
Along with quieter buttons and thumbsticks, Sebile will feature modular thumbsticks which should allow for players to replace them in case of wear or drift. The device will also support Bluetooth 5.2 and direct-to-cloud connectivity, suggesting it could be used in a similar manner to Google Stadia.
Again, sustainability is a key feature of the new controller, which will be constructed of more recycled (and hopefully recyclable) materials and less resin than before. However the key feature on this front is a swappable battery. That means players can, if necessary, just buy a new battery instead of a whole new controller.
It's set to launch at $69.99 and come before the consoles, in May 2024. Interestingly the presentation, which was compiled in early 2022, notes that a full-featured and pared-down version of Sebile are in Microsoft's plans — along with an Elite-replacement controller codenamed "Actium" — but it's not clear which one is described in the slide.
The new consoles themselves are a prelude to Microsoft's plans for the tenth-generation of consoles due in 2028 according to the company's timeline. Whatever form they take, Microsoft is planning a "cloud-hybrid" Xbox, likely abandoning physical media entirely.
See more articles on Xbox Series S and Xbox Series X.