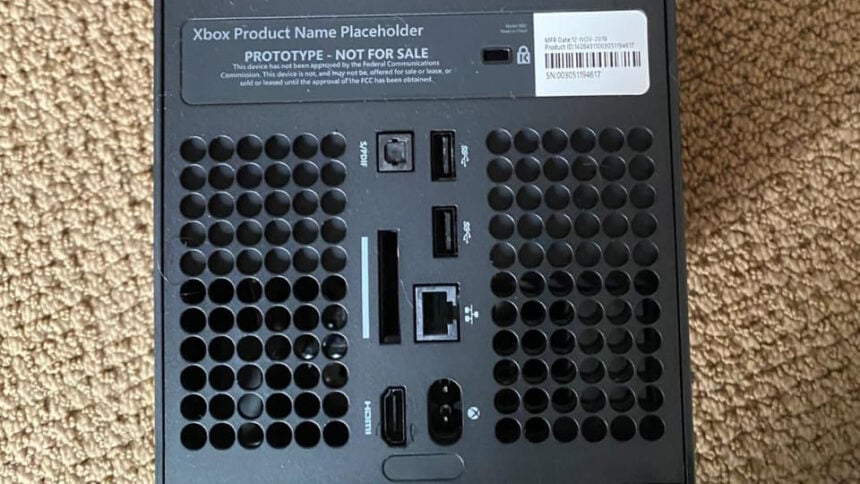 After one false start, we are once more able to have a look at the new Xbox's posterior — and this time it looks like the real deal.
The world thought it had caught a glimpse of the console's rear end during a presentation by chip manufacturer AMD at the Consumer Electronics Show. AMD is partnering with Microsoft to create the heart of the Xbox Series X (something we're not supposed to be curious about), but made a minor goof. In a now-removed part of its show presentation, AMD revealed the console's looks in a 360-degree animation, but it turned out to be a 3D model purchased from a third party.
Tech site Thurrott was able to glean what the real thing should look like, and put together its own graphic. Now a post on the NeoGAF forums has put the guessing game to bed.
One user there has posted up images of a prototype model of the Xbox Series X — or, more officially, the 'Xbox' (Series X) — and it reveals how on the money Thurrott's diagram actually was.
Although the original source for the images is unknown, the console appears to be genuine and rather well-used. One Twitter user was even reportedly able to register the device's serial number on the Microsoft website. That should make for an interesting warranty claim…
The images confirm the general port and vent layout of the Series X. On the right side as you look at the back there are two SuperSpeed USB ports, an RJ45 Ethernet port, and the Xbox power connector socket. Opposite those is an optical audio port at the top and an HDMI connection at the bottom.
As for the final hole, there's some speculation over its purpose. Some suggest it's for a removable NVMe Solid State Drive, but the port seems the wrong size for that — perhaps there'll be a custom caddy. Brad Sams at Thurrott simply states that it is a debug port, which may not appear on the final consumer console, and given his previous accuracy we're inclined to concur.
We'll bring you more information on the Xbox Series X as we get it.
More Posts On...