After qualifying, you'd be forgiven for thinking that results were all but confirmed for this past weekend's Austrian GP. Mercedes dominated the field with a front-row lockout and was well ahead with its raw pace.
But 2018 has not been the year of the routine, and things rarely go as expected. So it proved in Spielberg.
It wasn't Hamilton, or indeed a Mercedes, that took the checkered flag. Instead it was Max Verstappen crossing the line first, for Red Bull at its home venue. This was his first race win of the season, but also the first time Red Bull has won at its own circuit since the track returned to F1.
Following him home were the two Ferraris of Kimi Raikkonen and Sebastian Vettel. As the events of this frenzied race played out, Vettel would retake the lead in the championship race. 2018 continues to impress, and the back-and-forth between Ferrari and Mercedes goes on.
Off the line, Kimi Raikkonen got the best start, wedging in-between the Mercedes duo. Coming into the first corner, Lewis Hamilton jumped ahead of his teammate to take the race lead. Holding the inside line, Hamilton defended his position from the ever-threatening red Finn.
Valtteri Bottas in the second Mercedes was in the worst position at the start. Pinched by both Raikkonen and Hamilton, he soon fell to fourth, dropping behind the charging Verstappen.
The Ferrari attacked the lead Mercedes heading into Turn 3, but ran wide. Hamilton scampered clear, but this allowed the Red Bull in third to attack the Ferrari. With the two cars engaged in their own tussle, Bottas was able to retake second heading into Turn 4.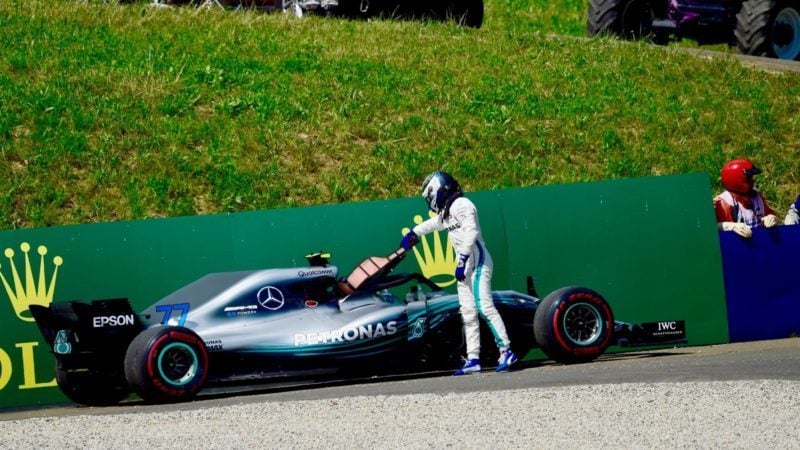 While Hamilton was able to maintain the race lead, this wouldn't be the typical day for the Brackley team. Everything that could go wrong for Mercedes, did. First on the list was Bottas. Coming out of Turn 3 on lap 14, he couldn't find a gear. Eventually the car coasted to a stop, retiring from the race due to a loss of hydraulic pressure.
Bottas's parked car brought out the Virtual Safety Car, prompting a routine pit stop from all but Hamilton — a decision that would haunt him soon enough. Both Ferrari and Red Bull chose to double-stack their cars in the pits, to take advantage of the reduced lap speeds in VSC conditions.
Verstappen, who had gotten in front of Raikkonen for second, came out just 13 seconds behind the Briton. Hamilton's team was apologetic over the missed opportunity and as his tires got slowly worse it was clear he'd not be able to make the gap he required to stay in front. He ran ten more laps before pitting, dropping back to fourth.
This proved short-lived. Despite getting out in front of Vettel and seeming clear, tires came to the fore again. The German attacked Hamilton on the way to Turn 3 on lap 34, forcing him wide to take fourth. It all proved academic anyway, as Hamilton retired the car on lap 64 with a loss of fuel pressure. Without a question, it was a weekend to forget for Mercedes. Making matters worse, Lewis fell one lap short of being a classified finisher.
That brought to an end to Hamilton's 33-race streak of finishing in the points. Bottas also saw his 23-race finishing streak come to an end. For reference, Lewis' last retirement was the 2016 Malaysian GP due to an engine failure. Bottas last retired during the 2017 Spanish GP, with the same ailment.
Ten laps prior to Hamilton's day's end, a blue plume of smoke from the second RB14 spelled disaster for Ricciardo. On the next lap, he would pull the car over to the right on Turn 1, ending his day. Not the best outing for the Honey Badger, who was less than cheerful throughout the weekend.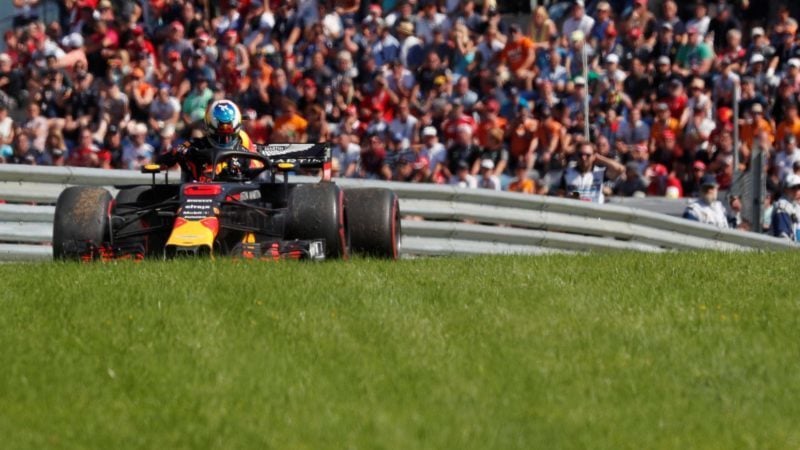 With the Mercedes team out of contention, the top three plowed on to the end without challenge. Ricciardo vacating fourth opened up the position to some of the midfield cars. Romain Grosjean took that opportunity, ending his own torrid start to the 2018 season, and giving Haas its best result since debuting in 2016.
Teammate Kevin Magnussen fought his way up the grid to finish fifth, tying his best finish of the year. Combined, Grosjean and Magnussen's haul in Austria moved the Haas team all the way to fifth in the constructor's race.
Meanwhile, Esteban Ocon and Sergio finished in sixth and seventh for Force India. Fighting from 11th and 15th, both brought home valuable points to the team on its 200th race. Even better, this is the first time both cars finished in the top seven this season.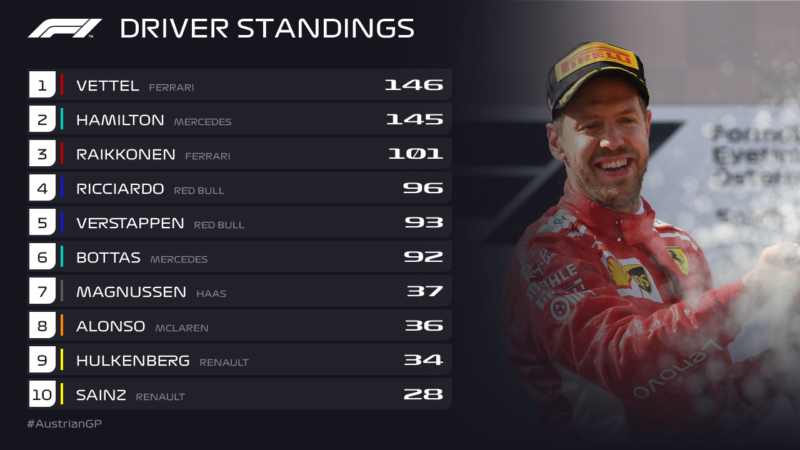 Fernando Alonso took eighth for McLaren, ending his three-race scoreless streak. Fighting his way up from a pitlane start, the Spaniard took advantage of the VSC to bring home some points for the team. It's a shame then that teammate Stoffel Vandoorne crossed the line in 15th.
Rounding out the top 10 were the Sauber duo of Charles Leclerc and Marcus Ericsson. Leclerc continues to impress as usual, now having scored in five of the last six races. This is the first time Sauber has enjoyed a double-points finish since the 2015 Chinese GP.
As mentioned, Vettel retakes the championship lead by one point, 146 to 145. The final round of the triple-header takes place at Silverstone. Both Hamilton and Mercedes will be on the lookout for retribution and there's no telling what's going to happen.
POS
DRIVER
CAR
LAPS
TIME/RETIRED
PTS
1
33
 
RED BULL RACING TAG HEUER
71
1:21:56.024
25
2
7
 
FERRARI
71
+1.504

s

18
3
5
 
FERRARI
71
+3.181

s

15
4
8
 
HAAS FERRARI
70
+1

 lap

12
5
20
 
HAAS FERRARI
70
+1

 lap

10
6
31
 
FORCE INDIA MERCEDES
70
+1

 lap

8
7
11
 
FORCE INDIA MERCEDES
70
+1

 lap

6
8
14
 
MCLAREN RENAULT
70
+1

 lap

4
9
16
 
SAUBER FERRARI
70
+1

 lap

2
10
9
 
SAUBER FERRARI
70
+1

 lap

1
11
10
 
SCUDERIA TORO ROSSO HONDA
70
+1

 lap

0
12
55
 
RENAULT
70
+1

 lap

0
13
35
 
WILLIAMS MERCEDES
69
+2

 laps

0
14
18
 
WILLIAMS MERCEDES
69
+2

 laps

0
15
2
 
MCLAREN RENAULT
65
DNF
0
NC
44
 
MERCEDES
62
DNF
0
NC
28
 
SCUDERIA TORO ROSSO HONDA
54
DNF
0
NC
3
 
RED BULL RACING TAG HEUER
53
DNF
0
NC
77
 
MERCEDES
13
DNF
0
NC
27
 
RENAULT
11
DNF
0
See more articles on F1 2018 Season.