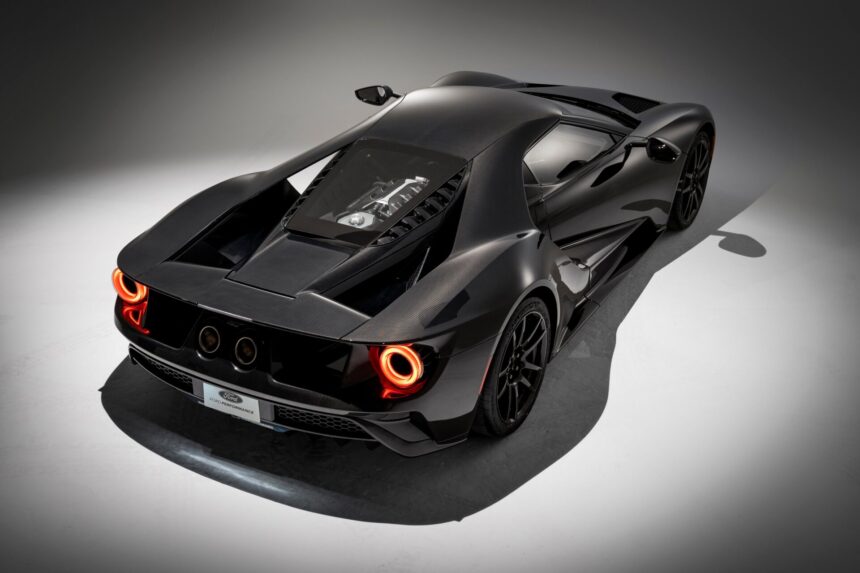 Ford's last batch of its GT supercars will gain a useful power hike, along with a rather tasty special edition.
All of the planned 350-car run of 2020-2022 GTs will come with some modifications over the original 1,000, using the GT MkII trackday special as a reference. For starters there's a new, standard titanium exhaust system from Akrapovic, which also enhances the V6 engine's sound while shaving nine pounds off the car's curb weight.
Much of the work has gone into the engine though. There's new gallery-cooled pistons and higher energy ignition coils, while Ford has also recalibrated the engine to provide more power and a wider torque band. You'll also find larger intercoolers, fed by larger air ducts under the car's signature buttresses.
In total, the engine power is now up to 660hp, an increase of around 13hp over the first run of GTs. That's not likely to change the Ford's vital performance statistics much, but it should save a few tenths on the track. That'll be helped by a new suspension default to give firmer damping in track mode.
Ford will also offer a new Liquid Carbon special trim for the 2020-2022 cars. This does exactly what you imagine, with a clearcoat paint finish instead of any final coloring to show off the carbon fiber weave. Liquid Carbon cars also get carbon fiber wheels as standard, with optional titanium wheel nuts, five different choices of brake caliper color, and five interior color options.
There's a limited number of these cars — although Ford hasn't shared just how limited — but each can be ordered with optional stripes and painted mirror caps, in a choice of seven standard exterior paint colors.
Also updated for the 2020 car is the Heritage model. Finished in the classic Gulf Oil livery, the blue and orange GT now has a black pinstripe dividing the colored areas. The optional carbon fiber number board changes from 9 to 6, to match the number of the double Le Mans-winning chassis #1075. You can also specify the carbon fiber wheels on the Heritage for the first time in place of standard aluminum alloy.
Ed Krenz, chief program engineer at Ford Performance, said:
"Ford GT continues to be the pinnacle of Ford performance. GT is always the ultimate expression of Ford racing innovation, and as we know from the 1966 Le Mans through today, that means constantly raising our game for our customers as well as earning the checkered flag."
Although Ford has twice updated the production run of the GT, 2022 should be the final year of the car, with 1,350 examples built. If you're overburdened with cash and fancy getting hold of one, you're out of luck. Ford hand-picks buyers from applications, and it's pretty likely all 350 additional cars are spoken for.
Still, one may turn up with low miles at an auction…
More Posts On...