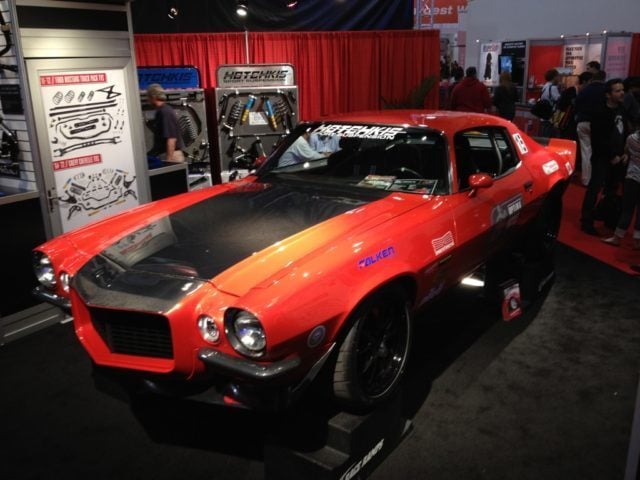 The 2011 Gran Turismo Awards were held last Thursday night in Las Vegas, and Kazunori Yamauchi himself selected this year's "Best in Show" winner: a 1971 Chevrolet Camaro, customized and tuned by Mary Pozzi of Salinas, California.
The Camaro beat out an impressive and diverse set of GT Awards finalists in the other categories, including:
Best Truck/SUV: Casey Scranton's CGS Performance Ford F150
Best Domestic Car: Filip Trojanek's 1966 Widebody Ford Mustang
Best Asian Import: Mike Mixon's custom Nissan 370Z
Best European Import: Mark Arcenal's custom 1990 Porsche 911 C4
Best Hot Rod: Marry Pozzi's custom 1971 Chevrolet Camaro
Mary has been involved with motorsports for many years, and actually drives the car in competitive events. Take a look at this video for more background on Mary's accomplishments, her thoughts on suspension tuning, and a look at the car in action:
As with previous award winners, the Camaro will be included in the GT franchise at some point in the future, though Kazunori didn't yet know exactly when that would be when I asked him.
I was personally on hand for the event and toured the SEMA show floor with Kazunori Yamauchi, where he had a surprise encounter with the legendary Nobuhiro 'Monster' Tajima – the real-world pilot of Gran Turismo's Suzuki Escudo Pikes Peak, and the current world record holder of the Pikes Peak International Hill Climb, set earlier this year (here's a video of his 9:51 run).
The GT Awards party was held at the Marquee Nightclub in Las Vegas' Cosmopolitan Hotel, with a special performance by the Stone Temple Pilots. It was an incredible event, and it was great meeting so many GTPlanet readers and community members, North American GT Academy champion Bryan Heitkotter, and GT super-fan Adam Barrera (known in the forums as HondaKid86).
Congratulations to Mary and all the category winners, and thanks to Sony for providing me the opportunity to attend this event!
More Posts On...
The original comments for this post are no longer available.