Not to be outdone by the exploits of Jann Mardenborough and Lucas Ordoñez at Le Mans last week, the newest Nismo Athletes scored some more track success of their own in the Blancpain Endurance Series round from Paul Ricard.
With the series' organisers the Stephane Ratel Organisation requesting the ultra-pacey pairing of Ordoñez and unsung GT Academy lynchpin Alex Buncombe should be split into different GT-Rs, the team came into the weekend facing some uncertainty. This was quickly put to bed with excellent practice and qualifying times – the #35 car of Ordoñez, Reip and Pyzera coming out slightly ahead with a 4th in class position.
Sadly, like Le Mans last week, the race took a hit of tragedy with the death of Lamborghini Super Trofeo racer Andrea Mamé in an opening lap multiple car pile-up for the support race – and the 3 hour BES race was started under safety car conditions as a precaution.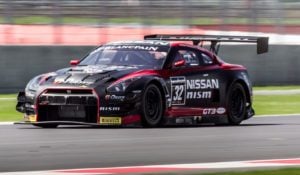 While the initial stint for Reip was uneventful, Buncombe's run in the #32 was truncated by a puncture following some great work to drag himself up the grid. This meant an early change of drivers – and quite a rapid change of fortune. The second stint for Shulzhitskiy in the #32 was a great drive, but Peter Pyzera was soon on the radio to report damage from a collision with an unidentified BMW.
Both cars made it to the end of their hour, but it soon became apparent on Ordoñez's watch that the collision damage had done far more to the car than had been thought and the #35 was retired soon after. However, Steve "Dan Mitchell" Doherty put in a solid final session in the #32 to bring the car home second in class, 13th overall.
This result gives Nissan GT Academy Team RJN a commanding 18 point lead in the Pro Am category on 51pt, well ahead of AF Corse in 2nd – though the extra points from the Spa 24 Hours make the next event one to finish well in.
You can watch the entire race below (not available in all regions):
Image courtesy of Nissan.
More Posts On...
The original comments for this post are no longer available.