It's been a long wait, but the end is near: sim racers will be able to get their hands on Assetto Corsa Competizione in a little over six weeks.
The news comes out of Belgium. The Spa 24 Hour Endurance is happening this weekend, and as the official game of the Blancpain GT series, ACC is there. Kunos Simulazioni took the opportunity to announce the Steam Early Access date, alongside a tasty new trailer:
Luckily, those attending this weekend's endurance race will get some hands-on time. For those of us not crowding Eau Rouge, there's been a smattering of teaser shots and gameplay videos.
Kunos' Marco Massarutto was on hand at this morning's press conference to break down the staggered release schedule (starting at roughly 51:47 here). It all starts September 12, with monthly updates following in quick succession.
Players will first get their feet wet with the Lamborghini Huracan GT3 at the Nürburgring Grand Prix circuit. Following that, the Misano World Circuit will be the next track on October 10, with the big Bentley Continental joining it. This cadence will continue through to at least February 2019. Meanwhile, Kunos has announced the full game release will take place in the first quarter of next year. Check out the full schedule below: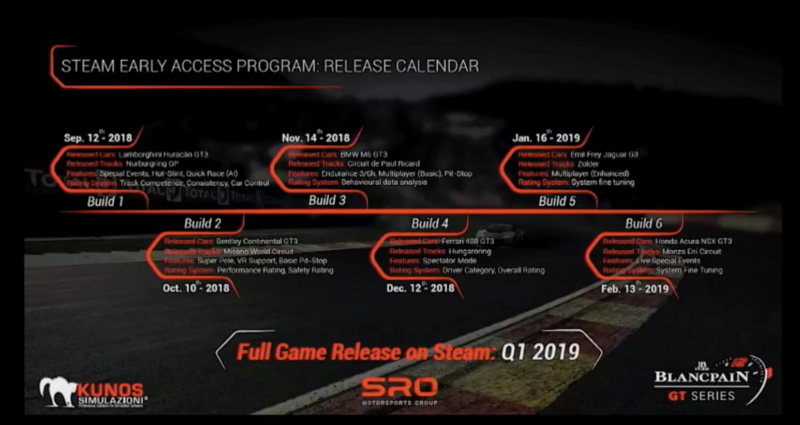 Perhaps the most interesting takeaway here is the Rating System. We've known Kunos would follow in the footsteps of iRacing and GT Sport since the initial ACC announcement, but this is our best look yet at how the team would go about it. There are a lot of aspects at play here, with performance and safety ratings, as well as track competence and consistency.
If you haven't kept up with things until now, a refresher course is in order. While not a direct sequel to Assetto Corsa, ACC is the next step in the series. Competizione is the official game of the Blancpain GT Series. As you would expect, that means all the official cars, tracks, teams and drivers.
If that weren't enough, the game also brings dynamic time and weather to the table. This, according to Kunos, allows players "the opportunity to compete in different moments of the entire 24-hour arc under a dynamic weather system". As you can see in the video above, nothing is off limits. Whether it be rain, shine, or in the black of night — you're going racing.
Thanks to sgohsixthree and ProjectWHAT for the tips!
See more articles on Assetto Corsa Competizione Early Access and Kunos Simulazioni.