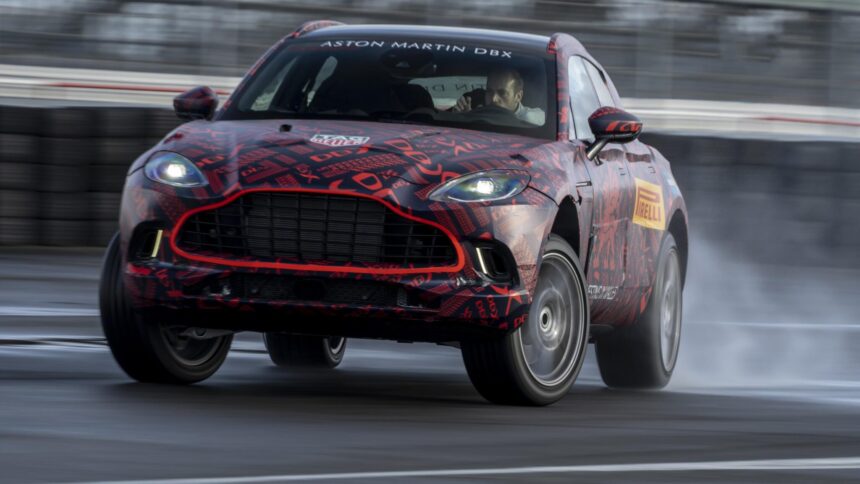 Aston Martin is in the headlines a lot right now. It's working on creating one of the highest performance road cars ever made, capturing mid-engine performance car sales from Ferrari, and winning Le Mans outright.
However the British brand is busy at a slightly different end of the market too. At the end of the year, it will officially unveil its first ever SUV. It'll go by the name of DBX, and Aston Martin is deep into the final testing phases of the car right now.
While we don't know that much about the car at the moment, other than the fact it's an SUV and on an entirely new platform, Aston Martin has revealed what will power the DBX. It'll use the familiar four-liter, twin turbo V8 we've seen in recent models, but tuned to be the most powerful of its type in the brand's range.
That comes in at 542hp, and packs 516lbft of torque too. It's enough to push the DBX to a top speed of over 180mph, although Aston Martin won't confirm the exact figures until nearer that launch date in December.
Another lightly penciled performance figure is the DBX's Nurburgring time. Aston Martin is, as is the vogue these days, testing the "1PT" (first production trial) DBX at Germany's Green Hell, and reports that it's regularly achieving sub-eight-minute laps. The best recorded SUV time at the Nordschleife is around 7:50, with a little gaggle of performance SUVs — Alfa Romeo Stelvio, Mercedes-AMG GLC63S, and Audi RS Q8 — all near that mark. Chances are that if the DBX goes for a more official run, we might see a new best-in-class.
More importantly, Aston Martin has recorded better cornering speeds there than its own Vantage, and better braking performance than the DBS Superleggera. Added into the mix is a surprisingly competent off-road abilities for a premium sporting SUV.
However, mere performance isn't enough for Aston Martin. It has to have the soundtrack of an Aston, and the company's 'dedicated acoustic team' has worked to make the V8 an example of what it calls "true auditory exhilaration". As a teaser, it's released this short clip of the V8 in action:
Aston Martin's Chief Engineer, Matt Becker, comments:
"We have concentrated our work to ensure that the calibration and tune of this 4.0-litre twin-turbo V8 delivers both the everyday usability and refinement expected by SUV owners. However, we have also focused heavily on matching that with the engaging driving dynamics that are commanded by our brand and inherent in every Aston Martin and early indications of the car's overall performance have been incredibly promising.

"The next few months will be extremely important to us, as we continue to hone the powertrain credentials and a dynamic setup that will help make this the most exciting SUV on the market."
More Posts On...