A hypercar needs a hyper engine. Thanks to Cosworth, the Aston Martin Valkyrie's engine is as hyper as they come, and today Aston Martin has revealed it in full.
We've known the rough details about the Valkyrie engine for quite some time. It's a naturally aspirated, 6.5-liter, Cosworth V12, good for 1,000hp. That's not quite enough to give it the highest specific power output for an engine of this type, but 154hp/liter is right up there.
That power peak arrives at 10,500rpm, with the engine's red line at 11,100rpm. The 545lbft torque peak comes in at 7,000rpm. It's quite the free-revving engine.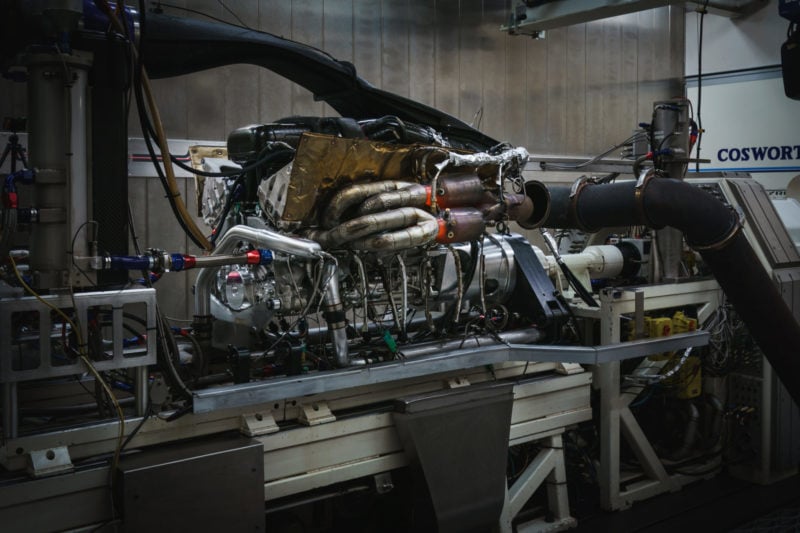 To reach these high engine speeds, Cosworth had to make the moving parts light. However, it faced a challenge in that the project couldn't use novel exotic materials. Neither company wanted to use alloys that might change in unknown ways over the life of the engine.
That means a lot of titanium. Other than structural castings like the block and heads, Cosworth machined the engine components from single pieces of solid metal. Making the crankshaft alone is a six-month process, grinding away 80% of the material from a single metal bar, measuring 6.6 inches by 30.5 inches, in three stages.
This produces a crankshaft half the weight of the one in the Aston Martin One-77, itself a Cosworth V12. The whole engine weighs 454lb, giving it a comparable weight-for-displacement to Cosworth's V10 F1 engines.
The engine sits in the middle of the car, acting as a fully stressed part of the chassis. Yet it's only a part of the Valkyrie's power recipe.
Valkyrie is a hybrid, so it will also get electric motors. Aston Martin is yet to reveal the nature of the electrical system, but the additional motive power could be almost any number.
It's unlikely to pack an extensive motor system like the Pininfarina Battista, as Aston Martin wants to keep the weight down. However, it could gain a system like other hybrid supercars with a couple hundred horsepower for a kick — and a pure EV range for city driving.
Bruce Wood, managing director at Cosworth, comments:
"Being asked to create a naturally aspirated V12 engine fit for what will surely be one of the most iconic cars of all time is an immense source of pride for Cosworth.

"When we started talking about specifics of power, weight, emissions compliance and durability combined with ever harder and sometimes conflicting targets, we knew this would be a challenge like no other.

"It's been a fantastic partnership between Aston Martin, Red Bull and Cosworth with each party bringing a distinct clarity of vision that has proved essential in delivering an internal combustion engine way beyond anything previously seen in a road car application."
Andy Palmer, president and CEO of Aston Martin Lagonda, adds:
"To anyone with a drop of petrol in their blood, a high-revving naturally aspirated V12 is the absolute pinnacle. Nothing sounds better or encapsulates the emotion and excitement of the internal combustion engine more completely.

"Despite the apparently insurmountable challenges it presented, there was never any question that the Aston Martin Valkyrie would make do with anything less. From the outset the team at Cosworth were unflinching in their commitment to achieving benchmarks which pushed the boundaries of the possible.

"The result is a quite extraordinary engine. One which I doubt will ever be surpassed."
More Posts On...