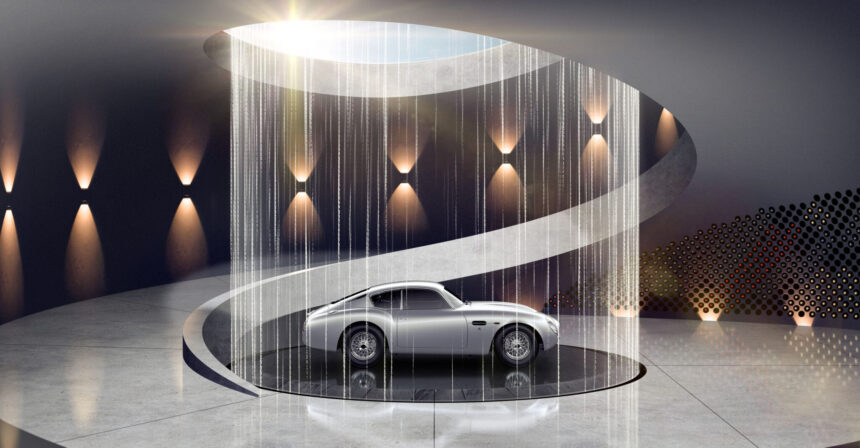 If you happen to be an evil megalomaniac with a serious automotive passion, there's some good news for you at Pebble Beach this weekend.
Aston Martin has revealed a new customer design service. It's not for your car — Aston Martin already provides pretty extensive personalization services for those — but for where you keep it.
"Q by Aston Martin" is the British brand's lifestyle design arm. As well as making sure your aesthetic carries over to your car, the Q branch will carry it from your car too. If you want luggage to match your Aston Martin, Q will do it.
But that barely scratches the surface. The Q division will work on your house, bringing the materials, colors, and design elements from your Aston Martin vehicle into your living space. Got a luxury yacht? The Q team will make it match your Vanquish, Vantage, Valkyrie or DB11. You can even live in an Aston Martin condo, one of 300 created by Q in a giant tower on Miami's seafront Biscayne Boulevard Way.
Aston Martin is taking things to a whole new level — and likely a subterranean level at that — with its new service unveiled at Pebble Beach. The Automotive Galleries and Lairs service will allow customers with serious space (and cash) to build their own custom vehicle display area.
The Q branch will bring together Aston Martin's own design team and renowned architects to create individual exhibitions. They could be for single vehicles, or for collections, but either way they're designed to show off the vehicles they contain.
To demonstrate the potential of the Automotive Galleries and Lairs service, Aston Martin has released a selection of concept images. Alongside a transparent-walled garage that wouldn't look out of place at a serious collector's country retreat, there's other examples that look a bit more… well, supervillainy.
From the mountaintop eagle's nest to the underground Valkyrie enclosed by a fish tank (no doubt full of piranhas, or ill-tempered, mutated sea-bass), Aston Martin's lairs certainly fit the brief. That said, if you're more chaotic good and want something akin to Tony Stark's Malibu garage, Q would be the people to call.
It's not just about the car either. Q's designs can function as a larger art installation, or entertainment room. The lair and gallery concept could easily be part of a conference area, a waiting room for guests to your business, or even living space.
Marek Reichman, chief creative officer at Aston Martin, says:
"Imagine a home or luxury retreat built around your car. Picture creating the ultimate space to showcase your own automotive works of art. This is now achievable with this new offering.

"For the car enthusiast the garage is as important as the rest of the house and a bespoke auto gallery designed by Aston Martin that either focuses on showing off the car or is part of a larger, integrated entertainment space with simulators and such like, takes Aston Martin ownership to the next level."
More Posts On...