One of the most prominent pieces of technology to come out of this year's Consumer Electronics Show (CES) is the self-driving car, and BMW is the latest company to throw its hat into the ring.
While one would hope we'd see a brand-new car come out of the boffins in Bavaria, the German giant has decided to install the technology in their luxurious 7 Series model. And it's fitting, too. The 7 Series is essentially as close as you'll get to a BMW limousine; so installing a self-driving mechanism makes a lot of sense.
BMW has teamed up with both Intel and Mobileye, a company that specialises in vision-based driver assistance systems. While other companies have envisioned their own autonomous future, BMW is the first major brand to partner with other corporations and collaborate on self-driving tech.
The plan is to have 40 test vehicles on the roads of the US and Europe by the second half of 2017, with a full roll-out before the year ends.
The self-driving 7 Series will be similar to the Model S from Tesla in that it won't be fully autonomous. A driver will still be required and can override the system at anytime.
BMW did however mention that the lessons learnt from installing the self-driving technology in the 7 Series (and undoubtedly other models in the near future) will benefit their first fully-autonomous vehicle, dubbed the 'iNEXT'.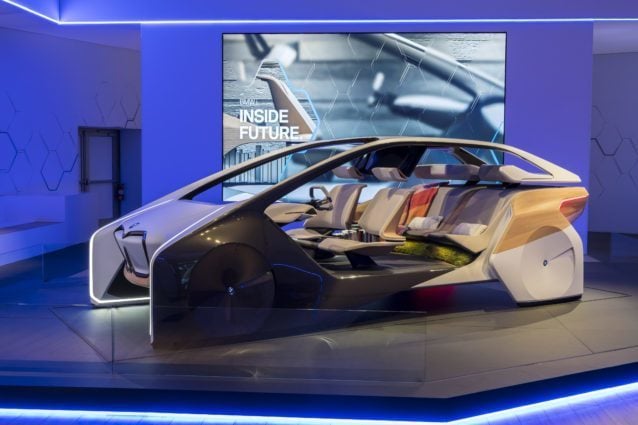 BMW also debuted what it believes is the future of car interiors. Dubbed the 'i Inside Future', support for Cortana and Alexa could be included, as well as a holographic touchscreen that gives haptic feedback through ultrasound. Personal audio zones that allow each occupant to have their own media experience depending on where they're sitting in the vehicle is also in the pipeline. And, for those who enjoy watching movies (or Gran Turismo documentaries) in the back seat, a wide screen folds down from the ceiling to accommodate passengers' viewing needs.
Technology that seems a long way off, sure. But BMW has given a tentative 2021 release date for the iNEXT. So we could all be enjoying the benefits of holograms and ultrasound in our cars in the not-too-distant future!
What does this mean for games though? It would seem pretty unlikely to include autonomous cars in something like Gran Turismo, since the whole point of playing The Real Driving Simulator is to well, drive.
But Gran Turismo has always had a keen eye on the future of motoring (not to mention B-Spec Mode). From the futuristic Nike ONE in GT4, to the innovation that is Vision GT, and most recently aiding NVIDIA with its own self-driving car concept, the Gran Turismo series is no stranger to interesting car concepts.
2017 has only just begun but it seems by the end of the year, The Ultimate Driving Machine will actually drive you!