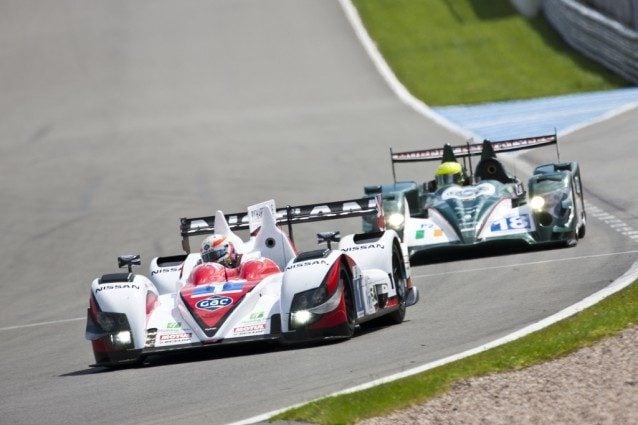 While a group of 32 guys hopeful to follow in his footsteps competed in the U.S. GT Academy 2012 finals in San Diego last weekend, the first GT Academy champion, Lucas Ordonez, was nearly halfway around the world, racing on England's Donington Park.
Excellent drives by Lucas Ordonez, Alex Brundle and Tom Kimber-Smith, along with some impressive work in the pits had the No.1 Greaves Motosport car lined up for a strong finish. Alex Brundle took the start and, apart from a moment where he had to run wide to avoid trouble, the young British racer had a good run.
Lucas Ordonez was up next and the Spaniard was soon setting very quick and very consistent lap times.  Just after the half way mark of the race the safety car came out while a barrier was repaired.  At this point Ordonez was leading the race, but at the restart he had a problem.
"I struggled to get my tyres up to temperature during the safety car period," explained Lucas. "I got away okay but when I braked for the last turn I locked the front wheels and went onto the grass, dropping down to fourth place. It's clear that the way to win these races is by not making a single mistake!  I can take a lot of positives from today though as I think I have more pace now and I have much more confidence too."
Tom Kimber-Smith joined the race in fourth place ready to complete the final two hours and fight for a place on the podium.  He was making good progress when he suddenly had to pit in the final hour due to a problem with the front brakes.
"We had a shot at the podium but we didn't have any luck today," said Tom.  "I could feel that the brakes were a bit soft but when I went into the hairpin the pedal went straight to the floor. The effect of this is that all the brake pressure goes to the rear so it's like doing a handbrake turn into the hairpin!  It's such a shame as Alex and Lucas drove really well and we couldn't have asked more of the team."
After changing the front discs and pads in record time the team sent Tom back out and he completed the race in seventh place.
More Posts On...
The original comments for this post are no longer available.