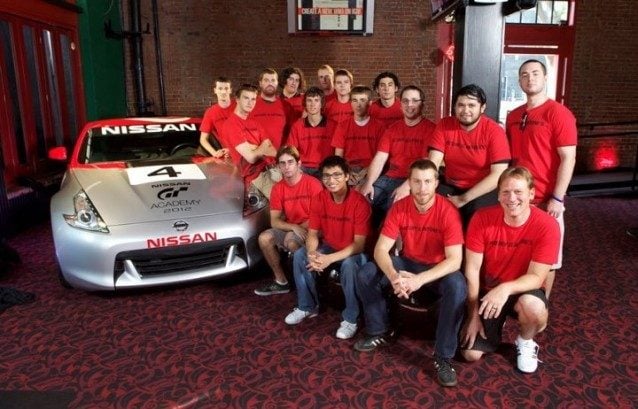 As those of you who tuned in to the live stream already know, the top 16 finalists in the U.S. region of GT Academy 2012 were determined this weekend in a dramatic event held in San Diego, California during Comic-Con.
Things got off to an exciting start on Thursday, when GTPlanet user Patrick Crider earned the title of "Racer X" and the chance to knock one of the top 32 finalists out in the first time trial on Friday morning. Living up to the challenge, he bested the slowest time on his first qualifying lap, securing his place in the competition.
Four rounds later, he survived to join the 16 finalists moving forward to the GT Academy Boot Camp at Silverstone at the end of next month. Here's a list of all the winners (and their PSN usernames) as compiled by finalist Edward Gomez and shared in our forums; you can match up names to faces in the picture above.
Top Row:
Jeff Lund (redsoxboy80)
Patrick Crider (GTP_Sohnvonstig)
Brian Rice (TX_Driven3)
Eric Rivera (RedlineGTS)
Jett Chandler (Jett Racer)
Kyle (A7XMaverick)
Matthew C. (topgear3793)
Jeff Stuart (Rackattack)
Stephen Diem (S_Diem)
Steven Doherty (BICDRIVER49)
Edward Gomez (Wardez)
Nicholas Barbado (Forcednduckshn)
Bottom Row:
Joseph Alves (AltF4_Veloci2NR)
Darwin A. (darweezee)
Austin Cobb (TRC_Scooty)
Rees Gould (Redreevos)
To see to see how the entire competition played out, check out the archived streams from each day of competition below, or view them directly on Twitch.tv.
As you'll see, I co-hosted the event with IGN Pro League commentator Kevin Knocke, and would like to thank him and everyone else at IGN IPL who produced the stream. It was also great to meet so many of the competitors in person, most of whom are GTPlanet community members or regular readers. Congratulations, gentlemen!
More Posts On...
The original comments for this post are no longer available.