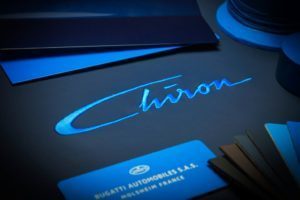 Last November, Bugatti announced that the Veyron replacement would be known as Chiron. Named after the dominating driver of the 20's and 30's, Louis Chiron, the car is expected to utilize a variation on the Veyron's immensely powerful W16 quad-turbo heart. Now, a new report has surfaced alleging the car will continue the modern Bugatti tradition of setting insanely high top seeds.
According to Magazin ProDriver CZ, technical specs have been shared at a recent customer presentation prior to the car's unveiling at Geneva this upcoming March. The numbers play out like a serious game of Top Trumps: 1500 (the total horsepower, as well as torque in N·m); 467 (top speed, in kilometres per hour); 2.2 (seconds, for the 0-100 km/h dash); and 2 million (the price, in Euros).
With regards to the look of the machine, Gran Turismo fans will have a better idea of what to expect than others. Judging by Bugatti's own holiday image up top, the car will carry the signature C-shape of the window-line/intake seen on the striking Vision GT vehicle that was showcased in the metal at last year's Frankfurt Auto Show. In fact, most of the major character lines match up nearly exactly to the VGT, though obviously the more outlandish track-inspired aspects, like the fin, wing, and prodigious front spoiler are notable for their absence.
Geneva opens in exactly two months, so expect to hear more on the Chiron – and very possibly the Vision GT – around that time. Before that, pop into the Chiron discussion thread in our forums to discuss this and other news about the car.