We'd never really considered the Bugatti Chiron to be anything other than a pretty special car. However, it turns out that it's not quite special enough for Molsheim, which has announced another special edition of the world's fastest production car (with qualifiers).
Again, Bugatti turns to its roots for inspiration. Just like the one-off and incredibly expensive La Voiture Noire shown back in March, this new Chiron is a nod to the original Bugatti black car. Jean Bugatti's Type 57 SC Atlantic provided inspiration for the modern LVN, and that car sparked considerable interest — but as a bespoke, $18m customer order, it wasn't a car Bugatti could offer to other customers.
That has lead Bugatti to create the Chiron Noire, a limited run of 20 cars in one of two specifications, to satisfy client interest. If you're fortunate enough to be a prospective Bugatti owner, you can pick up the Chiron Noire in either Sportive or Elegeance trim.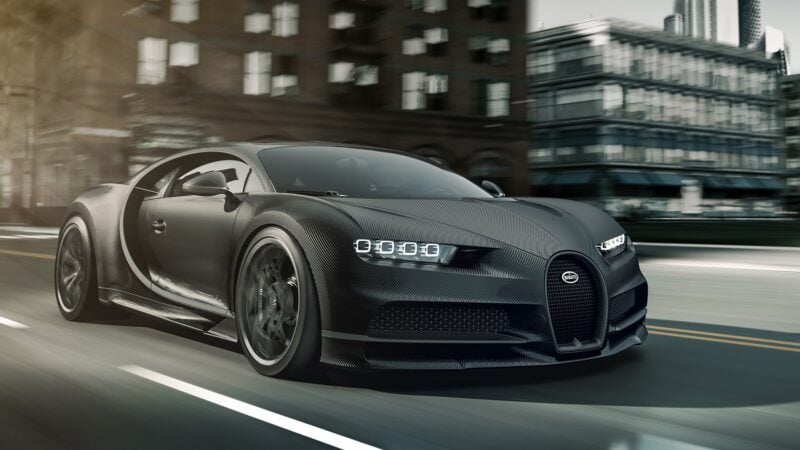 As the name suggests, the Sportive car is more focused on a sporty look. That means a lot of matte black, with the body, wheels, front spoiler, Bugatti horseshoe grille, and the C-shaped side line all bearing a stealth fighter-style finish. Even the engine cover and the four-exit titanium exhaust system are black.
If that's not quite enough black for you, all of the interior brightwork and switchgear is finished in matte black, as are all of the instances of the Noire name scattered about the cabin.
The Elegance trim is still pretty black, but brightens things up a little. Rather than matte black, the whole body is exposed carbon fiber, and the C-shaped side line is now polished aluminum. You'll find bare carbon and polished aluminum elsewhere too, on the door mirrors and engine cover. It's a similar affair in the cabin, with the 'inner signature line' (the C-shaped piece in the middle of the cabin) finished in aluminum, and black enamel throughout.
Whichever version of the Noire you pick, you'll still get that 1,479hp W16 engine, so the performance is no different from the 'standard' Chiron. As for the price, you're looking at €3m ($3.3m), and a delivery date in mid-2020. You can also apply the Noire package to the Chiron Sport, if you wish, at a cost of a mere €100,000 ($110,000).
See more articles on Bugatti and Bugatti Chiron.