The Marvel Cinematic Universe (MCU) is a juggernaut. With 18 films and 10 television series all sharing the same mythology, it's dominated the big and small screen for almost a decade.
But whether set in Earth's past, the planets of a galaxy far, far away, or just present day New York, the MCU features a lot of cars. Okay, maybe not so much the films on alien planets.
Nevertheless, with a cultural phenomenon like the MCU, car manufacturers can see an obvious marketing opportunity. What better way to attract customers than having a hero like Captain America driving it?
Brands are taking to MCU to unveil their new cars — sometimes by stealth, but usually more obvious — and we're taking a look at some of the memorable debuts.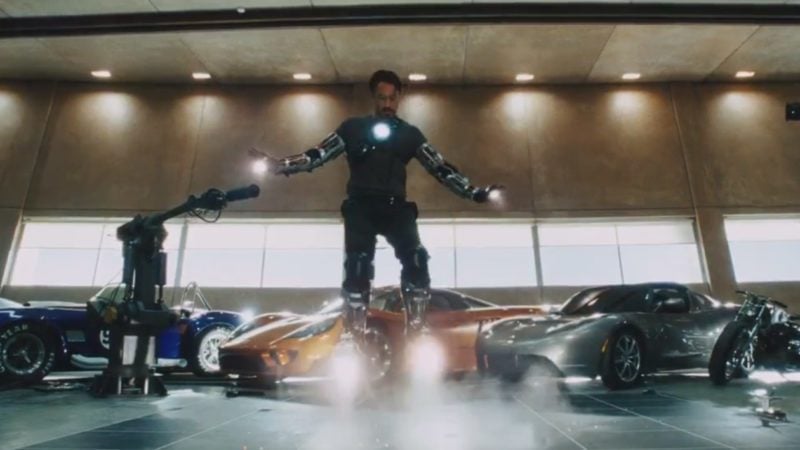 Iron Man – Tesla Roadster
When Iron Man, the first film in the MCU, hit the screens, the Tesla Roadster was just three months old. Elon Musk took delivery of the first car himself (and we all know what happened to that one) in February 2008. By May, when Robert Downey Jr. appeared as Tony Stark, there were only three in the world.
One of those appeared in Stark's garage, during his repulsor testing scenes. Fortunately it doesn't suffer the same fate as the Shelby Cobra replica near to it, but we never see Stark driving it. Instead he chooses to drive an older V8 Audi R8. The Roadster seems to be more eye candy than functional — stop us if you've heard this one before…
Iron Man 3 – Audi R8 e-tron
It seems that Stark has something of a love affair with both electrification and the Audi R8. In the third Iron Man film, he manages to combine it, in the shape of an R8 that never really existed. And he does it twice.
Audi showed off a 376hp electric prototype R8 in 2009. Badged "e-tron", Audi intended it for production, but it never got that far. That doesn't stop a billionaire like Tony Stark getting his hands on two of them.
Stark drives off in a white e-tron prototype shortly after calling out The Mandarin. Like the rest of his cars, it suffers a briny fate when The Mandarin responds by destroying Stark's Malibu pad.
We see a second, red e-tron near the end of the film. Curiously, Stark uses that car to tow a trailer. We wonder what the towing rating is on an R8…
Winter Soldier – Chevrolet Corvette Stingray
Yes, the then-new Corvette Stingray appeared in the second Captain America film. It's a bit of a blink and you'll miss it appearance, but that didn't stop Chevrolet milking it. When it officially revealed the car in February 2014, it gave away Captain America comic books to the motor show's attendees.
It appears right at the beginning of the film, driven by Natasha Romanoff — Black Widow. She collects Steve Rogers from his morning jog… and that's the last we see of it. It's a rare bit of four-wheeled action for both characters, who usually prefer motorbikes.
Of course it's not the first MCU Corvette. Phil Coulson has a flying C1 that he's rather fond of — although the studio sold it last year, so it's unlikely to appear again.
Black Panther – Lexus LC500
Lexus makes its MCU bow with the latest film. Out today in the USA, but already on release in other parts of the world, Black Panther continues the story of T'Challa from Civil War, before the character's involvement in Infinity War.
The LC500 in the film isn't actually an LC500 though. Although the prop car definitely is the real deal, the car's film origins are a little stranger.
It's actually an advanced vehicle, made by T'Challa's sister, Shuri. The duo's fictional home kingdom of Wakanda has unrivaled technology, but presents a more humble face to the outside world. Shuri's car uses hologram technology as camouflage for the same reason. Quite why she chooses to blend in with a car as brand-new and drop-dead gorgeous as the LC500 escapes us though.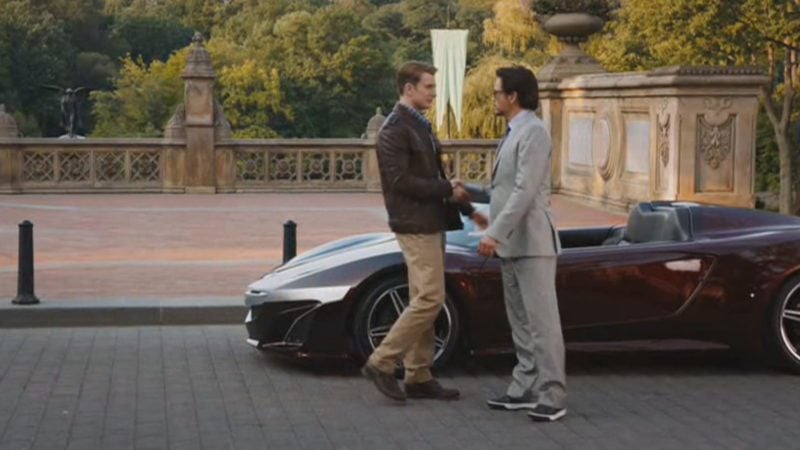 Avengers – Acura NSX Convertible
Gran Turismo fans will probably be all too familiar with the prolonged development of the second generation NSX. Before Honda finally revealed the production model last year, it went through numerous revisions, but maintained a fairly consistent look.
One of those revisions was this Acura-branded convertible model, in the first of the ensemble films, 2012's Avengers (or Avengers Assemble). Again, this shows Tony Stark's knack for getting hold of concept cars as his personal vehicles; there's never been a convertible NSX, and there's no sign of Honda making one even now.
It's another vehicular cameo, as the specially made Acura appears for a couple of seconds near the end of the film. Stark drives away with Bruce Banner in the passenger seat, starting off a considerable number of dubious fan fiction novellas…
See more articles on Film Cars.