This year marks the 70th anniversary of Land Rover. To celebrate this special occasion, it's restoring an original Series 1 with an interesting backstory.
In 1948, Land Rover took three pre-production Series 1 trucks to the Amsterdam Motor Show. First met with interest for commercial and agricultural use, it quickly cemented itself as a do-it-all off-road vehicle.
After the conclusion of the Amsterdam Motor Show, this Series 1 either ended up in storage or bounced around within the company. Then in 1955, it got its first registration: tag SNX 910.
Between 1955 and 1968, the old Landie called several towns around Birmingham home. There's no indication if these were new owners or just new places of registration.
Then in that latter part of '68, it made its way to a farm in Wales. There it sat in a field and was used as a static power source. That is until the engine seized in 1988.
This is where a new owner picked up the truck and brought it back to the Birmingham area. Over the next 28 years, it laid waiting in a garden for a restoration that never came.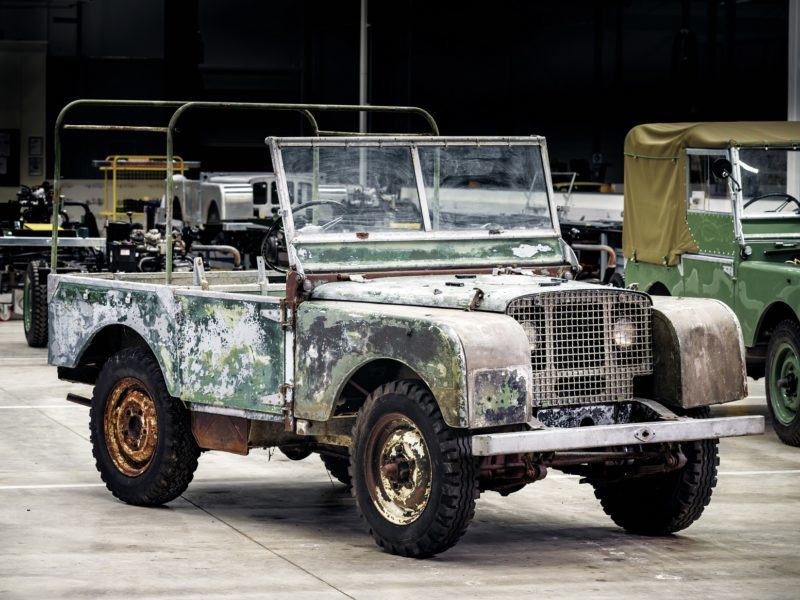 Finally, Land Rover found the Series 1 in Solihull, in 2016. It bought the vehicle from the owner and moved it to Jaguar Land Rover Classic Works (JLRCW). After months of research, JLRCW concluded that this was indeed one of the first three pre-production Series 1 trucks.
Throughout 2018, JLRCW will work to bring this Series 1, dubbed "Huey", back to life. Its goal is to restore it to pre-production spec and make it able to drive again. However, it will keep the patina and as many original parts as it can.
During the restoration, Land Rover is inviting previous owners to its facility. There, these past owners will share experiences and get a look at a vehicle they haven't seen in a long time.
Once the restoration finishes, Land Rover plans to add the Series 1 to its Legendary Collection. This warehouse located in the JLRCW building is filled with some of the most awe-inspiring Jag's and Land Rovers ever made. Some notables are the Le Mans-winning 1955 D-Type and the famed XJR-9.
While there's no timeline on the conclusion of the restoration process, the end of the year seems likely. Dealing with a vehicle that spent a majority of its life exposed to the elements is no simple task. However, with the expertise onboard at JLRCW, the final product should end up quite the item.
More Posts On...