There are few things in the automotive world more American than the hot rod. That's why for this week's Independence Day Want, we are taking a look at the king of the hot rods, the '32 Ford Coupe.
Hot rods have their roots in Prohibition Era bootlegging. During those days moonshiners would put big, powerful engine in their cars in order to carry heavy loads and outrun the law. If you're a NASCAR fan, you know this is also how the motorsport began as well.
After World War II, hot rodding and hot rod culture exploded. GI's coming back from overseas had mechanical training and the need for adrenaline. Combine those two things and you have a hot rod.
In the beginning, the vehicle of choice was the '32 Ford Coupe — or its Ford factory name, the Model B. Not only were these readily available, they were also cheap. Some stories suggest guys swapping a case of beer for them as they laid rusting in a farmer's field.
In addition to being cheap, the Model B also came with the iconic Ford Flathead V8. Even with just 75hp, it was more than enough to power a lightweight car.
To achieve that lightness, another essential piece of hot rodding culture came to pass. While speed parts did exist, they were expensive. A cheaper alternative was to essentially take everything off the body of the car you could. This meant chopping the fenders, hood, roof, and anything else that was too heavy.
This made the car look a bit bare, so to add some flare back into it, owners would give it a custom paint job. Since many hot rodders were soldiers, they'd give them nose art found on many WWII bombers. If it wasn't that, then it was either flames or pinup girls.
As hot rodding became more popular, so did speed parts. Companies like Edelbrock, So-Cal Speed Shop, and many other sprang up around this time.
More parts meant faster cars. While many guys proved themselves on the street, several others would take to the dry lake beds. The most famous of these was El Mirage in Southern California and the Bonneville Salt Flat in Utah. Even today, people still set out to achieve speed records there.
As the years rolled on, hot rodding grew. This eventually led the way to the muscle cars of the '60s and '70s. Even the insane horsepower machines of today, like the Dodge Demon, can trace their lineage back to the hot rod.
Of course, the '32 Ford Coupe still remains the poster car for the entire movement. This is why we choose this '32 Ford for this week's Want, since it embodied everything about the traditional hot rod.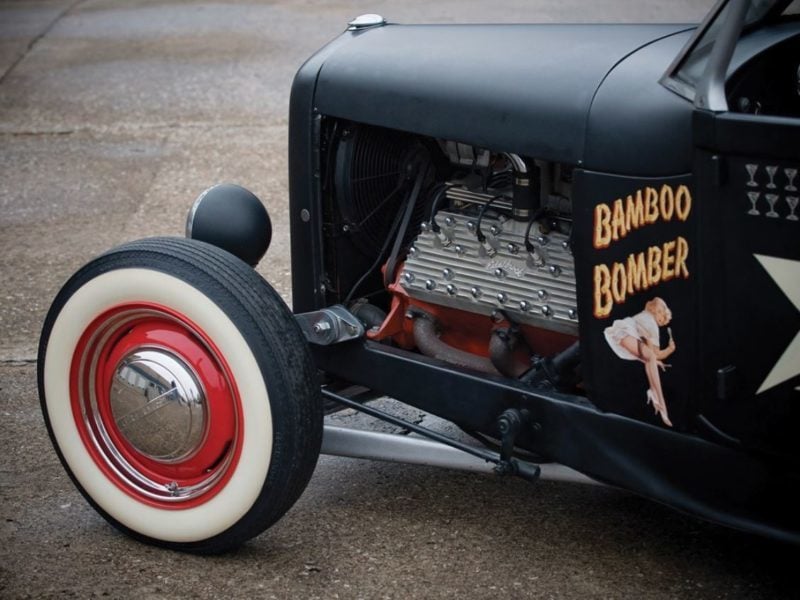 Like any classic hot rod, it uses a 1932 Ford chassis with 1929 bodywork. But in true rodding fashion, it's mostly stripped down to its bare essentials.
The paint is matte black with B-29 bomber graphics. It even includes nose art from the "Bamboo Bomber". This in itself is a little strange since the Bamboo Bomber is really a Cessna AT-17 Bobcat, but hey, at least it looks cool!
To complement the black paint, the car is also trimmed in red, giving it a real '40s SoCal look.
The interior is about as basic as they come. The seats are wicker and the floorboards are painted plywood. Not luxurious by any means, but it fits the overall look and gets the job done.
Powering the Bamboo Bomber is, of course, a Flathead Ford V8. However, to increase the performance it uses a number of period-correct speed parts. These include Edelbrock heads and Fenton headers.
It's a simple car for sure, but one the oozes nostalgia and takes you back to the early days of automotive culture.
If you want a shot at this hot rod, it'll cross the auction block at the RM Sotheby's Auburn Fall Auction August 30 through September 2. Plus, unlike many of the Wants we feature, this one is surprisingly affordable. Currently the auction estimates put between $20,000 – $25,000.
Happy Independence Day!
More Posts On...