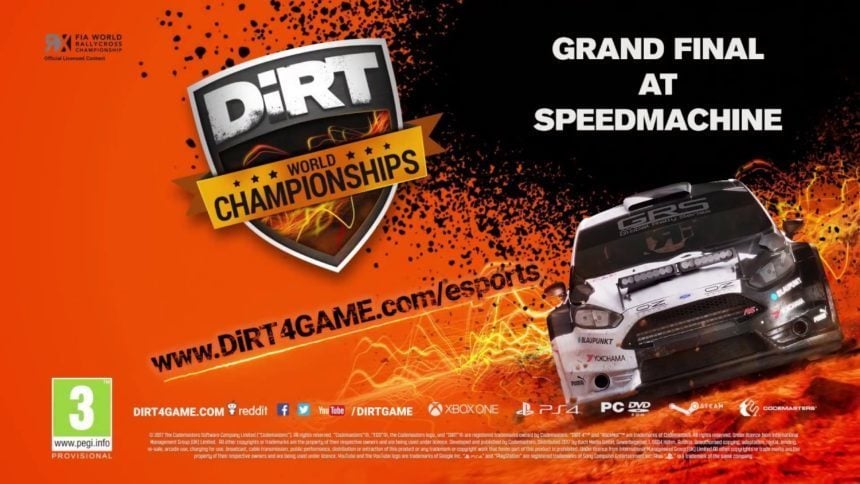 Another day, another esports-related announcement. Codemasters is getting the DiRT series involved with competitive gaming with the all-new DiRT World Championships. Announced yesterday, DiRT 4 players will get the chance to win a pretty special prize: a drive in a real race car.
Challenges will arrive in the latest DiRT game between February and March, utilizing both the rally and rallycross disciplines. An interesting angle will come from DiRT 4's usage of the Your Stage feature. With a randomly generated track for players to tackle, practice before each event won't really be possible. Drivers will have to rely on general racing skill, rather than memorizing a track.
From here, the top two performers in each round on every platform will secure a place in the quarter-finals. The 36 fastest competitors will then go head-to-head on the live streamed round until only six drivers remain.
The Grand Final will take place at Silverstone during the SpeedMachine festival in late May. A podium finish will secure one of three prize packages, including an incredible opportunity to drive a real RX2 rallycross racer.
1st Place: Test drive in an official FIA World Rallycross RX2 car, gaming PC with steering wheel and official PlaySeat DiRT racing chair
2nd & 3rd Place: Official PlaySeat DiRT racing chair
Codemasters is organizing the championship with the Motorsport network, mostly known for its efforts over on Motorsport.com. Through this partnership, Motorsport.tv will live stream the grand final, exposing the tournament to thousands of potential viewers. Partnering with a real motorsport coverage provider is sure to generate interest for the event.
The full calendar for the qualifying events in DiRT 4 are listed below.
DiRT World Championship Qualifying Events
Round 1 (February 19-25): Australia Fitzroy Rally
Round 2 (February 26 – March 4): Hell Rallycross
Round 3 (March 5-11): Wales Powys Rally
Round 4 (March 12-18): Loheac Bretagne Rallycross
Round 5 (March 19-25): Spain Tarragona Rally
Round 6 (March 26 – April 1):  Holjes Rallycross