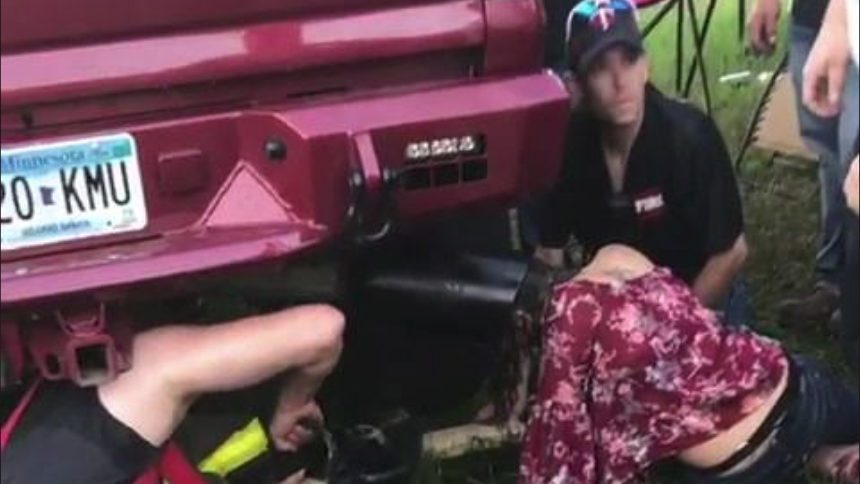 You've probably had your fair share of embarrassing moments with a vehicle. Whether it's forgetting to install something or losing a valuable part, we've all been there. However, a Minnesota woman did something truly facepalm worthy and is now a bit of an internet sensation.
Last Friday night, 19-year-old Kaitlyn Strom went with her friends to the Winstock Country Music Festival in Winsted, Minnesota. There she hoped to see Brothers Osborne and Dierks Bentley take to the stage.
While "pre-gaming" before the concert, she saw Tom Wold's modified Chevy Silverado. There she came up with the idea to see if her head would fit in the oversized exhaust.
Not surprisingly it did, but when she went to pull her head back out she couldn't.
To make matters worse, she told the Hutchinson Leader that she didn't even know the owner.
When it was clear she couldn't move, her friends ended up calling the Winsted Fire Department. After 45 minutes and bringing the jaws-of-life to cut the exhaust tip off, Strom was finally free.
In this day and age, most things like this get caught on camera. However, it's rare they end up going viral. However, once the Facebook page Truck Rice got a hold of the video the views shot up.
Now with 1.4 million views and growing, it's certainly one of the most talked-about exhaust videos around.
To further capitalize on the fame, Wold's exhaust tip is now proudly on display at his local bar – the Darwin Tavern. This is fitting since Strom's stunt is definitely in the running for this year's automotive Darwin Award.
Despite not knowing Strom, Wold is being a good sport about all this. Even with the damage to his truck, he's not pursuing any monetary compensation from Strom. However, he does own a fabrication business and we're sure this is helping promote it.
We think this probably goes without saying, but in any case, we will throw it out there. No matter how inviting an exhaust looks, do not put your head in it unless you want a bit of internet notoriety.
You can see the short clip in the video below:
This gotta be the most yeeyee fukn thing I've seen all year

Posted by Truck Rice on Friday, June 8, 2018
More Posts On...