UPDATE: The ESRB have now removed the separate Driveclub VR listing. Did we stumble upon something we weren't supposed to?
After Evolution Studios' hasty closure (and subsequent acquisition by Codemasters), the future of Driveclub VR was very much in doubt. Although playable just weeks before the announcement of closure and shown off as one of the featured PSVR games, a lack of clarity on the future of the title clouded any sort of excitement. In the past 24 hours, the ESRB has listed Driveclub VR in its registry which seems to suggest some form of the game will be available to the public despite these worries.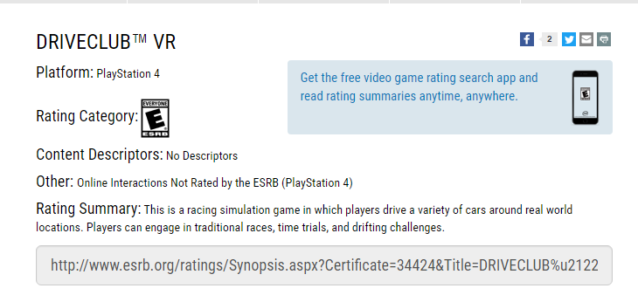 The listing describes DCVR as "A racing simulation game in which players drive a variety of cars around real world locations. Players can engage in traditional races, time trials and drifting challenges.". Although incorrectly described as a simulation title, the summary simply provides a standard description of what regular Driveclub had to offer. Looking at a comparison of the original Driveclub's listing though, there could be a key difference: "This is a racing simulation game in which players drive real world cars around international race tracks. Players can compete in variety of race series, time trials, and drift challenges.".
Although this could be viewed as conjecture, the description of DCVR indicated a 'variety' of cars can be driven. This could point toward the game having a depleted car list compared to that of vanilla Driveclub which doesn't make this distinction. Also, whilst Driveclub references that players can take part in a variety of 'race series', Driveclub VR only indicates that players can take part in 'traditional races' which may also indicate the title may be more of a tech demo than a fully fledged retail release.
As E3 fast approaches, Sony will be confirming what the PSVR line-up will look like on release so the full details of what Driveclub VR is – and what it isn't – should be unveiled to us soon.
See more articles on Driveclub, Evolution Studios, and PlayStation VR.