In this week's Wednesday Want we've found something truly special in the classified adverts and thought it really deserved some attention. You can check out past Wednesday Want entries right here.
Cars brought about by homologation tick all the right Want boxes. They're rare, crazy, and are just legal enough to drive around town. That's why this week we're nominating this 1984 Peugeot 205 Turbo 16 (T16) for our dream garage.
The T16 came about due to FIA rules surrounding the famous Group B. In the early 1980s, the FIA revamped its racing classifications. Group N, A, B, and C replaced the now out of date Groups 1–6. While Groups N and A, in terms of rallying, focused more on production spec cars, Group B was at the opposite end of the spectrum.
To meet Group B rules, a manufacturer needed to produce just 200 examples of a given model in a 12 month period. Furthermore, rules allowed for 20 evolution models each year as well. For these evolution cars, modification like increasing engine displacement and reworking aero were permitted.
In addition to the low volume of "production" cars needed, Group B rules were also lax in terms of design and technology. Virtually nothing was off limits.
Essentially all rally cars in the Group B era fit into a table published in the FIA "Appendix J" guidelines. As engine size went up, so did the minimum weight requirement. In addition, there was also a table that defined a ratio for wheel width front to back.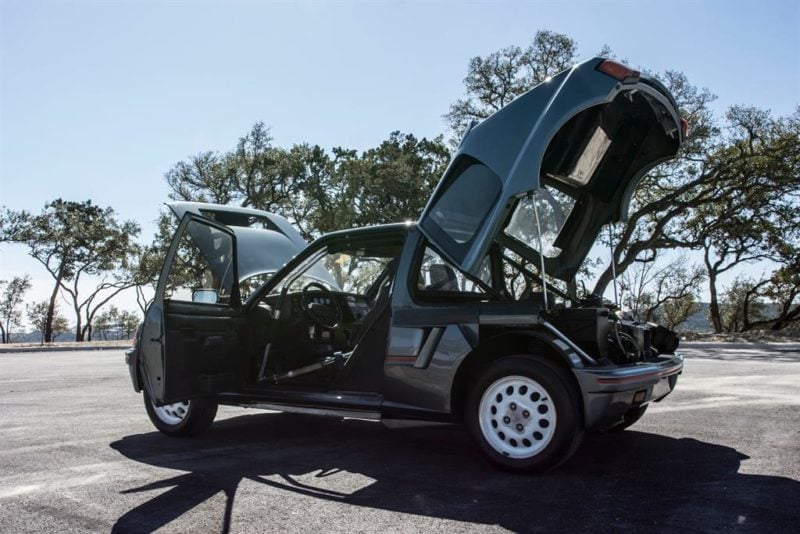 That was it for the rulebook. Past those few things, manufacturers could use any material they wanted and boost its engines to unheard of numbers.
However, unlike the racing version, the homologated street versions of these cars were a little tamer.
Unlike its rally ready brother, this T16 gets just 197hp instead of a whopping 350. However, with the T16, the turbo 1.8-liter four pot is still mid-mounted. The car also gets AWD and a steel tube chassis just like the race version. This makes it a hotter version of the already hot hatch GTI variant — even if there's no hatch to speak of.
Due to the mid-mounted engine, the entire hatch area of the T16 — as well as the back seats — is one big engine compartment. This puts storage space at a bit of a premium. So unlike the run-of-the-mill 205, the T16 isn't useful for the weekly shopping run.
The drivetrain and lack of space are pretty much where the similarities between the road and race version end. However, the T16 still looked the part of a special edition. With wide wheel arches, rear intakes, and bespoke hood, no one was going to mistake it for a GTI.
It's rare for one of these to come up for auction and based on our research, previous examples sold for between $200,000 and $275,000. No estimate is given for this T16 offered through Motostalgia at the 2018 Amelia Island auction, but it should be in that ballpark.
See more articles on Group B and Wednesday Want.