My real-world racing experience is very limited. When it comes to tracks, I've only actually visited two my entire life, and they couldn't be any further apart.
The first racing arena I ever set foot on was Brazil's incredible Interlagos GP circuit in 2012. It blew me away. I got the chance to take in the historic circuit thanks to a traineeship with the McLaren Formula 1 team. So whilst I got to walk the track, there was no chance to actually drive on it.
Fast forward five years and I found myself at Knockhill International Circuit in Fife, Scotland. Yes, it's a pretty stark change from my first experience, but this was going to be much more thrilling. For the first time, I was going to drive an open-wheel racer on a real circuit.
For those unacquainted, the Knockhill circuit is a bit of a national treasure in Scotland. Tiny in size but impressive in complexity, the track has been home to some fierce racing over the years. It's currently used in the British Touring Car Championship and the claustrophobic track width and many sharp turns always make for some drama. Perfectly suitable then, for my first go in an open-wheeler.
Before I was allowed to drive the racer however, I had to go for some test laps in a 2016 Honda Civic Type R. Compared to my Peugeot 207 daily driver, this thing was going to be a rocket ship on a regular day, never mind on a real race track. All participants would have an accompanying co-driver, to help with learning the correct driving line and braking points.
Admittedly, this level of technical detail was something I was already familiar with. Project CARS 2 features Knockhill in its track roster and I had been rigorously practicing prior to arriving at the track. "Time to shine" I thought, "I'm ready."
Despite knowing the track well in-game, I was initially blown away by just how different it felt driving a real car on the track. The Civic Type R was a vicious beast with a seemingly limitless turbo to burn into. That being said, the sheer nimbleness of the car made it a blast to throw around each corner. Within a lap or two I was tuned in, anticipating each corner and reacting appropriately. After calming down, the track had the sense of familiarity sim racing had provided me.
Pulling into the pits after the practice session, I'd be lying if I said I didn't feel smug. The initial shock of being on the Knockhill circuit had worn off — now it was time to catch plaudits from my supervisor. It was going well at first; he commented on my cornering ability and smooth driving as plus points. Then, came the embarrassing part.
As it turned out, I hadn't been getting the most out of the Type R. The deep-set accelerator pedal meant I wasn't quite making use of the car's full power. I had been applying the amount that would have brought the most out of my dingy 207, but not the powerful hot hatch. As embarrassing as it was, perhaps it was a sobering lesson required to tame my next drive — the Formula Race Car.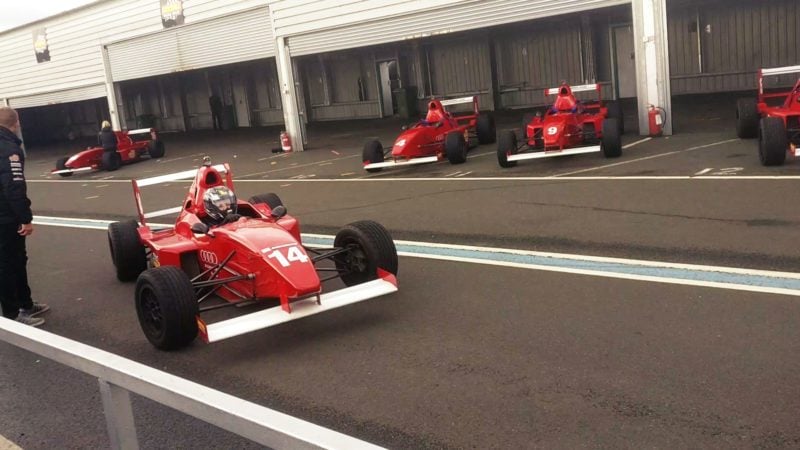 Boasting 130hp and a top speed of 140mph, the Formula Race Car isn't exactly the same calibre as other open wheelers. However, feeling the vehicle go from 0-60mph in five seconds is more than enough to send anyone's heart racing. So, after a small break following my drive in the Civic, I was guided to my vehicle of choice. Lucky number 14.
Even before taking off, it was notable just how low the car's ride height was. Unsurprisingly, it felt more like a go-kart than a traditional driving machine. Buckled in, strict instructions were given that in the event of an overtake, that it could only be performed on the left-hand side of the track. This was due to the track comprising mostly of right-handers. Similarly, if a car behind was much faster, you were to make way and slow down appropriately (during the event, other drivers would be sharing the circuit, in open-wheelers and classic racing cars).
Accepting the guidelines, it was time to pull out and go for a spin. I'd be lying if I said my heart wasn't going crazy. After stalling it once during pit exit, I emerged onto the track.
Approaching the first corner, I felt the sudden and insane pull of the vehicle's Audi-powered engine. The four-speed gearbox required immediate attention, forcing me into 3rd gear for the first corner. Everything was an adrenaline-fuelled blur as my senses struggled to adapt. The environment whizzed by and my body started tensing up.
After navigating the corner, I noticed not one, not two, but three cars in my rear-view. I had left the pits at the worst time possible by jumping ahead of some faster traffic. Right before Butcher's bend, I pulled onto the side of the road to let each vehicle pass. With a clear road and settled mind it was time to go again.
Deep breaths, and away we go.
Despite feeling every single aching bump of the road for the first two laps, it all suddenly… clicked. Call it a sort-of survival instinct, but I felt exactly what the car could do and what it couldn't do. A bit of over-eager confidence did cause me to totally fluff the braking distance on the home straight but the car stayed on the tarmac, thankfully.
It drove wonderfully. Incredibly light, and just powerful enough, I'd never experienced anything like it. Just imagine a kart turned up to 200% and it wouldn't be far off.
It was with great sadness that I saw the checkered flag wave and my final lap begin. Time had flown by, as you can imagine when you're driving an open-wheel race car on a wonderful circuit.
I finished the lap by overtaking someone just after Clark's turn. In my head I felt like a champion despite it only really being a £200 trackday organized by my girlfriend. Still though, in the moment, it felt real.
The final act of the day was a presentation for all drivers who were participating in the track experience. Due to the nature of the open-wheeler, all drivers were judged on their performance in the Civic — not the racer. Knockhill's finest driver of the day received a small trophy. I didn't end up winning it, so I can only assume Lewis Hamilton was in the room without me noticing. All drivers did receive a scorecard, and I'll save you the wondering with a photo of my finishing score.
Travelling home, thoughts of driving that car were vivid the whole way back. I love sim racing but the sheer excitement of the real thing is something I don't think can ever be captured digitally. It's crazy to think that for a few hours, anyone can feel like a real driver at one of these trackdays.
Some will live this dream for real as a true driver, but for me, those few hours were enough to fulfill a childhood ambition. Now, if you don't mind, I'm off to do a lap or 50 on Project CARS 2's Knockhill circuit.
Special thanks to the team at Knockhill for offering this trackday package. Every member of staff was very helpful and made the day perfect. You can check out the available experiences right here.