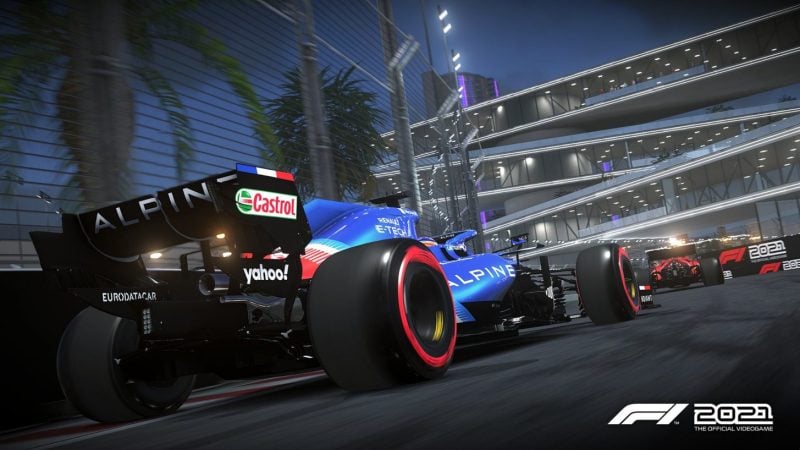 If you boot up your copy of F1 2021 this week you'll find there's a new addition to the game's track list: the Jeddah Corniche Circuit in Saudi Arabia.
The third of three tracks making its game debut this year, Jeddah follows the Algarve International Circuit (Portimao) and the Autodromo Enzo e Dino Ferrari (Imola) in the title. However, both Portimao and Imola featured in the real world in 2020, filling in on a dramatically changed calendar, while Jeddah is set to make its own real-world debut next month.
Or at least that's the plan. The first racing action, with Friday's first practice, is scheduled for December 3 — just over two weeks from now — and the track isn't yet finished.
While the Jeddah Corniche Circuit is largely based on the city streets of Jeddah — specifically in the Ash-Shati district — the surface needs to be up to scratch to survive several hours of high-downforce, high-grip F1 cars trying to rip it up. There's also some new areas of road being built for the track, and relevant safety structures that need to be in place.
That has led to questions over the race itself, which was originally scheduled to be a week earlier. However F1 believes that everything essential for the race to run will be in place in time — though it may run "down to the wire".
The fact that the track isn't yet finished means that the F1 2021 version is likely built from design data rather than laser scanned but, whether the real cars make it to Jeddah or not, players will be able to take a drive on the Corniche circuit (named after the main road that hosts the circuit, despite being nowhere near a corniche road) from this week.
Regular F1 fans will spot the hands of Tilke in the design, though this time it's Carsten at the helm rather than his father Hermann. The circuit is quite reminiscent of Azerbaijan's Baku City Circuit, only without that track's incredibly narrow section through turn eight.
Indeed like Baku, Jeddah will be fast. Although we only saw the simulated car hitting 190mph (306km/h) in the earlier official F1 preview, the predicted average speed for a qualifying lap is close to 160mph (257km/h). Not bad for a circuit almost as long as F1's longest track, Circuit de Spa-Francorchamps.
Unusually, the track is anti-clockwise — one of seven on the calendar — meaning more left turns and fewer rights, while the infield pit-lane will spit cars out into the outside of turn two as with Canada's Circuit Gilles Villeneuve.
You can already drive the Jeddah Corniche Circuit in F1 2021, and if you're yet to take the plunge then the game will be available at a 50% discount for Black Friday in the PlayStation and Xbox stores, and on Steam.
See more articles on 2021 Formula One World Championship.