For those of you who've ordered the Digital Deluxe Edition, F1 2021 is under a week away from launch now. That means it won't be long until you'll be able to play the new-for-2021 feature: the Braking Point story mode.
Braking Point adds a Netflix Drive to Survive angle to the game, thrusting you into the cut-throat world of F1 as a novice driver fresh from F2. You'll clash with other drivers on and off the track, especially the returning antagonist Devon Butler — who seems to have lost none of his unpleasantness from F1 2019.
With the launch so close, Codemasters has given us a review copy of F1 2021 for the PlayStation 5, and a preview of the first hour of Braking Point.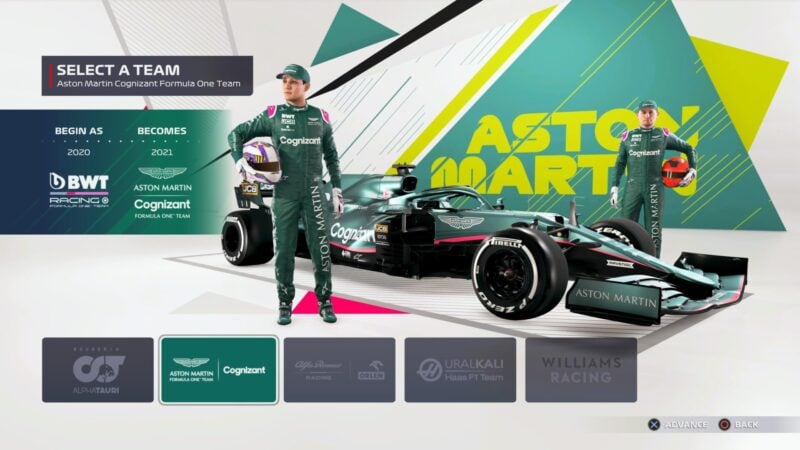 You'll be playing the role of youngster Aiden Jackson, teamed up with veteran Casper Akkerman. The story starts with you selecting which one of five teams you wish to represent in the 2020 season: AlphaTauri, Aston Martin (or Racing Point in the 2020 season), Alfa Romeo, Haas, or Williams. Whichever team you pick, the bristly Butler slots into a specific one of the other teams — for example Alfa Romeo if you select Aston Martin.
There's no time for that however, as you're quickly thrust into Jackson's final F2 race at Abu Dhabi, with a simple goal of winning the race to win the title. It's not the full race though: you'll pick up the controls on lap four of six, and in fourth place.
This essentially sets the theme for Braking Point, at least up to the point we've reached. You'll partake in small sections of races rather than complete events, with specific objectives. If you meet the objective, you'll move onto the next cutscene, and if you don't you can restart that event until you do.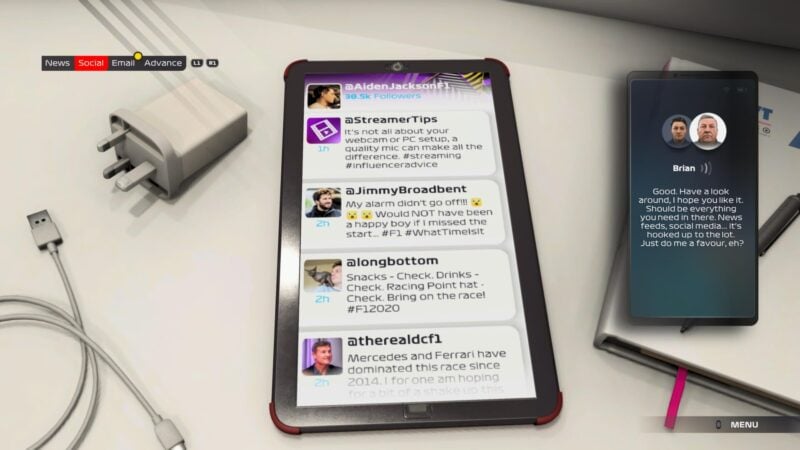 Between events you have an office where you can keep up with F1 news and social media — including GTPlanet's own Jimmy Broadbent! — along with emails from your teams, and phone calls. The conversations between Jackson and his mom are a little on the awkward side, but you'll also get to hear from Brian Doyle, your liaison to the team principal.
The story soon takes a turn against Jackson as some on-track incidents cause some rumbling tensions. You'll actually encounter one of these in the middle of the first race. Meet your objective of catching team-mate Akkerman in the Australian Grand Prix and you'll be treated to a cutscene whereby Butler — who you've already easily overtaken at this point — somehow comes back and forces a three-wide run.
That results in Jackson and Akkerman colliding, damaging Akkerman's car. After the cutscene you'll then resume the race and simply need to finish it to advance to the next cutscene, wherein both Akkerman and Butler round on the newbie for his mistake, and Butler slates him in his media interview. Lovely chap.
There's more drama in the next race, as Akkerman tries to assert his dominance by banging wheels with Jackson, leaving a rather bitter taste in the air between the team-mates — and some cross emails from your team principal.
That rounds out the first hour, and the limit of what we're allowed to cover at this time. However the names of the story mode trophies suggest that the situation is not going to improve for Jackson any time soon, with the story set across three seasons in F1.
It's an interesting approach, mixing driving with the cinematics, and actually serves as a decent introduction to the game — a tutorial that isn't a tutorial. We're not sure how replayable it'll prove, but it is at least a novel diversion from the regular action.
We'll have a wider review of F1 2021 nearer to launch. That's July 16, or July 13 with the three days' early access of the Digital Deluxe Edition, and it'll be available on PlayStation 4 and 5, Xbox One and Series, and PC through Steam.
More on F1 2021