Although the 2021 F1 season hasn't been quite as chaotic as 2020's, it's still been a bit all over the place. Quite literally in fact, as some grands prix are cancelled, postponed, reinstated, and even cancelled again.
That's posed a problem for Codemasters, now a part of EA, when it comes to its yearly official F1 release. F1 2020 hardly reflected the real season as previous releases did and F1 2021 is more of the same. In a sense the title reflects most of the calendar as it would have been, with some additional tracks arriving for free to fill in some — but not all — of the blanks.
Nonetheless, the title is now with us, at least for those with early access, and we've been taking it for a test drive.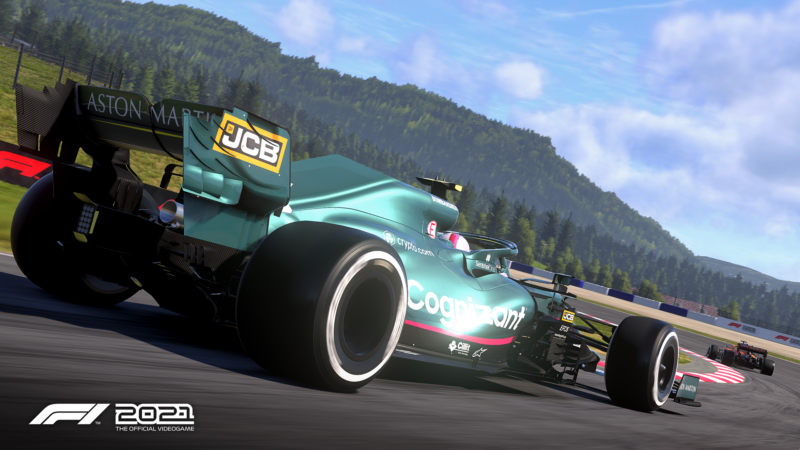 Content and Value For Money
F1 2021 drops a full point from its predecessor for us in this regard, and that might come as a surprise. After all, the game still contains the core of any F1 game, with most of tracks from this year's calendar, the 2021 cars, and the 2020 F2 cars.
Our absolute favorite feature from F1 2020 returns too, with My Team thankfully back for another title. This game mode could pretty much be a game all by itself, giving you the chance to be the driver-manager of the 11th team on the grid, hiring and firing drivers, pleasing sponsors, and developing your car to create your own F1 legacy. That still gives pretty much endless replay value.
There's two problems though. Firstly, and unlike F1 2020, this year's game does without the classic cars altogether. That's a huge dent in the car list — in fact the game now only features the 10 cars of the 2021 F1 season and the Dallara F2 2018 used in the 2020 F2 season. Combined with the custom car you can create and use in My Team that's really only 12 cars, or 22 if you regard each F2 team machine as different. Oddly, you can also drive the 2019 F2s and 2020 F1s, but only briefly in the Braking Point story mode.
F1 2021 also features fewer tracks than its predecessor, even if you account for Jeddah, Portimao, and Imola coming along later as free DLC. For some reason that isn't entirely clear, Codemasters has removed the four short layouts of Bahrain, COTA, Silverstone, and Suzuka, as well as the more reasonable exclusion of the Vietnam circuit.
The second issue is, for us, the game's all-new feature: the Braking Point story mode. This was always going to be divisive, and given the fact there's already three career modes in the game for you to make your own story, it comes across as superfluous.
That's not by itself a problem, if it added anything to the game. The best we can say about it is that it serves a role as a tutorial of sorts without actually being a tutorial. You can choose your level of assistance without any real consequence thanks to the short track sessions, and get to grips with the game's idiosyncracies pretty quickly.
Otherwise, it straps on a layer of manufactured drama by which you live out the early career of a young F1 driver — we won't spoil any further bits of the story — in a series of variable-length bursts of gameplay that might result in a cutscene or might not.
It's purely linear, with nothing you do other than meeting the objectives appearing to have any meaningful consequence on the plot, just how terse the emails from your team boss are. There's a series of improbable events — such as in the first F1 race where the bad guy Devon Butler finds a huge burst of late-race speed, after you've passed him on circuit, to cause a major crash that your team-mate inexplicably blames you for — over which you have no control, aside from plunging to the next one in sequence.
Throw in the occasional anachronism and the fact that the script cannot cope with you exceeding the objectives (such as winning a race when you only need to finish in the points; almost all subsequent references mention your points finish, not your victory), and it's likely something you'll never come back to once you've got the Achievements/Trophies for it.
One point of note — and again this isn't any different from F1 2020 – is the livery editor. We're perhaps spoiled by the open editors you'll find in Gran Turismo and Forza Horizon, so while it's entirely possible to make a decent F1 livery with the options available, it's irritating to see livery patterns locked behind game progression and "pitcoins".
Online Features
Like much of the rest of this review, we can pretty much refer you back to our F1 2020 review. Very little has changed here – with one exception worthy of note – and there's not much reason to.
There's a huge number of multiplayer options here, but since it's pretty likely F1 2021 will be the title used in at least one season of F1 Esports, you'd be shocked if that weren't the case. Indeed F1 Esports has, as before, its own section of the main menu.
You can play social games or ranked games, head into weekly events or leagues, run local splitscreen races or, for the more gregarious, LAN races – even your solo time trials are ranked against other players.
Every player will have their own Super Licence, which is a public record of your behavior, ability, and reliability, so others know whether to play with you or not.
New for multiplayer this time round is the two-player career. This allows you to run through career mode (using a full or custom calendar) with one friend, either co-operating as drivers on the same team, or against one another. There's definite added value in this mode, particularly if you always have that one mate you race online with.
Driving Physics and Handling
Wisely, Codemasters has taken the approach of not fixing something that isn't particularly broken with F1 2021. The previous game delivered solid physics and handling — we're not in the position to say how authentic it is — and it's more of the same here.
There have been some physics tweaks though, particularly in the areas of tires and aerodynamics. Given the drop in available aero for the 2021 regulations, that's resulted in some slightly twitchier cars, but again it's the F2s that show off the engine best. It's a shame that the unruly classics aren't present to see what happens at the very edges of the physics.
The accessibility of F1 2021 matches its predecessor. It's still a perfectly acceptable game on a controller, especially if it's a PS5 DualSense — though naturally better on a wheel — even if you might trip over your own fingers occasionally with everything set to manual. There's a whole host of driving assist presets to match your skill level, from only having to accelerate and steer a little bit all the way up to the full "alone and unassisted" experience of driving an F1 car.
Interestingly, the subtle change in the physics causes more notable changes in the tuning menus. Unusual setups featuring extremely high or low values — commonplace in F1 2020 — simply don't work any more. Moreover, the presets now seem to be less objective; a balanced aero setup at Monaco, for example, is a higher downforce package than the exact same setting at Canada.
Graphics
F1 2021 looks like a fully authentic F1 product through and through. That was the case with its predecessors, and will be the case with successor titles until the end of time. Everything about it is as slick and real as the real thing.
It's not quite the prettiest or most detailed game out there though. While all the overlays and graphics are straight from F1, the cars and environments are a step — albeit not a giant one — below the best in the business. Some of the circuits do now appear to be quite old 3D models, with the only updates coming by way of different trackside adverts.
That means that, at times, the criticism you hear most often levelled at these titles rings true: it looks like the last game, just with the new cars. However F1 2021 does have one extra touch, if you happen to be a next-gen console owner.
While the previous game had no dedicated Xbox Series/PS5 version, this title does, and it does give a visual boost. The native 4K60 is creamy smooth, and there's a performance mode to boost that to 120fps (albeit in 1440p) where that can be used. That does rather make it a pity that cutscenes and replays all run at 30fps though.
Sound Design
F1 2021's general audio design is pretty good, with all of the sounds you'd expect not just from the cars but from the entire F1 experience. The game recreates the auditory atmosphere of F1 very well, right down to the official commentators and talking heads. That includes the current season's audio ident you'll hear during replays in real races, for better or for worse!
However, this is where we miss the classic cars once again. Modern F1 engines are all the same layout, with four different interpretations of hybrid turbo-charged 1.6-liter V6s, and there's just not that much difference to hear between them. The larger capacity V6s of the F2s do show that the depth is still there, but without the variety of the old V10s and V8s, it doesn't get any chance to shine.
The voice acting is stronger than before, particularly in the department of the radio messages to and from the team, and of course the various characters in Braking Point, which certainly adds to the experience.
Ambient noises are once again sadly lacking though. The cars seem to exist in an auditory vacuum, without any of the buzz and fuss of an F1 race. If there's crowd noise, we haven't heard any of it.
The Verdict
First, the positive. In almost all respects, F1 2021 is F1 2020 all over again, with slight tweaks and improvements, and of course a dedicated next-gen version. That includes the fabulous My Team mode, which was a great addition last time out.
However it also walks back on its predecessor in some regards. The absence of the older F1 cars particularly creates a lack of variety that the previous title had.
The key additional feature for this year, Braking Point, just leaves us cold. With so many ways to make your own story already in the game, it seems strange that anyone felt a rather crude and linear story mode was something that was necessary.
It's still the most authentic F1 experience out there, and if you love F1 you really should pick it up, but we can't recommend it as highly as we did F1 2020. If you don't already have F1 2020 and you absolutely must have the full next-gen experience, or want to get into the official esports competition, you won't be disappointed.
See more articles on Review.