Formula One has released a new video of the sport's drivers guessing — and reacting to — each other's F1 2021 driver ratings.
Driver ratings are one of the key components of any F1 game. In essence, the game's AI avatars of the real world drivers are governed by four abilities: Experience, Racecraft, Awareness, and Pace. According to an earlier announcement from Codemasters, F1 2021 will actually add a fifth rating, known as Focus, though it doesn't appear in this clip.
As the names suggest, the scores for each come from how much race experience each driver has, how their race performances compare to qualifying, how many incidents they're involved in, and raw speed.
These attributes then contribute to the driver's overall rating, weighted more in favor of Pace than the other qualities. The values are constantly changing over the course of an F1 season, reflecting real-world driver performance.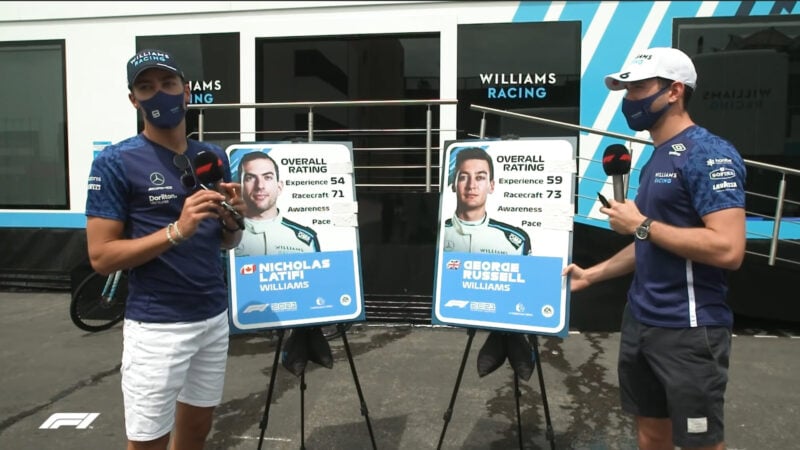 In the video, F1 gets together three sets of team mates, and has them guessing each other's current F1 2021 driver ratings. Alfa Romeo's Kimi Raikkonen and Antonio Giovinazzi (not to be confused with Cas Akkerman and Aiden Jackson), AlphaTauri's Pierre Gasly and Yuki Tsunoda, and Williams' George Russell and Nicholas Latifi all get involved.
Needless to say, there's plenty of roasting going on. After pointing out Latifi's lack of awareness of a giant arrow telling him to pit at Baku, the Canadian retorts that Russell didn't notice a wet line and a dry line a few races previously at Imola.
Raikkonen meanwhile is as engaged with the content as you'd expect, putting his team mate down for the maximum score of 99 — handily also Giovinazzi's chosen car number — in every category. The AlphaTauri duo is more prone to doodling than rating each other, but there are some pretty close guesses, and even a couple that are spot on.
As it's an official video from the F1 social accounts, you'll have to visit the F1 YouTube channel to watch. We can reveal though that of the six, it's Latifi that has the lowest overall rating and Gasly that has the highest — though a little way short of the 94 overall rating previously shown for Max Verstappen and Sir Lewis Hamilton.
More on F1 2021