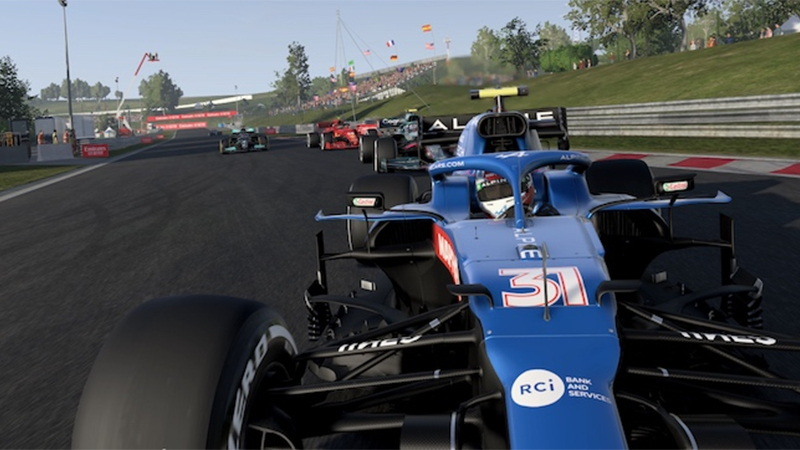 There's one final chance to get your foot in the door for the 2022 F1 Esports Series, with the last qualifying round for next season underway now.
The event is open to all players who have a copy of F1 2021 and a valid PSN, Xbox Live, or Steam account, and who have signed up on F1Esports.com for the special event.
Running as a special event in the game, players will have the entire month of November to set their best scores, and while these events usually celebrate a special race, moment, or achievement, you'll be doing your best to spoil the party this time round.
The incident-packed 2021 Hungarian Grand Prix saw an unusual set of circumstances conspire to result in a debut win for both driver and brand, as France's Esteban Ocon played his cards to perfection to take victory for the freshly renamed Alpine team.
You won't, however, be repeating that. Instead, you'll be trying to undo it, by taking charge of Sir Lewis Hamilton's Mercedes-AMG W12 for the final nine laps of the race to deny Ocon's win. A podium finish is all that's required to set a qualification score, but your goal is to better Hamilton's second place, 2.7 seconds behind Ocon, and take the win.
However, your score won't depend on your finish position alone. The challenge uses a mystery formula to take into account your lap times and race time, how many driving aids you use — including the "Flashback" rewind feature — and how cleanly to drive.
There's no limits on the number of attempts you can make, and you have until November 30 to set your best score. The top-scoring drivers on each platform will then receive an invitation to the 2022 F1 Esports Challengers Series which starts in January.
Challengers will run from January to March, and consists of a 12-race championship, with an event for each of PC, PlayStation, and Xbox, with all six, two-race rounds, broadcast live on Twitch.
The best-placed drivers will then advance to the later stages, which are yet to be revealed, but each will then be in with a chance of selection by the ten official F1 Esports teams for the 2022 season.
See more articles on 2022 F1 Esports Championship.