F1 has trademarked Red Bull driver Daniel Ricciardo's Shoey podium celebration.
According to the Independent, Formula One Licensing trademarked the term "Shoey" last August. Registered in 25 countries, including the US, Germany, Italy, France and the UK, it went into effect on January 4.
This is where things get interesting. The registration extends to only one category, covering drinking glasses, mugs and cups. While it may come as no surprise, expect to see shoe-shaped drinking tools sooner rather than later. Even more interesting, the Australian registration also includes glassware, kitchen utensils and more.
The Australian driver has garnered a bit of a reputation for the act. Every race win sees Ricciardo drinking champagne from his own shoe. He's roped a few celebrities into doing it as well, including Sir Patrick Stewart and Gerard Butler. Others include former Red Bull driver Mark Webber and world champion Nico Rosberg. To say the celebration has become something of a ritual would be an understatement.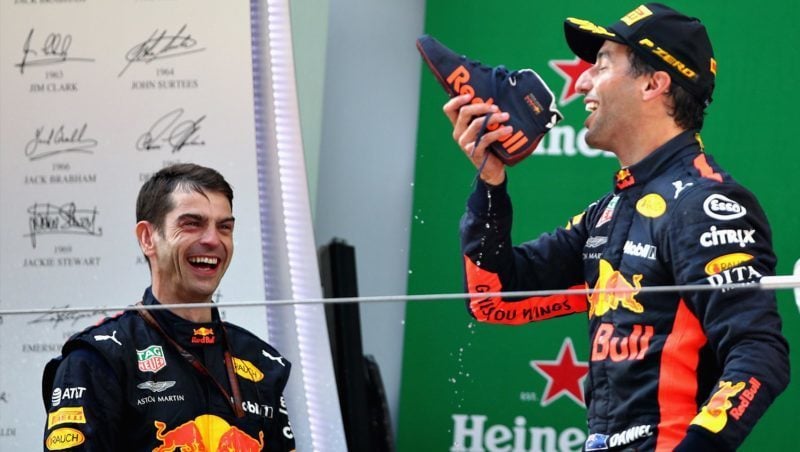 Of course, while Ricciardo introduced it to F1, he isn't the first to drink from a shoe. He admits to taking inspiration from surfing and fishing brand, The Mad Hueys. More interesting, when asked how it tastes drinking from his shoe, Ricciardo said the following.
"Honestly, if the sparkling wine is cold, then it tastes good; normally on the podium it's cold. If it's warm then you might get the sweat through it, but the cold taste kills the bad stuff… so it's delicious."
He performed the Shoey at last month's Chinese GP, pulling off an amazing victory. As you may have guessed by now, it wasn't present at last weekend's Azerbaijan GP. Why? He collided with Red Bull teammate Max Verstappen, both retiring from the race.
As unpredictable as the 2018 season has been thus far, we hope to see more of the Shoey this year.
More Posts On...