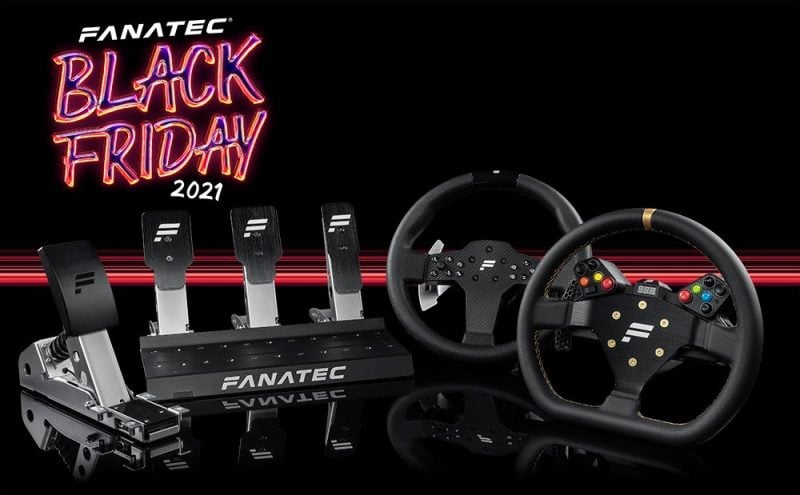 With more than a week to go until Black Friday 2021, sim racing equipment manufacturer Fanatec has announced its deals for the annual shopping extravaganza — and teased a new product launch at the same time.
There's four main products to be aware of, with the deals on each lasting through to Tuesday November 30 or while stock remains. You can support GTPlanet ordering via any of the affiliate links in this post.
First up is a slightly upgraded version of the CSL P1 wheel rim. The CSL P1 V2 for Xbox consoles will become part of the regular range, and Fanatec's least expensive wheel at $119.95/€119.95. However there's a special model featuring different texture on the grips, and at a discounted $99.95/€99.95 just for Black Friday.
Alongside this is a steep discount on the on the CSL Steering Wheel R300. This combination of the 300mm Podium R300 wheel rim and the CSL Universal Hub would ordinarily cost $299.90/€299.90, but is available for $199.95/€199.95 in the Black Friday promotion.
Another product coming into the Fanatec range is a new load cell pedal upgrade kit for the CSL Pedals. Again, this will become part of the regular line-up after the promotional period ends, at $139.95/€139.95 (or $199.95/€199.95 when bundled with the CSL Pedals), but if you pre-order the kit starting on Black Friday you'll be able to save $20 at $119.95/€119.95.
That leaves a "Tuning Kit" for the CSL Pedals. This consists of a set of pedal faceplates finished in anodized aluminum, which will set you back $34.95/€34.95, with pre-orders starting on Black Friday itself: November 26.
However that's not quite everything Fanatec has planned for Black Friday. In a blog post on the official Fanatec site, CEO Thomas Jackermeier commented that "there will be one more new product shown on Black Friday and I have the feeling that some people are already waiting for it".
Although we can't be sure precisely what this refers to, it seems pretty likely that it's the much-anticipated PlayStation version of the direct drive CSL DD wheel, which we also suspect will form the basis of the official wheel of Gran Turismo 7.
See more articles on Black Friday and Fanatec.