Almost two years on from becoming official partners, Fanatec and Gran Turismo have announced an enhanced relationship as the peripheral manufacturer becomes the official steering wheel partner of the game's flagship esports championship, the Gran Turismo World Series.
The agreement sees the German brand replace Thrustmaster as the official steering wheel partner after five seasons, and should mean that the two live events scheduled this year — the World Series Showdown in Amsterdam, and the World Finals at an undisclosed location — will use Fanatec peripherals.
Fanatec already manufactures the official steering wheel of Gran Turismo, developing the Fanatec Gran Turismo DD Pro in partnership with Polyphony Digital. This consists of a compact direct drive base capable of delivering steering torque of up to 8Nm, and a wheel rim designed by PD to encompass all of Gran Turismo 7's functions.
It won't be the first time that Fanatec gear has appeared at a Gran Turismo esports event. A technical failure in a Thrustmaster T-GT unit at the 2019 GT World Tour Tokyo saw the manufacturer withdraw all of the wheels as a precaution, with Fanatec stepping in to supply replacements.
The GT World Series is the latest esports event to enter Fanatec's portfolio, with the brand already sponsoring the SRO GT World Challenge and Intercontinental GT Challenge esports series, the Sim Pro Series Live, and the esports branch of the GT World Challenge which sees real-world GTWC drivers compete for real championship points.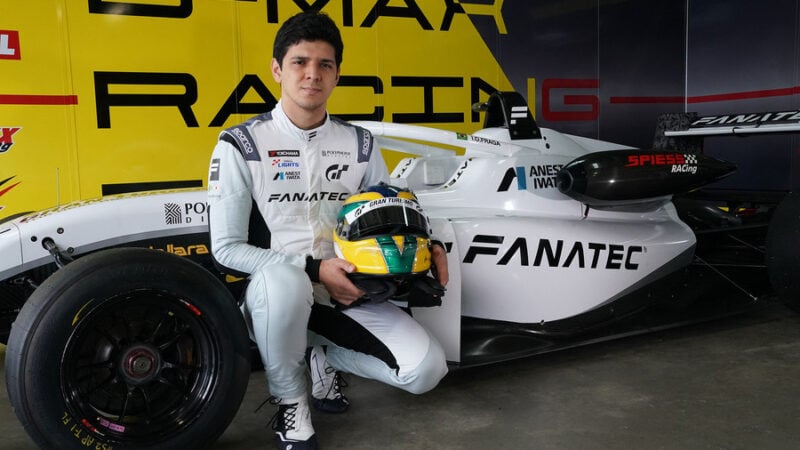 Fanatec won't only be partnering with the GT World Series, but with its original Nations Cup champion Igor Fraga as he resumes his racing career in Japan this year.
Fraga will be racing in the Super Formula Lights series this season, alongside his duties in the GT300 category in Super GT, and Fanatec joins him as a personal sponsor for the season. His #52 B-Max Racing car will carry the Fanatec branding on the sidepods, rear wing, headrest and roll hoop, alongside Polyphony Digital and Gran Turismo logos.
The first race in the championship is this coming weekend, supporting the Super Formula series at Autopolis on May 20.
See more articles on Fanatec, Gran Turismo World Series, and Igor Fraga.