The 2022 Ferrari Velas Esports Championship is now down to its final six drivers after two evenings of racing in the Regional Finals.
With the European Regional Final on September 13 and the North American Regional Final on September 14, the online portion of the competition has reached its climax. Italy will host a live final in October for the remaining six — three from each region — as they battle to claim the title in the event's third year.
As with the previous two seasons, the ultimate prize is a chance to become a virtual factory Ferrari driver, with a place on the official Ferrari Velas Esports squad for 2023. That will see the winning driver following previous champions Giovanni de Salvo and Kamil Pawlowski, who have represented the Prancing Horse in official SRO esports events.
Europe Regional Final
With neither circuit — Silverstone and Imola — previously appearing in the competition, it was anyone's guess who'd be qualifying from Europe.
As further evidence of that it would be four drivers who'd qualified through Assetto Corsa Competizione races taking the front two rows at Silverstone despite it being an Assetto Corsa platform race. Marcin Swiderek would take pole position ahead of Andrea Miatto.
After a relatively cagey start, it wasn't long before the front four — Swiderek, Miatto, Jonathan Riley, and Michael Romagnoli — started to pull a decent gap to Sandro Tavartkiladze, himself over two seconds clear of Leonardo Pagano, who was bottling up Dario Iemmulo and Maurice Strijker behind.
Swiderek then started to stamp his authority on the race and leave the chasing trio behind, helped by them having their own private battle. That would come to a climax as Miatto and Riley clashed in Brooklands, with Riley spinning out of the points and Romagnoli slipping past the briefly slowed Miatto.
That would prove the crucial moment for the podium, with Swiderek winning by more than five seconds from Romagnoli, and Miatto a further four seconds back in third. Pagano would just hold onto fourth from Iemmulo to make the top five.
ACC would host the second race at a wet Imola, and it would be Miatto claiming pole position from Kirill Sadyrov, with Romagnoli, Iemmulo, Riley, and Pagano filling out the top six. Swiderek though could only qualify in 11th for the race, which would not be good enough to see him advance to the Grand Final despite the race one win.
Sadyrov had the best start, but Miatto would hold on through the Tamburello chicane to keep the lead as the two pulled a reasonable distance ahead of Romagnoli. Swiderek was in the wars further back, briefly making it up to seventh before a mistake at Rivazza as he, Pagano, Jurica Slovinac, and Luca Vernole all tangled.
However the race turned on its head as Sadyrov clipped the rear of Miatto heading into Tamburello on lap seven. Miatto would hit the wall and retire with suspension damage, and Sadyrov would pick up a post-race 30-second penalty for the collision.
That would mean Romagnoli would take the race win and the overall regional crown despite finishing second on the road. Riley's third — under a second behind Sadyrov — would be upgraded to second courtesy of that penalty, and see him claim a Grand Final spot. Swiderek would — largely through attrition — claim sixth, which would be enough to secure qualification.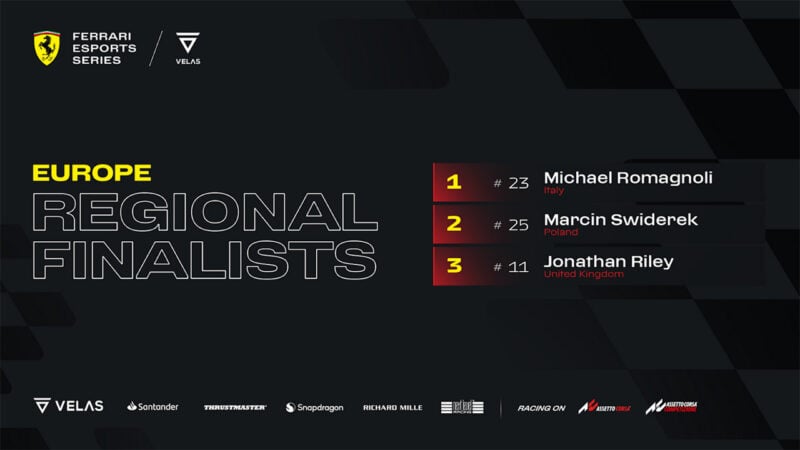 North America Regional Final
Unlike the European region, the North American final would feature a track previously used, with Assetto Corsa's Laguna Seca staging the first race. With Brian Woodward, Alexander Yurevitch, and Gianluca d'Orsi qualifying to the final through their performance in the corresponding QR1 race, it would have been easy to mark them as favorites.
However it was Brandon Hawkin who'd start on pole position and lead into the first corner with a stunning launch that left the pack for dead. Aloo Gobi was the nearest rival, but she was tipped into a spin by Matt Adams through turn five and dropped to the back of the field. Adams would collect a 30-second penalty after the race.
Hawkin was already four seconds ahead by lap two and simply couldn't be caught — despite the out-of-sequence Adams pulling five seconds over Merick Leveque in third and Leveque in turn more than five clear of Erie Riley in fourth, Hawkin was practically two corners ahead from half distance.
GT World Challenge veteran Chris Severt was struggling further back, clashing with Riley and Max Baughman for that fourth-place spot. Gobi was moving the other way, carving through the pack to get back into points positions.
Hawkin's win was never in doubt, beating Adams to the line by ten seconds. However Leveque would claim second and — after Riley retired — Severt would round out the podium after Adams' penalty, which only dropped him to fifth, from Ryan Woodrow.
The move to ACC and the very recently added Watkins Glen circuit did nothing to halt Hawkin's pace as he claimed another pole position. Severt would line up alongside, with Leveque in third in a familiar-looking grid.
In fact it was a familiar-looking race; Severt was able to keep the pressure on Hawkin early on, but it didn't take long before the gaps started to come. That was partly assisted by Severt driving in his mirrors, with Leveque and Gobi both glued to his rear wing.
Drama struck for Severt with ten minutes remaining, as he appeared to mis-shift on the straight and lost three spots as Leveque, Gobi, and Woodrow all overtook. Whatever the issue, Severt was able to continue with no further time lost.
As before, Hawkin would claim a lights-to-flag win and fastest lap for a double grand slam. Leveque held second by just 0.15s from Gobi — left to rue that race one incident with Adams — while Severt was just able to claim the third qualifying spot with fifth, to hold on by one point from Woodrow.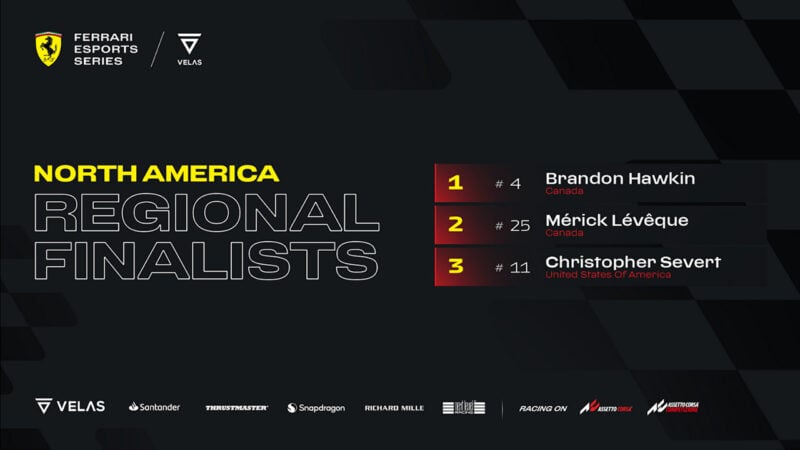 The six drivers will head to Italy for the Grand Finale in October for a live event to determine the overall 2023 champion.
See more articles on Ferrari.