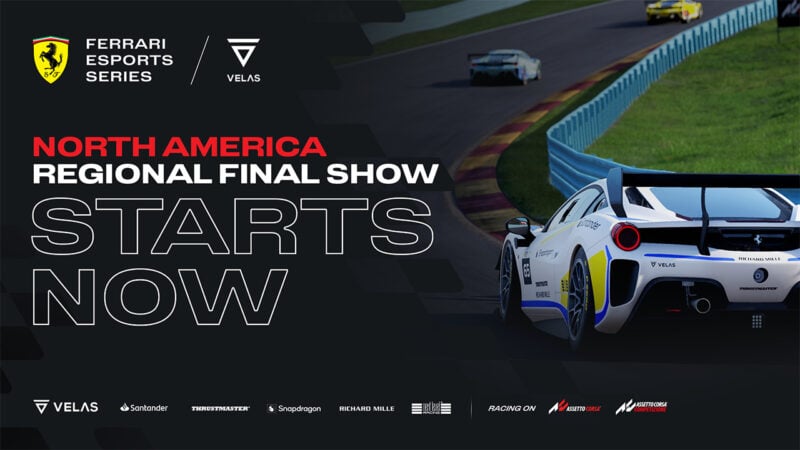 Half of the names heading to the 2022 Ferrari Velas Esports Championship Grand Final are now locked in, and today's North American Regional Final is set to decide the remaining racers.
The four-month long competition is coming to a head, with just three more spots left in the Grand Final and the top 24 drivers in the new-for-2022 North America region looking to book their places.
As with yesterday's European Regional Final, a two-race showdown will decide who's heading to Italy for next month's live event, with one race using Assetto Corsa and the other in Assetto Corsa Competizione.
That mirrors the format of the 2022 championship, which has seen eight hot lap events and corresponding online qualifier races using an even mix of the two titles. However for the Regional Final, the drivers will need to perform on both for the first time.
Like the European event, the two races will be staged at circuits relevant to the region. The schedule is as follows:
Race 1 – AC – Laguna Seca – Ferrari 488 GT3 Evo 2020
Race 2 – AC Competizione – Watkins Glen – Ferrari 488 Challenge Evo
Laguna Seca also staged a round in the hot laps and Regional Qualifier, so race winner Brian Woodward will naturally be among the favorites.
Other race winners include Matt Adams, Sebastian Duran, Aloo Gobi, Brandon Hawkin, Merick Leveque, and Yordi Maldonado — but it would be brave to bet against the highly experienced Christopher Severt who romped to victory in the very first qualifier race.
The live stream gets underway at 2045 EDT (0145 UTC on September 15) and feature both races in full. Paul Jeffrey remains on hosting duties, while special guests will include Scuderia Ferrari F1's drivers Charles Leclerc and Carlos Sainz, and Aristotelis Vasilakos of Kunos Simulazioni. Registered viewers will be entered into a prize draw for Ferrari merchandise.
Only three of the drivers can progress through to the Grand Final, decided by aggregate points across the two races. There they'll compete with the three qualified European drivers — Michael Romagnoli, Marcin Swiderek, and Jonathan Riley — for the ultimate prize: a place on the Ferrari Velas Esports squad for 2023.
See more articles on Ferrari.