The second and final set of qualifying races for the regional finals of the 2022 Ferrari Velas Esports Championship will be streamed on Ferrari's Twitch channel this week, as players look to book their spots in the Regional Finals later this month.
As with the first set of qualifying races, there's 24 places in the finals up for grabs, with 12 available in the European section and 12 in the new North America section. Along with the 24 drivers who have already qualified, this will make up the full complement for the Regional Finals.
Each of the two Qualifiying Races events will consist of four races, with the top 24 drivers in each region's hot-lap events eligible to take part in the corresponding race. As drivers can only qualify for one race each from the June QR1 and September QR2 events, that means we'll see 96 of the best drivers in each region during the two broadcasts.
We're likely to see several drivers who just missed out in June mixed in with some who have come late to the series. With the new-for-2022 use of two different titles — Assetto Corsa and Assetto Corsa Competizione — there may be some drivers for whom the events in QR2 are just more to their liking.
The four races that will make up each event will be:
Assetto Corsa – Ferrari 488 Challenge Evo – Circuit de Barcelona-Catalunya
Assetto Corsa – Ferrari 488 GT3 Evo – Circuit de Spa-Francorchamps
Assetto Corsa Competizione – Ferrari 488 Challenge Evo – Indianapolis
Assetto Corsa Competizione – Ferrari 488 GT3 Evo – Circuit of the Americas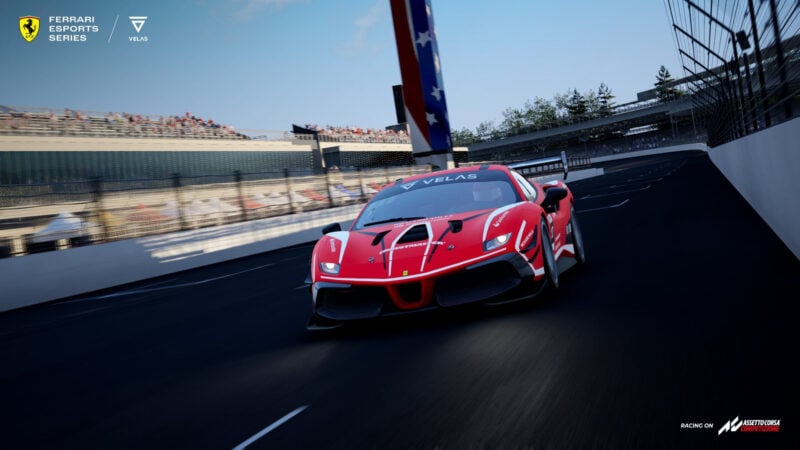 The European Qualifier broadcast will start at 1845 UTC on Tuesday September 6 (convert to your time here), with regular presenters Paul Jeffrey and Nicki Shields back on duty for their third season. Ferrari Driver Academy and Iron Dame racer Maya Weug will be a special guest on the show.
For the North America Qualifier you'll need to tune in at 2045 EDT on Wednesday September 7 (convert to your time here). Paul Jeffrey is also hosting this show, alongside NHRA top-end and SRO pit-lane reporter Amanda Busick, with Ferrari Driver Academy racer Dino Beganovic as a guest.
Viewers can also win Ferrari-themed prizes during each event. You'll need to register on the official website to be entered in a prize draw for a Scuderia Ferrari replica hoodie and hat, and Ferrari-branded t-shirt.
Following the Qualifier rounds there'll be two Regional finals for the 24 qualified drivers in each, coming on September 13/14. The top three in each of these finals will then head to Italy for the Grand Finale, set to be broadcast on October 2.
That will decide the overall champion, who'll join the Ferrari Velas Esports Team for the 2023 campaign, alongside 2020 winner Giovanni de Salvo and 2021 champion Kamil Pawlowski.
See more articles on Ferrari.