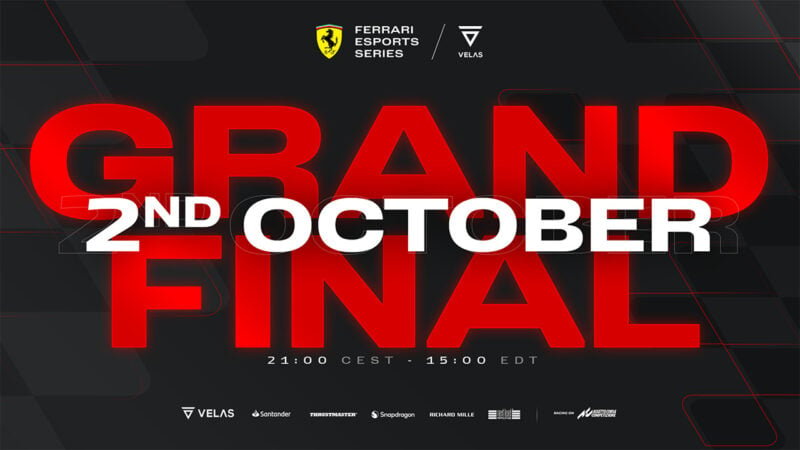 After six months of racing, the final six competitors in the 2022 Ferrari Velas Esports Series have gathered in Maranello for the Grand Final, which will broadcast on Sunday October 2.
The six drivers — Michael Romagnoli, Marcin Swiderek, and Jonathan Riley from Europe, and Brandon Hawkin, Merick Leveque, and Christopher Severt from North America — headed to Italy for the live event which would see them compete for the prize: a place on the official Ferrari works esports team for 2023.
While the tournament thus far has all been about the drivers' abilities on Assetto Corsa and Assetto Corsa Competizione, the Grand Final has a twist. The finalists will be set a series of challenges designed to test their skill and composure, with a judging panel that will score them on each.
That panel will consist of Ferrari Driver Academy FIA Formula 3 racer Arthur Leclerc, the 2021 Ferrari Esports Series and Ferrari Velas Esports driver Kamil Pawlowski, and Ferrari's esports manager Tiziana Mecozzi. They'll judge the six on their performance and execution of the tasks.
Precisely what the various challenges are is under wraps for now, but they're likely to test the entire range of talents a prospective professional esports driver will need to rely on.
Naturally sim racing will also feature, as the final activity of all. Once that's completed, the points for all the activities will be aggregated to create the final standings — and declare the overall winner.
You'll be able to watch the Grand Final from 1900 UTC on October 2, on the official Ferrari Esports Twitch channel, as well as here on GTPlanet.
See more articles on Ferrari.