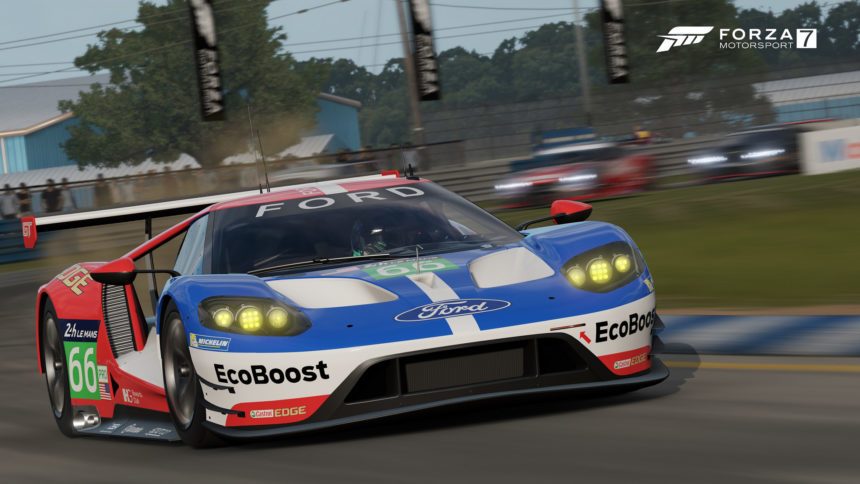 As thousands gather in Northern France for the 86th running of Le Mans, the Automobile Club de l'Ouest (ACO) and the Motorsport Network have announced the formation of the latest esport series. Dubbed the Le Mans Esport Series, it will take place on Forza Motorsport 7, culminating in a grand finale at the eponymous event next year.
The ACO is partnering with Motorsport Network and Microsoft for the series. In addition, Parisian esports company Glory4Gamers will be handling the events. The brief press release promises the series will "feature many innovations and authentic details to excite and challenge gamers."
Online qualifiers start on August 18. The World Endurance Championship will be visiting Silverstone that weekend — a track in FM7 — and the online series start will commemorate that. In addition, the new series will host a variety of offline qualifying events at specific WEC rounds over the next year:
October 2018: Fuji, Japan (Asia qualifier)
January 2019: Autosport International Show, Birmingham (Europe & Middle East qualifier)
March 2019: Sebring, Florida (US & Latin America qualifier)
Qualified drivers will get to meet — and race against — WEC drivers. And as mentioned above, it all leads to the top drivers competing in a special event at the 2019 24 Hours of Le Mans.
It wouldn't be the first time Forza players competed there, either. Last year, the ForzaRC finale happened at La Sarthe. In fact, the winners of the digital tournament found themselves on the same podium as the real-world drivers.
Speaking of ForzaRC, its 2018 Series 1 finale is happening this weekend too. Not in France this time, but straight from developer Turn 10's hometown of Seattle.
Gérard Neveu, CEO FIA WEC, explains how last year's worldwide fan survey led to this new series:
"We are delighted to be able to launch this new esports series at our British round in August. We know from the worldwide fan survey we carried out last year that we have a growing number of younger fans following us on social media. This series allows us to create and grow an esports community of gamers specific to endurance racing."
Expect more details on the Le Mans Esport Series, including format and prizes, at the 6 Hours of Silverstone, August 18. Until then, keep an eye on the official LMES website.
Featured image courtesy of GTDNick72.
More Posts On...