Britain's received a bit of a freshening up today. Playground Games has deployed the latest Forza Horizon 4 patch, and it introduces a variety of new content and improvements.
There's a lot to explore in the hefty 3.33GB update (4.59GB on Xbox One X), so we've broken it down below.
The Return of Mitsubishi
Probably the biggest news for car enthusiasts is Mitsubishi re-entering the Forza fold. Back before launch, Playground announced that it couldn't reach a licensing agreement with the Japanese brand, resulting in its first absence since the series began in 2005. When Evos started popping up in last month's Forza Monthly stream, we began to suspect the brand was returning — and now, it has. Seven cars are available, all of which have been in previous titles:
1992 Mistsubishi Galant VR4
1995 Mitsubishi Eclipse GSX
1997 Mitsubishi GTO
1999 Mitsubishi Lancer Evo VI GSR
2004 Mitsubishi Lancer Evo VIII MR
2006 Mitsubishi Lancer Evo IX MR
2008 Mitsubishi Lancer Evo X MR
Players will have to download a free DLC car pack to access them. We're not sure what changed, but we're happy to see Mitsubishi back. And if this means more cars from the brand down the road, even better.
Series 5 Cars Revealed
There's more metal coming alongside those Mitsubishis. Playground Games revealed the next eight cars coming to FH4 yesterday — plus the prizes — but now we've got the schedule:
January 17, 2019: 2019 Porsche 911 Carrera S, 1993 Porsche 968 Turbo S
January 24, 2019: 2005 Honda NSX-R GT, 1929 Mercedes-Benz SSK Barker Roadster
January 31, 2019: 1966 Hillman Imp, 1963 Opel Kadett A
February 07, 2019: 1968 Ford Mustang GT 2+2 Fastback, 1965 Ford Transit
In addition to the above, there are at least four other cars players will be able to win over the next few weeks:
2012 Hot Wheels Rip Rod
2005 Hot Wheels Ford Mustang
2017 Maserati Levante S
1967 Mercedes-Benz 280 SL
Free-For-All Adventure
This new multiplayer mode replaces Anything Goes Adventure. Players will no longer be bound to teams, allowing them to compete individually. Just like other online modes, there are both Quick Play and Ranked modes, with plenty of prizes in the latter.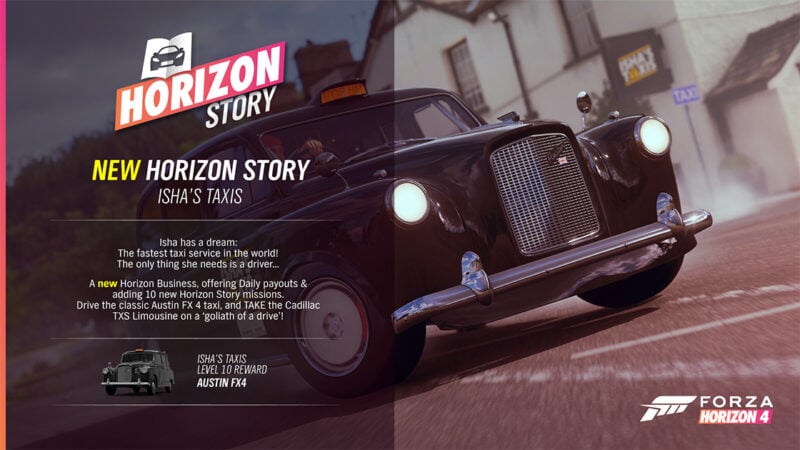 New Horizon Story: Isha's Taxis
There's another 10-event series of challenges available in the game's campaign now. The latest Horizon Story is Isha's Taxi, where players will have to deliver fares all across Britain. Take a look at the description above for an idea of what the final mission will be…
If you've been lucky enough to earn the Austin FX4 through prize spins before this, you'll know it can be modified to do some pretty wild things. You'll experience some of that in this Story. Plus, completing it all earns you your very own FX4 if you don't already have one.
More Blueprint Filters
With custom routes part of the FH4 experience, Playground Games has made it easier to sift through them all. You can now sort through race series, creator, and title.
There are other detail changes as well. For a full list of patch notes, click here.
More Posts On...