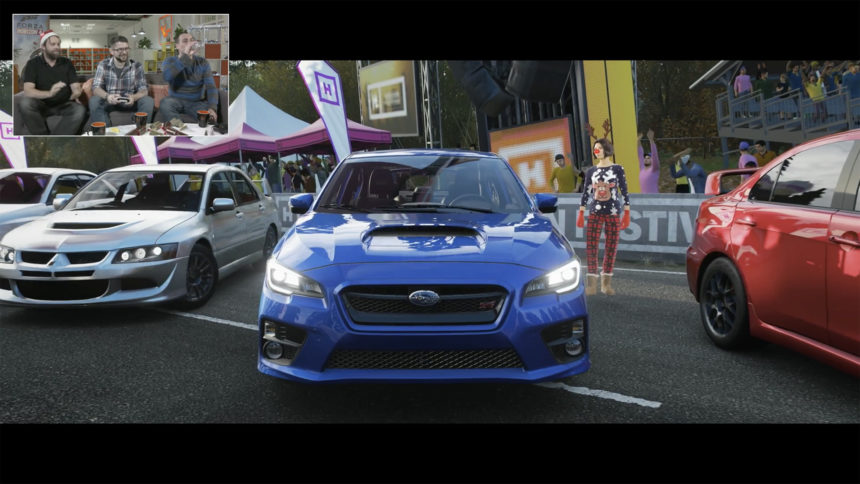 When Forza Horizon 4 launched earlier this year, it did so with the largest lineup of cars in the sub-franchise's history. Despite that, it came without a handful of brands, including Lexus, Rolls-Royce, and Mitsubishi. Now, it seems like the latter could be returning to the fold.
In a recent live stream, Playground Games employees were showing off the latest Update Four ahead of its release. A rally race in a Subaru seemed standard enough, except its competition included multiple evolutions of Mitsubishi's Lancer.
GTPlanet member willbsn13 picked up on this, and reached out to Turn 10's Jon Knoles for clarification:
hmmmmmm

— Jon Knoles (@jonk1969) December 12, 2018
That's not a confirmation that the triple-diamond brand is coming back, but it's not not a confirmation, either. It's actually quite an ambiguous answer, especially considering Turn 10 didn't beat around the bush with regards to Mitsubishi's absence prior to release (or most of Toyota/Lexus' in FM7).
At last count, FH4 has 104 manufacturers. That's a lot of licenses to juggle, and it's possible the lack of Mitsubishi at launch simply was a matter of time. Perhaps both parties have just now come to a new agreement, and that could mean players will get to drive all manner of Evos (plus GTO, Galant, and more) in a future update.
It might also be nothing: this is a special developer build we're talking about after all. But things have popped up months ahead of their eventual launch before, like Porsches in FH3…
One thing's for sure: we'll be keeping an eye out for Mitsubishi in any future Forza Horizon 4 updates.
More Posts On...