Winter has taken its hold across the UK for another week in Forza Horizon 4. The arrival of snow also means a new serving of content and more events for players to go after.
The Winter Playlist for this week features a new set of prizes for 50% and 80% completion. This week, a legendary grand tourer from Toyota takes its bow.
2000GT Arrives In Style
Among the snow and ice this week, the 1969 Toyota 2000GT is the big prize for the season.
This legendary sports car changed the world's opinion about Toyota and its performance credentials. With styling inspired by the Jaguar E-Type, the 2000GT houses a 2.0-liter straight-six engine under the hood. Although it makes just 150hp, a weight of just over 2,500lb means it has comparable performance to its main rival, the Datsun 240Z.
If you're after more power, then the Mercedes CLK GTR could be the answer. Built as a homologation special for GT1 racing, this particular CLK shares very little with a regular road car. The mid-engined CLK features a monstrous 6.9-liter V12 that pumps out 622hp. You'll need plenty of talent and patience to tame this unruly beast on the icy UK roads.
This week's seasonal championship prizes are populated by the 2011 Citroen DS3 Racing and the 2018 Mini Countryman John Cooper Works.
One of the main standouts is the BMW M3 GTR. Another homologation special, the GTR is the first M3 to house a V8 engine — a 4.0-liter motor similar to the one in the racer, but producing 380hp. The GTR also features a host of other racing modifications to ensure tight and responsive handling. If that sounds like your cup of tea, you'll need to win the "Ice Truckers" seasonal championship.
There's a new Showcase Remix event as well. "Road to Anywhere" will see you get back behind the wheel of the Austin FX4 Taxi for a race across the Scottish Highlands. Your opponent for this challenge is a giant hovercraft, as it obviously would be.
This week's prize list is below.
Ice Truckers
Series: Cross Country Series
Cars: Trucks
Restrictions: B Class, 700 PI
Prizes: 15,000 CR, 25,000 CR, BMW M3 GTR
This Side Up
Series: Cross Country Series
Cars: Offroad Buggies
Restrictions: A Class, 800 PI
Prizes: 15,000 CR, 25,000 CR, Back Spring emote
Neither Rain Nor Sleet
Series: Dirt Racing Series
Cars: Classic Rally
Restrictions: C Class, 600 PI
Prizes: 15,000 CR, 25,000 CR, Citroen DS3 Racing
The Trial: Snow Returns (Co-Op Championship)
Series: Road Racing Series
Cars: Classic Racers
Restrictions: S1 Class, 900 PI
Prizes: Maserati Tipo 61
Winter Games – Series 20
Series: Playground Games
Cars: Rally Monsters
Restrictions: S1 Class, 900 PI
Prizes: Mini Countryman JCW
The Roman Mile Speed Trap
Season Objective: 235 mph
Railyard Ramp Danger Sign
Season Objective: 774.3 ft
Coppice Speed Zone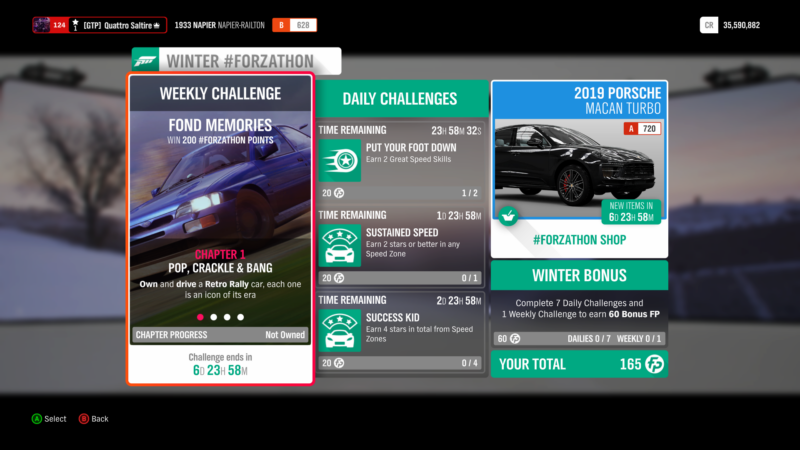 Forzathon Events
Forzathon looks back at a golden age this week, with Retro Rally cars in the spotlight. Grab one of the iconic machines available to get things rolling.
Next, time to exercise some creative overtaking, as you'll need to earn 3 Airborne Pass skills in your rally machine. Afterwards, you'll need to take some brave pills whilst showing off your drifting. You'll need to get 5 Lucky Escape Skills in order to progress.
Finally, test your driving ability by earning a 3-star score at the Derwent Water Speed Zone to complete this week's challenges.
Forzathon Shop
This week's lineup is a mixed bag with a sports SUV and a unique supercar up for grabs.
First up is the 2019 Porsche Macan Turbo. This range topping variant of Porsche's small SUV packs plenty of punch over the 2015 version. The smaller 2.9-liter twin turbocharged V6 now packs 434hp compared to the old 3.6-liter version. With improved dynamics, this Macan should be able to tackle the snowy terrain with ease.
You'll have to cough up 600 Forzathon Points on the Macan. If you feel dissatisfied with the 2015 Macan and are searching for more, then the 2019 variant should erase those concerns.
Those after something more unique will be interested in the 2018 Italdesign Zerouno. This supercar is the first production car to come from the famed design studio. Underneath the wild styling, the Zerouno sits on the running gear from the Lamborghini Huracan. That means a 5.2-liter V10 putting out 602hp. With four-wheel drive, you'll have no worries about the treacherous conditions this week.
At 450 FP, the Zerouno is a relatively cheap proposition. If you want to stand apart from the supercar establishment, then the Zerouno is the answer.
Novelty items this week include the Clown Dance emote and Clown Mask.
See more articles on Forza Horizon 4 Season Change.