As Winter takes hold across the UK in Forza Horizon 4, players can finally breathe a (slightly frosty) sigh of relief. At last, the delayed Series 23 content has arrived!
The new season's Playlist update features a new set of prizes for 50% and 80% completion. This week marks a Toyota takeover, with two classic models making their way to the Horizon festival.
There's a lot to get through this week, so let's dive straight in.
Series 23 Finally Arrives
As part of the Toyota themed content this week, first up for the seasonal playlist is the 1974 Toyota Celica GT.
Toyota designed this TA22 generation Celica to give a more sporting image to Toyota's compact lineup. The GT variant comes with revised suspension to aid handling, along with sporty cosmetic enhancements. Power comes from a 2.0-liter engine putting out a modest 97hp. But, thanks to a curb weight of just under 2,400lb, this Celica should be sprightly to drive.
Joining it is the iconic 1985 Toyota Sprinter Trueno. Also known as the AE86, this boxy liftback is idolized in car culture. Although the 1.6-liter engine puts out just 128hp, its eager chassis makes it a worthy choice for drifters and tuners.
Playlist completion prizes include the 1992 Toyota Supra 2.0 GT and a Super Wheelspin. Seasonal championships this week are populated by Forza Edition variants of the Alfa Romeo Giulia and Chevrolet Nova
This week's main standout is more humble: the 1974 Toyota Corolla SR5. While the regular Corolla didn't set the world on fire, the SR5 injected some sporting flavor. The 1.6-liter engine makes just over 100hp, but the car weighs in at just 2,065lb. Put those together and you'll end up with a car that's happy to carve up corners.
You'll need to win "The Corolla Express" championship to acquire one for your garage.
There's also a returning Showcase Remix event this week. "Morning Rush" will see you racing across the Scottish Highlands to Edinburgh in Isha's Austin taxi. Your opponent in this race is the famous Flying Scotsman steam engine.
The rest of this week's events are below.
Pledging Allegiance
Series: Street Scene
Cars: American All-Stars
Restrictions: A Class, 800 PI
Prizes: 15,000 CR, 25,000 CR, 1969 Chevrolet Nova FE
The Corolla Express
Series: Cross Country Series
Cars: Modern Rally
Restrictions: B Class, 700 PI
Prizes: 15,000 CR, 25,000 CR, 1974 Toyota Corolla SR5
Mr. Snow It All
Series: Cross Country Series
Cars: Super Saloons
Restrictions: A Class, 800 PI
Prizes: 15,000 CR, 25,000 CR, Alfa Romeo Giulia FE
The Trial: A Small Fortune (Co-Op Championship)
Series: Road Racing Series
Cars: High Rollers
Restrictions: S1 Class, 900 PI
Prizes: Aston Martin Vulcan FE
Winter Games – Series 23
Series: Playground Games
Cars: Retro Rally
Restrictions: B Class, 700 PI
Prizes: Ford Supervan 3
Northbridge Speed Trap
Season Objective: 180 mph
Reservoir Ridge Danger Sign
Season Objective: 656.2 ft
Broadway Commons Speed Zone
Season Objective: 165 mph
Forzathon Events
Moving away from Toyota this week, Forzathon looks to an all-American icon: the 1967 Chevrolet Corvette Stingray. Jump into this legendary machine to get started.
Next, unleash the Stingray's 7.0-liter V8 by earning 15 Awesome Speed Skills. Afterwards, put that power to skillful use by earning a total of 125,000 Skill Score.
Finally, finish up this week's challenges by earning a total of 9 stars from Drift Zones.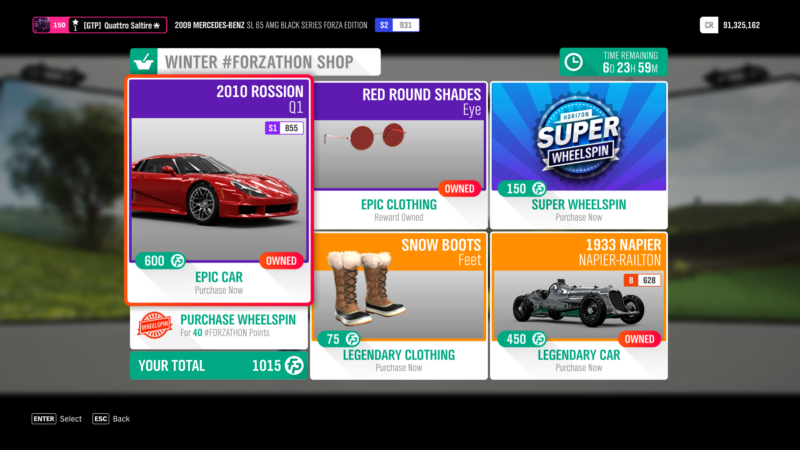 Forzathon Shop
The Forzathon shop returns to normal business this week, with a new pair of exotic prizes.
First up is the 2010 Rossion Q1. Although this sports car comes from America, it actually traces its roots back to the Noble M12. The Noble cues remain in the styling silhouette and the powertrain. A Ford-sourced 3.0-liter, twin-turbocharged V6 puts out 453hp. Weighing in at under 2,700lb, the Q1 might cause a few upsets among established sports cars.
The Q1 will set you back 600 Forzathon points. If you're after an American sports car, but find the Corvette and Viper too common, then the Q1 will provide the answer.
Sitting alongside is the 1933 Napier-Railton. This vintage record breaker pulls no punches when it comes to big engines and big power. Under the hood sits a monstrous 24-liter W12 with nearly 600hp. With 1930s' technology, the Railton will prove a real handful on the winter roads, especially as the brakes only apply to the rear wheels.
You'll need 450FP for the Railton, but if you want to make an imposing statement then this beast is more than capable of doing the job.
Avatar cosmetics this week include the Red Round Shades and the Snow Boots.
More Posts On...