The birds are singing once more, as the golden sun arrives to begin a new Summer season in Forza Horizon 4. It's the official kickoff for Series 25 this week, with events and prizes offering throwbacks to Forza Horizon 3.
A new quartet of prizes make up the Summer Playlist update, each for 50% and 80% completion, while a rugged Aussie sedan muscles its way into the festival this week. This summer is a busy season, so let's dive in.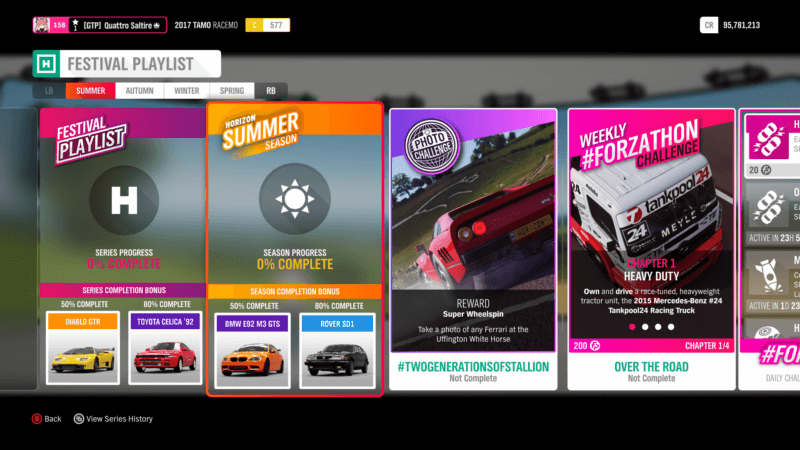 HSV Flexes Its Muscle
Both sides of the Playlist prizes are dominated by returning content. Taking center stage is the wild Lamborghini Diablo GTR.
Built as part of Lambo's one-make race series, the Diablo gains aggressive aero and racing suspension upgrades. The 6.0-liter V12 gets a power bump to almost 600hp, allowing this angry bull to truly roar.
Along with the Lamborghini, there's the 1992 Toyota Celica. Known for its dominance in rallying, this ST185-generation Celica helped bring Toyota its first manufacturer's title in the 1993 World Rally Championship. The Celica packs a 2.0-liter turbocharged engine, putting 232hp to all four wheels. Thanks to its rally pedigree, the Celica will make light work of both the asphalt roads and dirt trails around the Horizon festival.
Prizes for completing the summer season see the return of the BMW M3 GTS and Rover SD1 Vitesse. This week's prizes for seasonal championships include the Volkswagen Notchback and the 2011 Ford Raptor.
The big prize this week comes in the form of the 2011 HSV GTS. Also known in the UK as the Vauxhall VXR8, this big Aussie brute is a cut-price alternative to established sports sedans. Although lacking in sophistication against the Germans, the GTS makes up for it with a barrel-chested 6.2-liter V8 making 435hp.
To acquire the HSV, you'll need to win the "Down Under" championship.
A new Photo Challenge is also available this week. #HorsesForCourses will require you to snap a Ferrari alongside the Uffington White Horse monument.
Summer's Showcase Remix throws out more memories of FH3. "Quaint Village Rush" will see you racing in a Lamborghini Centenario against a Deltawing jet aircraft.
The newest Monthly Rivals event will have you tackling the Greendale Club Circuit in the Hot Wheels Bone Shaker.
All the events and prizes for this week are below.
Bring Me A Dream
Series: Street Scene
Cars: Vans 7 Utility
Restrictions: D Class, 500 PI
Prizes: 15,000 CR, 25,000 CR, 2011 Ford Raptor
Down Under
Series: Dirt Racing Series
Cars: Aussie Rules
Restrictions: A Class, 800 PI
Prizes: 15,000 CR, 25,000 CR, 2011 HSV GTS
Cult Following
Series: Road Racing Series
Cars: Cult Cars
Restrictions: D Class, 500 PI
Prizes: 15,000 CR, 25,000 CR, Volkswagen Type 3 1600 L
The Trial: Get Hyper (Co-Op Championship)
Series: Road Racing Series
Cars: Hypercars
Restrictions: S2 Class, 998 PI
Prizes: Lamborghini Veneno
Summer Games – Series 25
Series: Playground Games
Cars: GT cars
Restrictions: A Class, 800 PI
Prizes: Bentley Continental FE
OHilltop Vista Danger Sign
Season Objective: 620.1 ft
Cat Bells Speed Trap
Season Objective: 164 mph
Glen Rannoch Speed Zone
Forzathon Events
Forzathon goes big this week, with one of the biggest vehicles of all taking the spotlight: the Mercedes #24 Tankpool24 Racing Truck. Jump aboard this goliath to get started.
Next up, show that your truck rules the streets by winning 3 Street Scene events. After that, the next objective may require creative tuning and a brave pill, as you'll need to achieve 3 stars in a Speed Trap.
Finally show everyone who's boss by earning 10 Trading Paint skills to wrap up this week.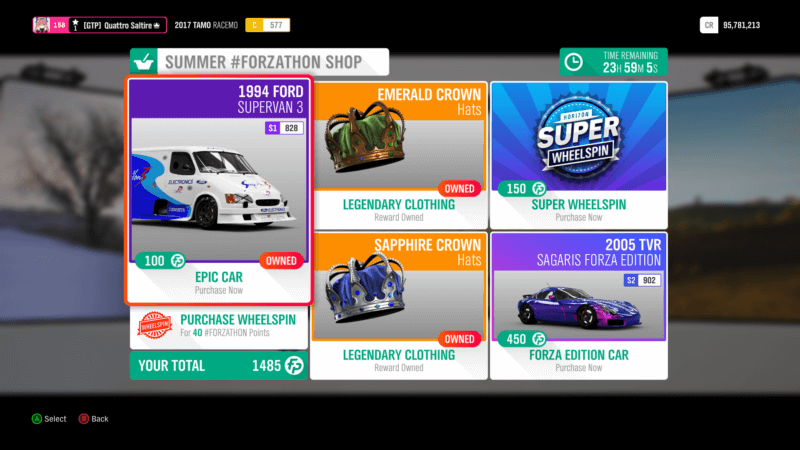 Forzathon Shop
The Forzathon Shop is running a slightly different order of business this week. A part of a summer sale, the headline car will be rotated every 24 hours over the next 7 days.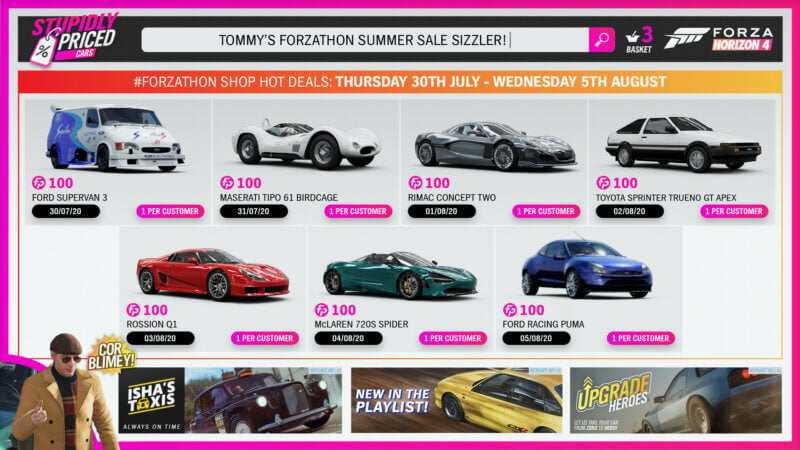 Kicking things off at time of writing is the Ford Supervan 3. This strange creation is the result of the marriage between a Transit van and a Group C prototype. This particular Supervan comes with a 3.0-liter V6 making 300hp for greater driveability and ease of maintenance.
You can have the Supervan for the low price of just 100 Forzathon Points, but you'll need to move quickly; it will only be available for 24 hours.
Also up for grabs is the TVR Sagaris Forza Edition. This special version of the Sagaris features a Speed Skills boost. Performance from the Sagaris little short of insane, with the 4.0-liter straight-six pushing over 400hp. The fiberglass body means the featherweight TVR will devour corners too.
If you want the Sagaris, it will set you back 450 FP. The rarity of the Sagaris compared to other Forza Editions make it a worthy purchase.
Avatar cosmetics this week include the Emerald and Sapphire crowns.
See more articles on Forza Horizon 4 Season Change.