Crisp spring sunshine is making its presence known, with a new season underway in Forza Horizon 4. With the next update imminent, we're now into the final stretch for Series 25.
The last Spring Playlist update comes with more prizes for 50% and 80% completion. With a wild Aussie sedan making its way to the festival this week, let's dive further into this season's content.
HSV Stands Proud
Taking a very noisy spotlight this week is the 1996 HSV GTS-R. This big sedan is one of the most exclusive Australian cars ever built.
With just 85 units in total, the GTS-R is considered a unicorn. Under the skin lies plenty of racing pedigree, including a 5.7-liter V8 that kicks out 310hp, and suspension tuned from the track. With carbon fiber body panels to keep the weight off, the handling should be a riot.
Coming in behind it is the 1951 Porsche 356 SL. This little machine was designed to take Porsche racing, and gave the Stuttgart brand its first class victory at Le Mans. The 1.1-liter flat-four may produce just 46hp, but a weight of just over 1,400lb means it will carve through corners with surprising speed.
Prizes for seasonal championships include the Volvo Iron Knight and an Alien Morph Suit for your avatar.
The highlight this week comes by way of the 1966 Porsche 906 Carrera 6. In the sports car era dominated by Ford vs Ferrari, the 906 is seen as the underdog. It might not have achieved legendary status, but the 906 still carries a successful racing portfolio.
A 210hp, 2.0-liter flat-six may not sound powerful, but the Porsche is more than capable of sticking with its famous rivals. If this sounds like your kind of thing, you'll need to win the "Greatest Hits" championship to get your hands on it.
The last Photo Challenge of Series 25 will take you back in time to the era of cult heroes. "#NotGardenVariety" requires you to photograph any Cult Car at Mortimer Gardens.
25's final Showcase Remix event is another returnee. "Commuter Blues" will pitch you against the Flying Scotsman steam train in a race to Edinburgh. Your weapon of choice is the 2015 Porsche Macan Turbo.
You can find the list of events and prizes below.
Greatest Hits
Series: Road Racing Series
Cars: Classic Racers
Restrictions: A Class, 800 PI
Prizes: 15,000 CR, 25,000 CR, Porsche 906
GT Phone Home
Series: Street Scene
Cars: Super GT
Restrictions: S1 Class, 900 PI
Prizes: 15,000 CR, 25,000 CR, Alien Morph Suit
Truck Like A Lady
Series: Cross Country Series
Cars: Trucks
Restrictions: B Class, 700 PI
Prizes: 15,000 CR, 25,000 CR, Volvo Iron Knight
The Trial: Fire Saga (Co-Op Championship)
Series: Street Scene
Cars: Mini
Restrictions: B Class, 700 PI
Prizes: Mini JCW Buggy
Spring Games – Series 25
Series: Playground Games
Cars: Classic Muscle
Restrictions: B Class, 700 PI
Prizes: Dodge Charger Daytona
Princes Street Speed Trap
Season Objective: 237 mph
Bamburgh Castle Danger Sign
Season Objective: 715.2 ft
Oldweir Speed Zone
Season Objective: 154 mph
Forzathon Events
Forzathon goes small this week, but focuses on a British institution: the 1965 Mini Cooper S. Hop into this tiny legend to get going.
Next, channel the Mini's rally heritage by winning two Dirt Racing Series events. After that, show off the tarmac potential of the Mini by winning two Road Racing Series events.
Finally, demonstrate the Mini's ultimate agility by earning a total of 75,000 Skill Score to finish up this week.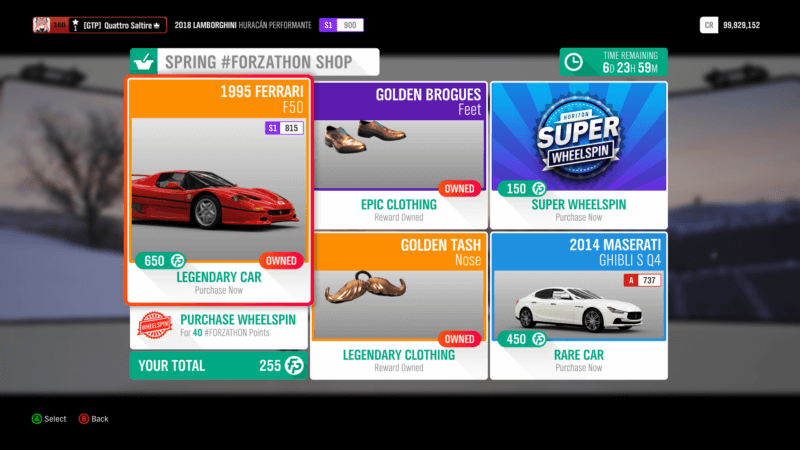 Forzathon Shop
Italy displays its pride once again this week in the Forzathon Shop. Taking the lead is the 1995 Ferrari F50.
Succeeding the iconic F40 was never going to be easy, and the F50 is often overlooked for not moving the game on in quite the same way. It didn't fall short of the mark in terms of performance though. Billed as an "F1 car for the road", the F50's 4.7-liter V12 can trace its roots to the Ferrari 641. Producing 513hp, the F50 was also the first open-top Prancing Horse to crack 200mph.
You'll need to cough up 650 Forzathon Points for the F50. However, if you're by tempted the F1-derived V12 noise, the F50 is ripe for the taking.
If you're after sports car credentials, but want something more restrained, there's the 2014 Maserati Ghibli S. With over 400hp from a 3.0-liter, twin-turbocharged V6, the Ghibli aims to grab an Italian slice of a sports sedan market dominated by the Germans.
The Ghibli comes in a little cheaper, at 450 FP, but if you find the German sports sedans too boring, then the Ghibli's Italian charm will fill the void.
Avatar cosmetics this week include the Golden Mustache and the Golden Brogues.
See more articles on Forza Horizon 4 Season Change.