A new week indicates a new seasonal change in Forza Horizon 4, with brand new Autumn festivities now available. Up and down the UK, players are continuing to rack up more victories and even more prizes.
No new content is available this week, but there is another chance to win a rare but iconic small sporty Ford. There's also updated Festival Playlist prizes up for grabs for 50% and 80% completion.
F Marks The Spot
There's just one notable car to win for seasonal completion this week: the 2009 Lexus IS-F.
Created to give Toyota's luxury brand a sporting image, the IS-F aims squarely towards the BMW M3. Under the hood lies a very un-Lexus-sounding 5.0-liter V8 putting out 417hp. The IS-F is also the first sports sedan to come with an eight-speed automatic transmission.
If you're after some more cars for your collection, a new Horizon Backstage Pass is available.
A new Photo Challenge this week is all about having to #BuddyUp. For this one, you'll need to snap a picture with another player or find a Drivatar. Seasonal championship prizes feature the Pagani Zonda R and the Honda CRX Mugen.
One car worth going for is the 1999 Ford Racing Puma. Intended as a rally homologation, Ford only made 500 units out of an intended 1,000. The special Puma was only sold in the UK and became a cult hit. Despite Fiesta underpinnings, the Puma features a fizzy 1.7-liter engine making 153hp. Coupled to an eager chassis and the Puma encourages you to thrash it down the nearest twisty road.
Win the "Cool Cats" championship to bring the Puma to your garage.
If you're keen for a Showcase Remix, there's the return of "Pillar of Autumn". Suit up as Master Chief and race the iconic Halo Warthog against a Pelican dropship.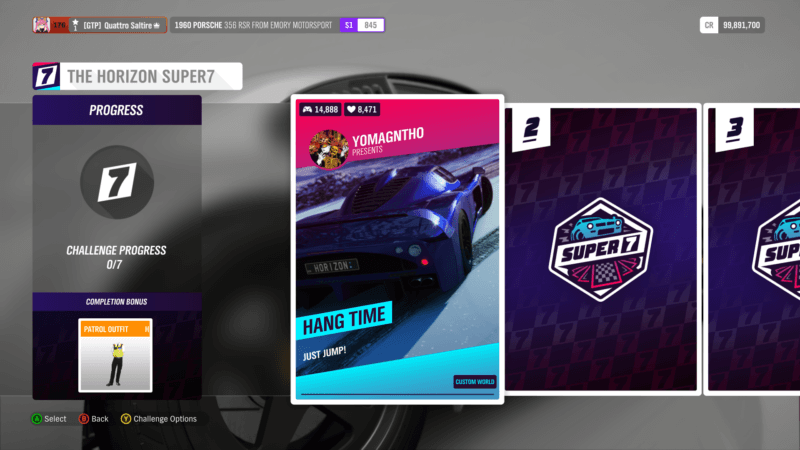 Autumn also brings a new set of Super7 challenges. Complete all seven cards and you'll receive a Hi-Vis Patrol outfit for your avatar's wardrobe.
Events and prizes for Autumn are listed below:
Cool Cats
Series: Road Racing Series
Cars: Jaguar
Restrictions: A Class, 800 PI
Prizes: 15,000 CR, 25,000 CR, 1999 Ford Racing Puma
AWD All Day
Series: Cross Country Series
Cars: Extreme Offroad, All-Wheel-Drive
Restrictions: A Class, 800 PI
Prizes: 15,000 CR, 25,000 CR, 2014 Local Motors Rally Fighter
Too Hot Hatch To Handle
Series: Dirt Racing Series
Cars: Retro Hot Hatch, 1990s
Restrictions: C Class, 600 PI
Prizes: 15,000 CR, 25,000 CR, Honda CRX Mugen
The Trial: What's That Coming Over The Hill? (Co-Op Championship)
Series: Cross Country Series
Cars: Rally Monsters
Restrictions: S1 Class, 900 PI
Prizes: Lancia Delta HF Integrale Evo
Autumn Games – Series 35
Series: Playground Games
Cars: Track Toys
Restrictions: S1 Class, 900 PI
Prizes: Pagani Zonda R
Super7 – Autumn
Completion Prize – Hi-Vis Patrol Outfit
Open-Cast Cliff Danger Sign
Season Objective: 984.3 ft
High Street Speed Trap
Season Objective: 228 mph
Hillside Speed Zone
Forzathon Events
This week's Forzathon turns attention towards the 2013 Mini Countryman X-Raid. Make sure you have this Dakar winner in your garage before getting started.
Next up, test the Mini's suspension to the limit by earning 3 Kangaroo skill combos. The dunes at Bamburgh Castle should provide plenty of jumping opportunities. Afterwards, Put all your driving skills to use by earning an Ultimate Skill Chain.
Finally, it's off to the races, as you'll need to win four Cross Country Series events to bring this week to a close.
Forzathon Shop
The shop is all about being loud and proud this week, headlined by the 2020 Ford Mustang Shelby GT500.
This latest GT500 is the most powerful series production Mustang ever built. In order to take the fight to the Dodge Hellcat, Ford has fitted the 5.2-liter V8 with a beefy supercharger. The result is a tire-shredding 760hp to stamp its authority on the quarter mile.
You'll need a lot of points saved because the GT500 is worth 600 Forzathon Points. This is a prime opportunity to bag one since its debut back in Series 32.
If you want something even more wild, there's the Lamborghini Veneno. Derived from the Italian for "Venom", this Lambo features styling that makes dramatic look like an understatement. Under all the slashes sits familiar underpinnings from the Aventador. That means a 6.5-liter V12 making a brutal 740hp.
At 300FP, the Veneno seems cheap. You'll bag a good deal and turn a lot of heads when you arrive at your next car meet in one of these.
This week's novelty items include the Karate Master emote and the Steam Boat horn.
Featured image courtesy of Rage Racer
See more articles on Forza Horizon 4 Season Change.